Acer Aspire M Touch Review
Acer has made quite the name for itself these past few years. What once was a company that many people ignored, is now a company producing quality products, the new Aspire M Touch being one of them. We ended up getting our hands on the new laptop to see what's so special about the thing, and while it rocks a Core i5 with 4GB of RAM and even an SSD on the inside, there are a few design choices that Acer made to the Aspire M Touch that's a make-or-break situation for the laptop. Let's have a deeper look.
Hardware & Design
At first glance, the Aspire M Touch looks like your typical slab of aluminum gadgetry, which it is, but it's really sleek. Both the lid and the palm rest are made from brushed metal, while the bottom is lined with plastic. It certainly looks like an expensive laptop, but the build quality from just holding it and grabbing onto it isn't all that great. The lid caves in from very little pressure, as does the palm rest. It's a little unnerving at first, but babying the laptop — as most people do — shouldn't cause any problems.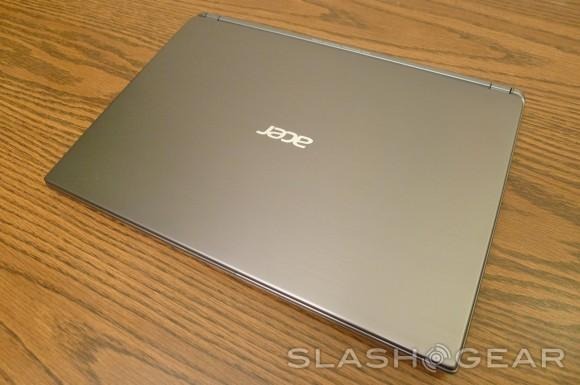 The laptop comes with a great-looking 14-inch touchscreen display with a resolution of 1366x768, which is fairly odd for a computer screen, and we're slightly disappointed that it didn't come with a higher resolution, especially for a 14-incher. Viewing angles are average, but as with any typical LCD, colors start to get washed out if you're not looking at it from the optimum, straight-on angle. The touchscreen is 10-point, meaning it'll detect all ten fingers if need be, and we found responsiveness of the touchscreen to be fairly good.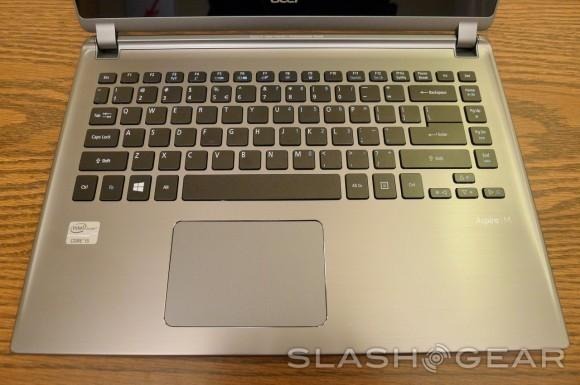 Inside you'll find an Intel Core i5 3317U dual-core processor clocked at 1.7GHz with 4GB of RAM. This particular model has a 20GB solid state drive along with a 500GB hard drive. The solid state drive allows for quick boot ups and launching your most-used apps, while the hard drive is there to store all of your bigger files, like photos, videos, music etc. As for graphics, there's Intel HD 4000 integrated graphics, so you won't be able to do any hardcore gaming other than the occasional casual title.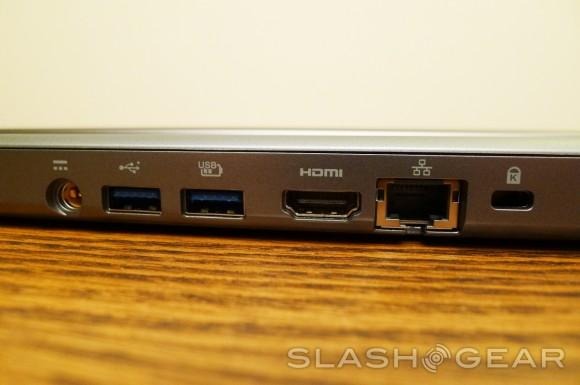 As for ports and different connectivity options around the outside edges of the laptop, there's a small bevy of options, but the placement of the ports is rather odd. Most of the important ports are on the back, including the power port, two USB 3.0 ports, HDMI, ethernet, and the Kensington lock. On the left side there's the lone DVD-RW drive, and on the right side there's an SD card slot and a combined headphone and microphone jack. As for the power button, it's placed on the front of the laptop near the status lights — an odd place for it considering that most laptops have the power button in one of the upper corners near the keyboard.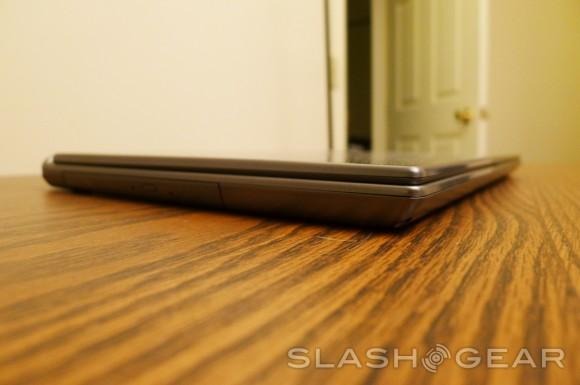 As for the capabilities of the keyboard and trackpad, I wasn't too impressed by either, but it was definitely a better experience than other laptops I've messed around with. The keys have very little travel, making it awkward to type until you finally get used to it. However, the keyboard is backlit, which is perfect for typing into the wee hours of the night, but you can't adjust the brightness of the LEDs — there's just an on/off toggle. As for the trackpad, it's simply just made of plastic, making it a bit more difficult to slide your fingers around on compared to the glass trackpads on MacBooks or even the new Chromebook Pixel. The trackpad is large, however, which is always a good thing to have, and it makes navigating much easier.
Software
The Aspire M Touch runs a full version of Windows 8 as usual, and there definitely is no shortage of bloatware on this bad boy. Acer includes a couple of their pieces of software, and the rest are mostly pre-installed apps that could prove useful to some users, but maybe not quite everyone. There's Acer Explorer, which is an app that basically teaches you how to use the other apps on the computer, and then there's Acer Cloud, which is the company's own cloud storage service that shares files across multiple Acer devices. Lastly there's Acer Crystal Eye, which is a companion app for the webcam, and it comes with a few features that you may find useful, such as different effects.
However, that's only the Acer apps. The company pre-installed a ton of other apps on the computer, such as Evernote, Skitch, Kindle, eBay, Netflix, Amazon, Hulu Plus, Skype, Spotify, and McAfee. All of these will probably be useful to you, since they're popular apps, but Acer also pre-installed a few apps that you'll probably end up never using, including 7digital, Britannica, iCookbook, ChaCha, TuneIn Radio, StumbleUpon, Social Jogger, newsXpresso, and WildTangent Games. Obviously, you can delete the apps you won't be using, but your first bootup into Windows 8 on this machine won't be a clean one.
Performance
The Aspire M Touch runs off of an Intel Core i5 3317U dual-core processor clocked at 1.7GHz with 4GB of RAM. This keeps the machine pedaling along nicely, and the solid state drive allows for fast bootup times and quick app switching. Running the M Touch through Geekbench, we ended up getting a score of just over 7,000, which isn't anything fantastic, but it's also not terrible. This laptop isn't really meant for the true power user, but rather the everyday average consumer just wanting to stay connected. The integrated Intel HD 4000 graphics prove that this laptop won't be able to handle any intense gaming, but those wanting to watch a movie won't have any problems.
[sgbenchmark id=203 show=system]
As for battery life, this is where we were pleasantly surprised. We were averaging around five hours of use, with the occasional six hour cycle if we purposely tried to stretch it. This may not seem that impressive, but with so many laptops today not even able to last four hours on a single charge, we have to give it up to Acer for being able to pull it off.
[sgbenchmark id=203 show=score]
Wrap-Up
The Aspire M Touch is a sleek-looking laptop, and there's no doubt about that. Some of the design elements are a bit wonky, though. For example, most of the important ports that you need to get to are all located on the back, save for the headphone/microphone jack and the SD card slot. It makes sense to have the power port and the HDMI port on the back, that way you have cables sticking out from the sides, but having all the USB ports located on the back of the laptop is just a plain nuisance. However despite the low travel of the keyboard keys and the plastic trackpad, using both actually wasn't too bad; it was certainly a better experience than other Windows laptops that I've played with, so I can't complain too much in that respect.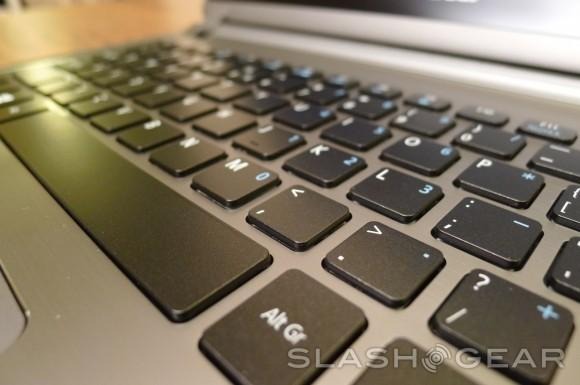 You can grab an Aspire M Touch for around $800, which might seem a bit on the pricey side, but it's actually relatively lower than most other laptops like it. It's certainly a machine that we'd recommend to anyone looking for something portable to get them by with their everyday computing needs, and we'd have a hard time believing that users weren't having a good experience with the laptop.