Acer Aspire Gemstone Blue media laptops available now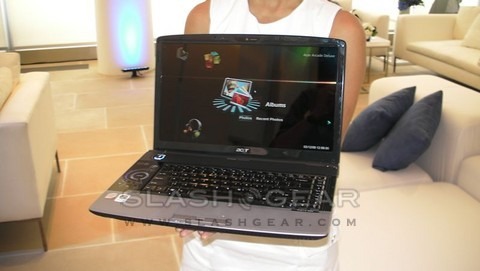 Back in March, Acer rather breathlessly announced that they would be pretty much revolutionising the laptop market; in the end, they produced a new range of media notebooks, the Aspire Gemstone Blue, which while not exactly earth-shattering were still vaguely attractive and capable machines.  Now, two months later, the Aspire 8920 and 6920 are finally available in North America.  Both powered by Intel Core2 Duo T9500 processors, HD-resolution displays and optional Blu-ray drives, the 6920 has a 16-inch widescreen LCD while the 8920 has an even larger 18.4-inch 16:9 aspect panel.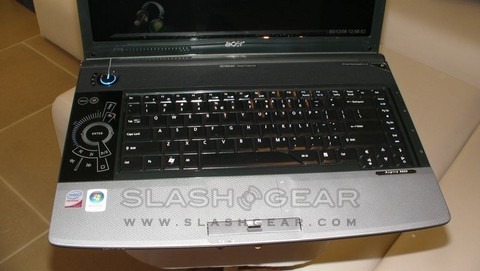 The video capabilities are backed up with decent sound, too, with each notebook having up to five integrated speakers for Dolby CineSurround.  While the 6920 can be fitted with up to 320GB of storage, the 8920 can take two drives in its larger chassis, for a maximum of 640GB.  WiFi a/g/n, Bluetooth, gigabit ethernet and a built-in webcam round out the networking abilities.
The 18.4-inch Aspire 8920 features:
• Intel Core2 Duo Processor T9500
• Mobile Intel PM965 Express chipset
• 1 or 2 hard disk drive, up to 320GB each
• Integrated Blu-ray Disc drive or 8X DVD Super Multi double-layer drive
• 18.4-inch Full HD 1920 x 1080 resolution Acer CineCrystal display
• Discrete NVIDIA GeForce 9650M GS or NVIDIA GeForce 9500M GS
• 6-in-1 card reader
• Express Card/54 slot, HDMI port with HDCP support
• 802.11a/g/n WLAN, Bluetooth, gigabit LAN, V.92 modem, integrated webcam
The 16-inch Aspire 6920 features:
• Intel Core2 Duo Processor T9500
• Mobile Intel PM965 Express chipset
• Hard disk drive up to 320GB
• Integrated Blu-ray Disc drive or 8X DVD Super Multi double-layer drive
• 16-inch Full HD 1920 x 1080 resolution Acer CineCrystal display
• Discrete NVIDIA GeForce 9500M GS
• 6-in-1 card reader
• Express Card/54 slot, HDMI port with HDCP support
• 802.11a/g/n WLAN, Bluetooth, gigabit LAN, V.92 modem, integrated webcam
The new Aspire Gemstone Blue notebooks are now available through Acer authorized resellers and selected retailers throughout North America, with pricing beginning at US$1299 for the Aspire 8920 and US$849 for the Aspire 6920