Acer Aspire AZ5700-U3112 and AZ3100-U3072 All-In-Ones outed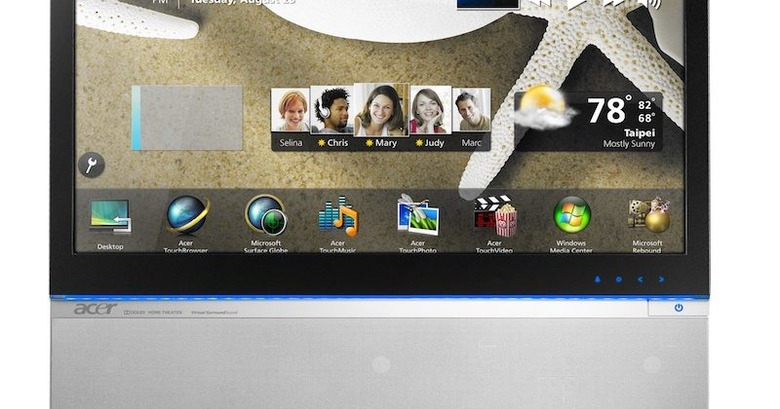 Acer seems to have taken a leaf out of Bang & Olufsen's design book with the aesthetic for their new all-in-ones, with the AMD-based Acer Aspire AZ3100-U3072 and the Intel-based Acer Aspire AZ5700-U3112 offering perhaps the best styling this side of an iMac.  The 21.5-inch AZ3100-U3072 is the cheaper option, with AMD's 2GHz Athlon II 170u CPU, 3GB of memory and a 500GB HDD, while the 23-inch Full HD AZ5700-U3112 gets Intel's 3.2GHz Core i5-650 CPU, 4GB of memory, a 1TB HDD and a touchscreen.
The AMD processor is paired with NVIDIA GeForce 9200 graphics and a Full HD 1080p resolution panel, while the Intel processor is matched up with Intel HD graphics.  The latter also supports multitouch, has a TV tuner and an IR blaster, and both have 5.1 audio, HDMI and six USB 2.0 ports.
Windows 7, WiFi b/g/n, gigabit ethernet and a wireless keyboard and mouse set are standard, and both machines are available now.  The Acer Aspire AZ3100-U3072 is priced at $599, while the Acer Aspire AZ5700-U3112 is $1,099.
Press Release:
ACER UNVEILS NEW ALL-IN-ONE DESKTOP – A PICTURE-PERFECT HOLIDAY GIFT

Acer now offers two svelte AIO models; newest boasts a compact modern design and 21.5-inch HD display

SAN JOSE, Calif., Sept. 28, 2010 – Acer is aiming to top holiday `wish lists with the expansion of its sleek and stylish all-in-one desktop line. Its newest model, the Acer Aspire Z3100 features a 21.5-inch HD display and contemporary aesthetics. Acer has also pumped up the performance on its stylish, state-of-the-art Aspire AZ5700 with an intuitive 23-inch HD multi-touch display.

The new all-in-one desktops flaunt a refined design and the speed needed for efficient multitasking, social networking and high-def entertainment, including the enjoyment of HD movies and immersive audio. Both models are designed for users who appreciate clean aesthetics and want a PC that will eliminate clutter and maximize limited desktop real estate.

"The elegance and convenience of the all-in-one desktop is becoming increasingly popular with consumers," said Steve Smith, senior business manager of consumer desktops for Acer America. "We're pleased to offer our customers more choices for this practical form factor, which is appealing for its unique blend of features and modern architecture. In addition to our premium system with a 23-inch HD display, touch panel and TV tuner, we also offer a smaller, budget-friendly version with a host of features and ample power, ideal for dorm rooms, office nooks and lofts."

Acer Aspire AZ3100-U3072 – Space Maximizer, High-Def Fun

The Acer Aspire AZ3100-U3072 with an integrated 21.5-inch LCD display provides solid performance in a simple design that's ideal for areas where space is a premium. The contemporary look and feel encompasses a gray and black bezel and an illuminated blue accent strip with four brightness settings for lighting the wireless keyboard. Contributing to the crisp aesthetics is a compartment on the side of the chassis for managing cables and ample room under the elevated chassis for hiding the keyboard when not in use.

Created for multimedia enjoyment, the combination of the HD display's true 1080p resolution and NVIDIA® GeForce® 9200 graphics enrich entertainment with sharp, lifelike images, smooth video transitions and vibrant colors. It's a beautiful screen for viewing movies, streaming video and digital photography.

An AMD Athlon™ II 170u (2.0GHz) processor and 3GB DDR3 SDRAM provide plenty of power for surfing the web, email and casual games. A large 500GB hard drive(1) is big enough to store a vast library of digital media, personal files and software applications. The system has 5.1 channel audio and two built-in speakers for dynamic sound quality as well as an optical drive for enjoying CD music and DVD movies. It provides an integrated webcam and microphone, HDMI and 6 USB 2.0 ports for connecting to an array of peripherals and digital devices.

The AZ3100 also comes with Windows® 7 Home Premium, 802.11 b/g/n, Gigabit LAN and a wireless keyboard and mouse. The Aspire AZ3100-U3072 is available at leading retailers with a manufacturer's suggested retail price of $599.

Acer Aspire AZ5700-U3112 – Striking Design, Intuitive Entertainment

The Acer Aspire AZ5700 all-in-one with a stunning 23-inch HD display is a beautiful blend of visual elegance, best-of-breed technology and superb performance. A seamless integration of a desktop PC with the usability of a multi-touch LCD display and a TV tuner makes it an appealing choice for those wanting an easy-to-use entertainment hub for the home.

The AZ5700 boasts chic styling. The sleek, chrome structure accented with a black strip will enhance any room or office. Designed to streamline the workspace, tidy cable management and keyboard storage eliminate clutter.

At the heart of the feature-rich functionality is multi-touch technology, which enables users to intuitively interact with the PC using multiple fingers as they would a mouse. They can open and close programs, browse online newspapers, flick through photo albums and shuffle files and folders, using nothing but their hands.

Fueled by Intel® Core™ i5 650 processors (3.2GHz), 4GB DDR3 SDRAM and Intel® HD graphics, this desktop has enough power for speedy multitasking and realistic imagery for movies, digital video, social networking and casual games. Digital media lovers will appreciate the dynamic high-def 5.1 channel audio, optical drive and 1TB SATA hard drive(1) that can accommodate a huge collection of movies, music, photos and more. In addition to a wireless keyboard and mouse, the system provides HDMI, an IR blaster port and 6 USB 2.0 ports.

In addition to Windows® Home 7 Premium, the Aspire Z5700 comes with the Acer TouchPortal, a suite of applications designed to synchronize life, the PC and Internet with all-in-one touch control. These applications include TouchMusic, TouchPhoto, TouchVideo, TouchBrowse, TouchCam, TouchMemo, TimeGadget, WeatherGadget and TouchFriends.

The Acer Aspire Z5700-U3112 is available at leading retailers with a manufacturer's suggested retail price of $1099.