Acer Aspire AS8943G get ATI Radeon 5850 2GB update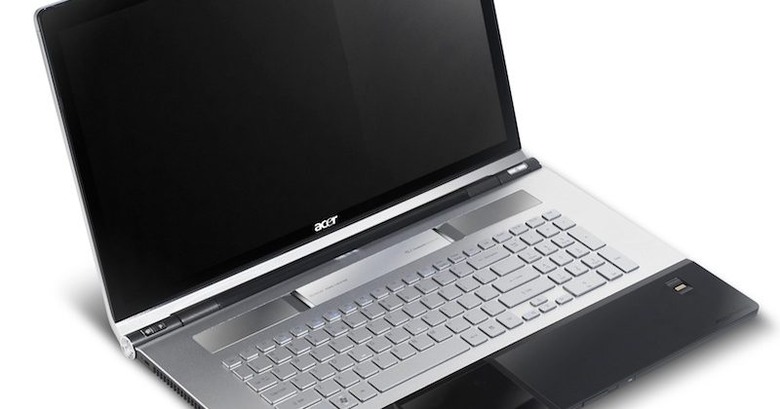 Acer's beefy Aspire AS8943G series notebooks have received a grunt update, with the 18.4-inch 1080p-capable machines now toting ATI's Radeon 5850 GPU with its own 2GB of memory.  A range of Intel Core i7 chips are available – up to the i7-740QM – and either 4GB or 8GB of RAM.
There's also HDMI, eSATA, WiFi b/g/n, gigabit ethernet and a 1.3-megapixel webcam, together with a 500GB HDD as standard and room for a second internal hard-drive.  Blu-ray and a FireWire port round out the media-friendly features, and Acer's unusual dual-mode touchpad changes between a regular multitouch trackpad and shortcuts for playback.
Unsurprisingly, the only thing that hasn't changed is the high price; the AS8943G series is still at the expensive end of Acer's spectrum.  Kicking off at at $1,499.99, the Acer Aspire AS8943G-9319 and the Acer Aspire AS8943G-9429 are each available now.
Press Release:
New Acer Aspire AS8943G Notebook Computers Offer ATI Radeon 5850 Graphics with 2GB of Memory

Acer's newest high-performance notebook PCs deliver unparalleled gaming and personal theater experience

SAN JOSE, Calif., Sept. 27, 2010 – Acer America, part of the world's second largest manufacturer of notebook PCs (1), today announced two new models in its Aspire AS8943G notebook line now offer the ATI Mobility Radeon 5850 graphics processor with 2GB of dedicated video memory.

The Acer Aspire AS8943G Series of notebooks are first-class multimedia centers that deliver an unparalleled high-definition personal theater experience, and are designed for the most discriminating computing enthusiast. Featuring top-of-the line technologies and usability features, the Aspire Series is designed for creating multimedia content, watching movies or dominating the latest PC games.

Already renowned for their phenomenal gaming performance and spectacular HD video and audio entertainment capabilities, Acer Aspire notebooks featuring the new ATI GPU are capable of running demanding DirectX® 11 games in full HD at maximum settings. Enthusiasts will appreciate its phenomenal performance and ability to deliver an enhanced home theatre audio experience, high-quality surround sound and advanced display quality.

"For gamers and other computing enthusiasts, a holiday gift couldn't get much better than this," said Preeta Anil, Acer product marketing. "The Acer Aspire notebooks featuring ATI's newest and fastest GPUwill allow them to get the best possible experience out of their PC, surrounding and immersing themselves in the most graphic- intensive games or the latest Blu-ray action adventure movie."

Acer Aspire AS8943G notebooks are powered by an Intel® Core™ i7 Quad Core Processor (i7-740QM) and 4GB or 8GB of memory (upgradeable to 16GB) and feature a brilliant CineCrystal™ 18.4-inch edge-to-edge glass LED back-lit display with full high-definition (1080p) resolution. For movie buffs, an HDMI port allows for quick and easy hook up to an even bigger high-definition TV. And combined with its Dolby® optimized Acer CineSurround sound system with five built-in speakers and a dedicated subwoofer, consumers can lose themselves in realistic high-definition visuals, enjoying a full-throttle immersive computing experience like never before.

Complimenting its top-notch performance, graphics, display and audio capabilities, other high-end features found on Aspire AS8943G series notebooks include a 500GB(3) SATA hard drive, support for dual hard drives, a firewire port for moving videos quickly from a digital camcorder, and an eSATA port for fast data transfer.

Its unique dual-mode touchpad enables switching between multi-gesture mode and media console mode, and the flick of a finger launches favorite movies or music. A convenient scrolling volume wheel directly under the touchpad makes it easy to control volume levels.

Connecting to the Internet is fast and easy, with 802.11b/g/n Wi-Fi CERTIFIED™ wireless for the road and Gigabit Ethernet for fast connection at home.

A 1.3 megapixel HD webcam and digital microphone provides clear high-quality online chat sessions, and can also take still pictures and videos for sharing with friends. The notebooks also include a bio-protection fingerprint reader, preventing unauthorized use of the PC.

Configurations, Pricing and Availability

With prices starting at $1,499.99, the Acer Aspire AS8943G-9319 and the Acer Aspire AS8943G-9429 are available now at leading retailers.