Acer Aspire 3D notebook coming October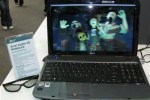 After rumors back in April that HP were planning to launch a 3D laptop courtesy of NVIDIA's GeForce 3D technology, now comes word that Acer are planning their own 3D rival.  According to Campbell Kan, VP of Acer's mobile computing business unit, the 15.6-inch Aspire 3D laptop will arrive at the end of October 2009, and require stereoscopic glasses in order for the 3D effect to be viewed.
Initial uses for the visual technology will include 3D movies and gaming, and Acer will preinstall software that, it claims, is capable of taking 2D footage and converting it into 3D.  The hardware has been jointly developed with Wistron, though beyond that Acer have given no suggestion as to whether it will use NVIDIA's system.  However it's worth noting that Wistron were the OEM tipped to supply HP's 3D laptop.
Since the machine will run Windows 7, Acer are declining to comment further on any more details until the OS has been released.  However they did confirm that they are working on a version which does not require 3D glasses; that, though has "quite a few technological obstacles to overcome" says Kan.