Acer Android Tablet Gets Brief Demo; Due Q4 2010

Acer's tablet plans have always been a little more shaky than that of rivals ASUS and MSI, but the company's CEO Gianfranco Lanci has just spilled their latest intent at a press conference in UAE.  Lanci whipped out an unnamed 7-inch Android-based tablet with a hardware keyboard, similar in design to a Kindle, which he reckons will hit the market in Q4 2010.
According to Shufflegazine, Lanci was coy with specific details on the tablet, which closely resembles their LumiRead ereader only with a color touchscreen display.  The CEO said Acer were still deciding between traditional retail channels or operators for distribution, though that the latter was the "obvious" option; that certainly suggests a 3G connection would be integrated, though again that wasn't officially confirmed.
Shufflegazine say that the slate "looked pretty fast with sensitive touch" from their viewpoint, and going from the photo it looks like a pretty basic Android build.  Of course, all that could change in the intervening period between now and general availability; we'd like to find out some pricing details before we get too excited.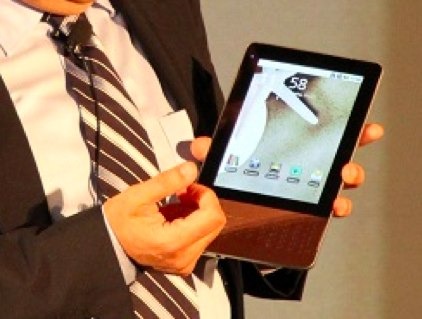 [via Engadget]