Access CPhone Android smartphone with cartoon UI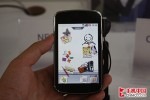 Much of what's interesting in Android right now is seeing what manufacturers do with custom UIs, like Motorola's MOTOBLUR and HTC's Sense, so color us curious at Access' new Chinese Android device, the CPhone.  Shown last week at a Chinese mobile event, the CPhone runs Android OS 1.5 "Cupcake" but with a Flash-based cartoon interface of a type so far unseen on rival devices.
Full specs of the handset are unclear, but the Access CPhone is tipped to play back China CMMB TV for on-the-go mobile content.  China Telecom are said to be in talks with Access about the device, which the company's press are hyping as the battle of the OPhone and CPhone, referring to China Mobile's own Android handset.
The CPhone has a 3.5-inch display and combination chrome/leather-effect casing that actually looks pretty reasonable.  No word on pricing, nor when it might arrive in China, but it looks like Android's promise to enable low-cost smartphones for entry-level markets is slowly coming true.
[via Cloned In China]