Able Planet NC300B review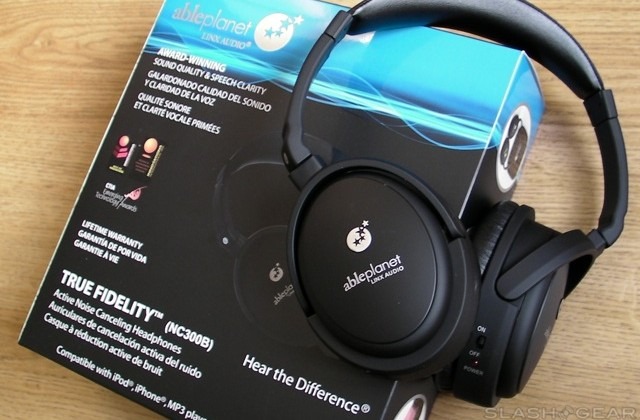 The active noise cancelling earphone market is dominated by a few big name manufacturers, and that generally keeps prices for effective systems relatively high. Into the fray steps Able Planet, no strangers to personal audio but promising a cheaper way to cut out airplane and other frustrating background noise. They sent us a pair of True Fidelity NC300B headphones, to see if it's really possible to deliver decent sound isolation with at $129.99 MRSP. Check out the SlashGear review after the cut.
Considering the NC300B headphones are Able Planet's entry-level models, the don't skimp on the packaging. Inside the box there's a hard-shell carrying case with a moulded cradle for the headphones along with a small, zipped pouch for the cable and included adapters. This is Velcro-backed, so even if you decide to ditch the case you can still keep drop the adapter bag into your rucksack.
Included accessories are a six foot audio cable with standard 3.5mm stereo plug on either end and an in-line volume control, a 3.5mm-to-1/4-inch adapter, airplane adapter and a single AAA battery that slots into the right earcup. We particularly like the fact you can replace the cable without having to buy whole new headphones, and thanks to the 3.5mm socket you don't even have to go to Able Planet to do so. Controls are simple, a power switch and red LED indicator, and the earcups rotate and twist as well as extending to suit different head sizes.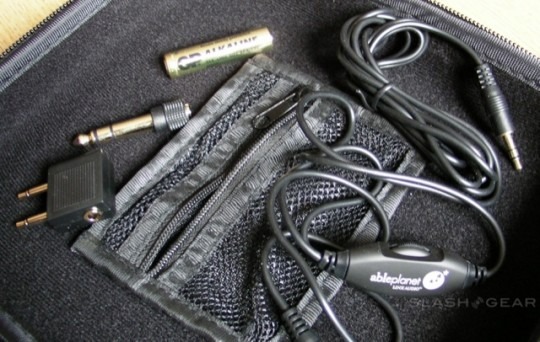 It's straightforward to get a comfortable fit, and there's neither a sense that the NC300B's are going to crush your skull nor fall off if you shake your head. Even turned off, there's an instant noise-isolating effect from the closed cup design. However Able Planet offer active rather than simply passive noise reduction, and you can use it with or without an audio source.
The concept behind active noise reduction is simple: microphones pick up external noise and then the DSP system suppresses it with an "antinoise" signal. Able Planet's is called LINX AUDIO, and – like other approaches – it's biased toward higher frequency sounds, emphasising them in the audio source to help pick out speech and singing among any remaining background noise. With no audio source there's a quiet hum of white noise, which is harder to hear once you've turned on music.
Does it work? The impact from merely putting on the headphones is greater than the active circuitry, but there is a small if noticeable reduction in lower frequency external noise when the DSP is turned on. Start up some music, meanwhile, and there's a significant boost in volume through the headphones when you turn on the cancellation system. That makes it tricky to directly compare the impact, but we'd say it's certainly harder to make out background noise with an audio source playing and the noise cancellation turned on.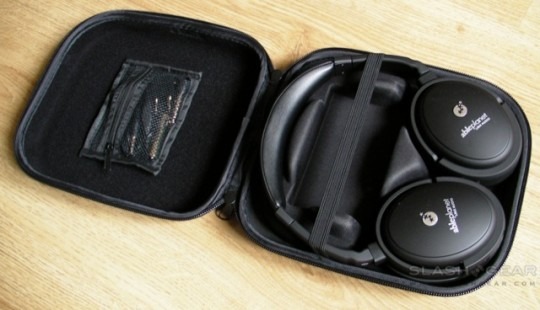 Active noise cancellation works best dealing with a continuous background buzz, such as you'd get on an airplane, and true enough when we played some static-like drones the NC300B's handled them better. It's not some magic isolation booth – you won't switch on the system and never hear screaming children the next row over again – but the combination of active and passive work well together and do allow you to turn down the volume of your PMP player. Even if nothing else, that should save some of its battery life, and if the headphones' AAA battery dies they'll still work, just without the DSP. Sound quality in general is good, though we found the NC300B's sound better with bass-heavy audio and lack a little in the midrange. A set of decent in-ear monitor earphones will give you better audio, yes, but the Able Planets are surprisingly comfortable for extended use.
Best of all is the price: MRSP is $129.99, but Buy.com list the Able Planet NC300B headphones at around $78 and a quick Google threw up some even more competitive prices from other retailers. That's a bargain, and while you might get more complex DSP from more expensive rival systems – Bose, we're looking at you – semi-frequent fliers will find the Able Planet price much easier to swallow.