AAXA P1 pico-projector with 1GB storage & mediaplayer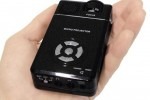 There's another pico-projector on the scene, this time the AAXA P1, and unlike many other examples we've seen it doesn't use a Texas Instruments chip.  Instead, the P1 uses AAXA's own proprietary LCOS chip, capable of projecting a 60-inch image at 640 x 480 with 12 lumens brightness.  As well as connecting to your iPod, PSP or any manner of external sources, it also has 1GB of internal storage, a microSD slot and an onboard media player.
That means you can load up the P1 pico-projector with MP3, WMA, OGG, WAV, AVI, WMV, SMV, BMP, JPG, GIF, TXT and HTML files and play them from the device itself.  There's also a built-in speaker (and a 3.5mm headphone socket) and battery life is rated at 45 to 60 minutes depending on whether you use the onboard sound.  Happily the battery is swappable, so if you really get into a movie you don't necessarily have to stop watching half-way through
The AAXA P1 pico-projector will begin shipping by the end of the week, with a normal MRSP of $289 but a currently discounted intro price of $259.  It comes with a composite input cable; a mini-USB cable, iPod and iPhone, PSP, and other cell phone input adapters are available separately.
Press Release:
AAXA ANNOUNCES ITS P1 MICRO PROJECTOR

AAXA Technologies announces the release of its P1 micro projector. Combining off-the-shelf components with AAXA's proprietary LCOS chip, AAXA's micro projector brings affordability to the pocket projector market while improving brightness and image quality. Weighing in at 6 ounces and no larger than most PDAs, this diminutive unit projects a usable 12 lumens at a resolution of 640x480. The unit is capable of producing excellent picture quality and brightness in most lighting conditions.

Picture quality is excellent in low-light conditions even with a 60" picture. Multiple input sources are accepted including VGA, Composite, as well as direct hook-ups to Ipods, Iphones, PSPs, and a myriad of cell phones. With 1GB built in and a micro SD card port the storage capacity is virtually unlimited. The onboard file menu and decoder plays virtually all media formats including MP4, AVI, WMA, JPG, GIF, HTML, etc. Battery life is rated at 45 to 60 minutes (depending on speaker use) and replacement battery packs are available. With an MSRP of $289 included with the projector is battery, composite input cable, and charger. Tripod, micro SD, mini-usb cable, Ipod / Iphone, PSP, and other cell phone inputs are available separately.

As of January 14, 2009 units are now shipping.

MSRP $289.00