AAXA P1 LCoS-based pico projector review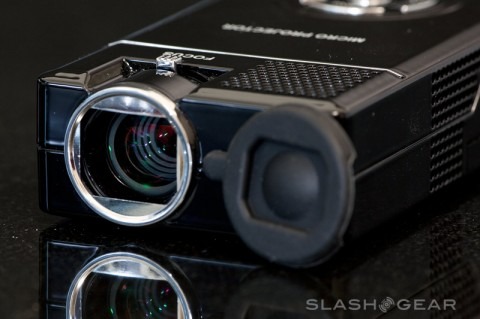 Having used four generations of home entertainment projector over the last decade, I was skeptical of small-form factor pico projectors when they first surfaced. A pocket-size projector with dimensions similar to a remote control or a cellphone, running super-cool and battery-operated for up to an hour of continuous use. That's all tempting stuff, but can they deliver? Last month, we reviewed the UK-based BeamBox Evolution R1 Pico-projector; today, we have a close cousin with the same LCoS microdisplay but in different outfit: the AAXA P1 pico projector. (video after the cut)
Right out the box, the lightweight pico-projector doesn't look like much – a clean, piano-finish hard plastic that tips the scales at a mere 6 ounces, with optics offset to the side and protected with a handy rubber cover. There's also a focus knob for the lens, ventilation along the side panels and an exhaust fan next to the lens. Unfortunately there's no tripod thread on the back or base of the projector, unlike the BeamBox.
[vms c962aa0d22ac97d69b79]
Physically, though, if it wasn't for the chassis and finish, one can hardly tell the AAXA P1 and BeamBox Evolution R1 apart. Both are close in size, weight and feature-sets. Like the Beambox, the AAXA is a natively 4:3 VGA pixel-resolution pico projector, built upon a LCoS-based microdisplay with a single white LED light source — courtesy of CREE LED technology — that can last up to 30,000 hours over the course of its working life.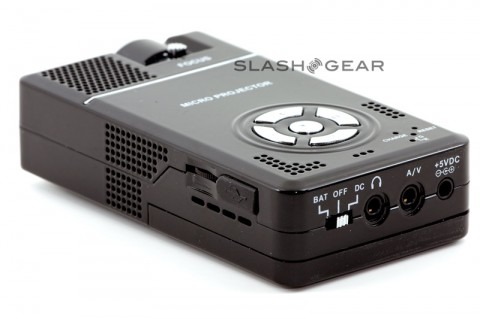 An integrated PMP chipset allows for media playback of various video, music and picture formats, with 1GB of onboard storage. There's also a built-in speaker, small but enough to deliver adequate sound output or music in a quiet and small-sized room. If 1GB isn't enough for you, there's a microSD card slot for extended storage, and it has the usual I/O connectivity from Mini USB (to access the internal memory), a 3.5mm composite A/V jack, 3.5mm stereo headphone jack and an AC power connector; AAXA included an optional accessories adaptor, for hooking up your iPhone/iPod iTouch/PSP, and they also offer a VGA convertor for linking your computer to the projector.
The main differences between the two projectors are the contrast and lumen outputs. The AAXA boosts a whooping 1,000:1 contrast ratio, at the expense of lower luminous intensity – it's only rated at 12-lumen, as opposed to 30 from the Beambox. However the latter only offers a 200:1 contrast ratio.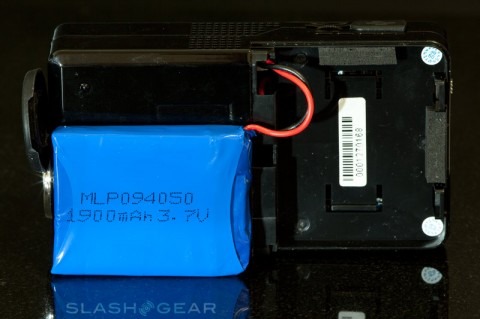 Power is courtesy of a 1,900mah, 3.7v rechargeable battery, meaning you can use the P1 with or without the AC adaptor. The battery/charger indicator could be more informative though, unfortunately: it lights green whenever the AC adaptor is connected and turns red when the unit runs off the battery, and that's all there is to it. There's no easy way to check charge status. According to AAXA, a full charge should take about one hour depending on how drained the battery is. From our own experience, a single charge was enough for around 110 minutes of mp4 video looped on continuous playback and with onboard sound playing, surpassing the manufacture's claim of 45-60 minutes by around twice as much! But wait, there's more: it will run even longer if the sound is off.
Operation and GUI are no different than the Beambox – pressing and holding the play/pause button turns on the GUI, offering a simple interface with a choice of Music, Video, Photo, eBook, Explorer and Settings which allow the user to browse multimedia files, each of which are arranged vertically in a folder and split across onboard or microSD storage. Audio can be played in the background while you navigate though the menus. As for music, the app displays song details along with a real-time 14-band equalizer. Pictures, meanwhile, provides basic JPEG, BMP and GIF format support, with slideshow and zoom features, while Video supports basic controls such as fast-forward, rewind and pause.
In our tests, the P1 projected a standard size 60-inch (48" x 36") diagonal picture from a distance of approximately 78-inches. Unlike a conventional projector, the mechanical lens of the pico-projector doesn't incorporate a zoom, so the throw ratio is fixed at approximately 0.77x.
A common business-class projector provides somewhere around 1500-2000 lumens, boasting enough light to view a presentation in strong ambient lighting conditions. A home theater unit, on the other hand, requires only 300-500 lumens in a dim and light-controlled media room (after the D65 standard calibration). A perfect picture output is a balance of optimized contrast and brightness with accurate color reproduction. So how does a 1000:1 contrast ratio and 12-lumen pico-projector fit into the equation?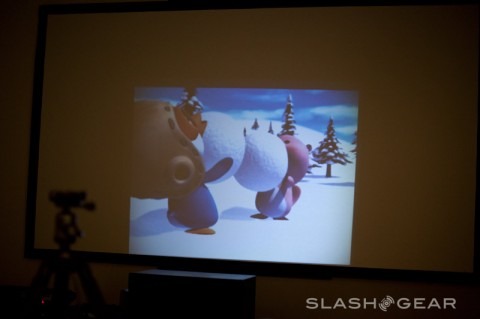 After viewing a few video clips and images on a Draper M2500 2.1 gain angular reflective screen, we shifted to a neutral matte white screen surface to ensure the overly contrasty images weren't the result of the high-contrast off-white Draper material. Video color temperature looks cool, definitely above D65 standard. We didn't put our light calibration tool into good use here, since the unit doesn't provide custom settings for the picture, nor has it picture presets for alternate viewing materials.

The video is dim but tolerable in a dark room, enough to keep kids in their seats, but it wouldn't endure any light present. Photo display is slightly out of whack, with too much contrast for my preference. Audio levels are muted for normal movie playback, even turned up to their at maximum level, but sound from the headphone output leveled out just right. Movie clips might need to be recorded or re-processed with higher sound levels to get the best out of the tiny mono 0.5-watt speaker. Unsurprisingly, then, it's not much use for business presentations; furthermore, with 25db of high-pitched fan noise, we don't really see how this device could be useful for playing music.
Using the supplied 3.5mm cable, we were able to get our iPhone hooked up to the P1. Once connected, the plug-n-play setup shut off all activity on the iPhone's display, and displayed content directly to the external projector, without having to go though any troublesome setup or menus. In video playback, we noticed panning jerk was present in mp4 material, but we're told the AAXA engineers are working on a solution to address some of these playback issues. An option in the P1's settings menu allows you to update the firmware, which has to first be loaded into the pico-projector's internal storage.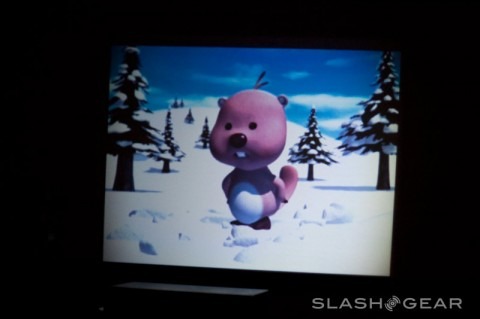 If jerkiness wasn't frustrating enough, there's also evidence of discoloration at the edged of the picture. LCD projector users will likely be familiar with the polarizer elements that tend to wear out with age and excessive heat exposure — a tint color overlays the edge of projected image. The P1 image looked a little like that; however the LCoS-based technology is more resistant to those shades of discoloration. The image edge distortion, according to the manufacturer, is "normal for the current generation of LCoS-based pico projectors due to the output lens being shrunken to the smallest possible size. The LCoS panel is slightly oversized for the optics and results in slight distortions at the extreme edges/corners."
It's an exciting technology but not practical. It lacks the essential – adequate lumen output — to fulfill either mobile professionals' business applications or living room entertainment. It's quite a disappointment and that's how I feel about pico-projectors in general, not particularly toward the AAXA. I can't get past the feeling that the technology is not ready for prime time — I doubt I would sit still for a minute looking at a muted picture, trade in my iPod for an MP3 player with a high-RPM fan and, most certainly, decline to showcase my media portfolio on any display with imprecise color settings. On a cheerful note, the battery power is inspiring, but there's a lot of work to go before pico-projectors generally live up to their promise.
The AAXA P1 pico projector is available now to order online for the discounted price of $239. (As of 4/28/2009)
AAXA P1 Pico Projector Spec.
VGA (640x480), 4:3 Aspect Ratio
12 ANSI-Lumens
1000:1 Contrast Ratio
25dB Noise level
7 ~ 50 inch project-image
Single Chip White LED Lamp with 30,000hrs Lifespan
50° Projection Angle
Onboard 0.5w speaker
Stereo speaker/headphone mini-jack
105 x 58 x 26mm Dimension
180g in Weight
Power Consumption 0.9-1.5 watts
Power Supply: DC 1900 mAh battery
AC100~240V(Free Voltage), 50Hz/60Hz
Supported Formats: MP4/MP3/WMA/OGG/WAV/AVI/WMV/SMV/ BMP/JPG/GIF/TXT
Video In: Composite A/V (3.5mm Jack)
Audio Out: 3.5mm Stereo Headphone Jack
USB: 5 Pin Mini USB