Aava Mobile Intel Moorestown MID hands-on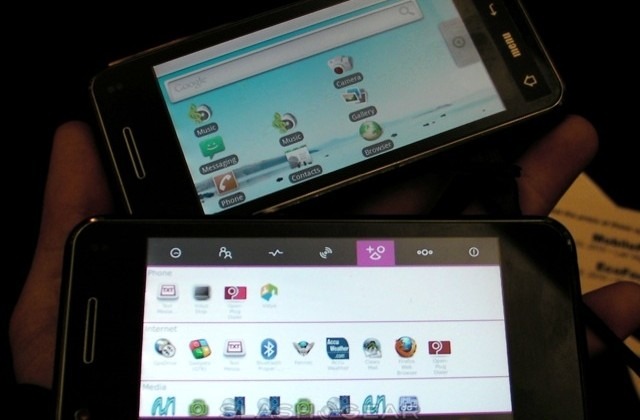 Intel brought along their second Moorestown-based MID to MWC 2010, made by Aava Mobile, and we grabbed a chance to try out both the Moblin and the Android versions.  No matter the OS, the hardware is the same: a considerable touchscreen, WiFi and 3G, along with the usual sensors – GPS, accelerometer, digital compass – and both front and rear facing cameras.
Performance seemed reasonable on both devices, though there were some missed-taps on the touchscreen and both builds were very much works-in-progress.  We also took the opportunity to quiz Intel about what exactly will differentiate Moorestown from other next-gen chipsets, like NVIDIA's Tegra or Texas Instruments' OMAP4, since performance didn't seem anything excessive over what other platforms we've tested.
Their stance is that Moorestown brings with it flexibility – greater flexibility to run various platforms, including those intended for ARM and x86 systems – and of course as well as Android and Moblin there'll be MeeGo support when that OS arrives later in 2010.  Moorestown will be capable of running in a low-power mode for regular smartphone duties, or in a high-power (comparable to a netbook-style devices) mode when you need some processing or multimedia grunt.
The expectation is that Aava Mobile will offer the handset as a reference design, rather than selling it directly.
[vms f4c4db0902a8a395ced9]
[vms 220e2ebc542eb9d950b1]