A Week with NOOKcolor: Hardware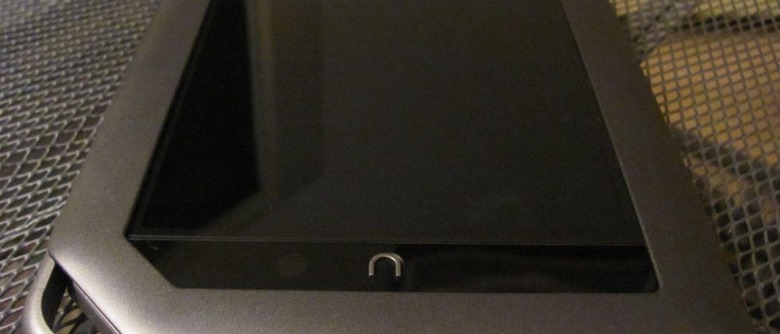 Welcome to a super amazing extended review of the brand-spanking-new NOOKcolor. Let me begin by assuring you that the name is "NOOKcolor" all one word rather than "Nook Color" as I'd originally assumed in posts of the past. Then, let me let you know that this is not the first multi-post review we've done of a bit of gear – search for the term "A Week with" – our most recent project being the HTC HD7. Now we move on to this NOOKcolor, Barnes and Noble's full-color eReader, on its way out on the delivery trucks as we speak, just in time for the holiday season. This first post we'll discuss a bit about the hardware – how the item feels, works, and functions in the real world.
NOTE: that this whole situation has both an unboxing and hands-on post and a demo post preceding it, both of the posts can be considered a sort of prequel set to this. Then lets get into the basics: weight, size, and portability.
The NOOKcolor weighs approximately 15.8 oz, that being .98 pounds – lighter than a Harry Potter book (the bigger ones.) It measures in at 8.1x 5.0 x 0.48 in, making it small enough to fit in a jacket pocket, but just a bit too big to fit in anyone's pants pocket. You can hold it with one hand and read a book, but like any paper book, you're going to probably want to hold it with both hands and/or balance it against your leg or a table or something along those lines.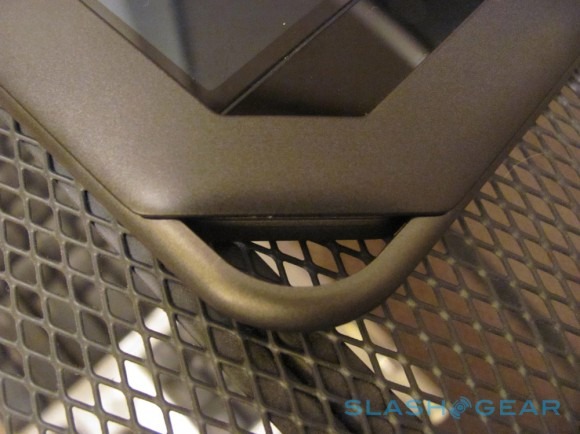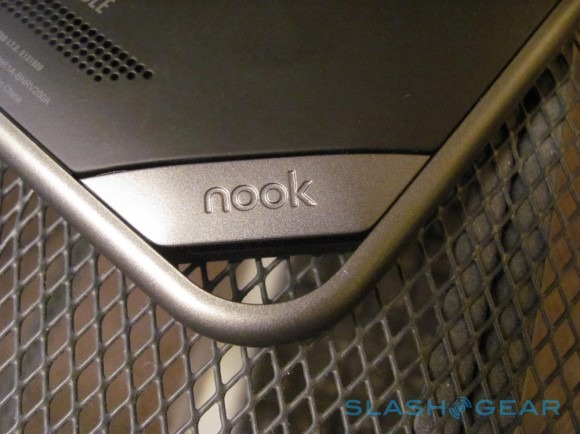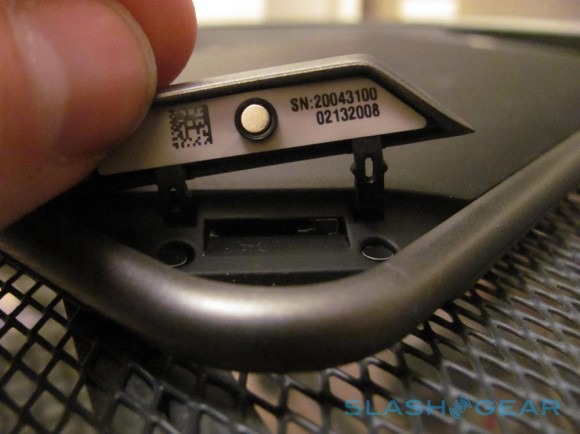 There's a "loop" in the lower left-hand corner that both acts as an aesthetic gesture which differentiates this device from other tablets and marks the place where you're going to be able to insert your microSD memory card. Over the phone with Barnes and Noble I was told that without any card inserted, the NOOKcolor was able to "hold 600,000 books" – for me, this ends up being about 5.1GB of space with 26 books and magazines on the device taking up space. It is possible for each regular book on your device to be anywhere from 47.2MB all the way down to 372KB – these aren't the limits, but they are the largest and smallest books I've got on the device at the moment, just to give you an idea. Also over the phone I was informed that with the memory card slot you'd be able to attain "unlimited storage." Infinite books!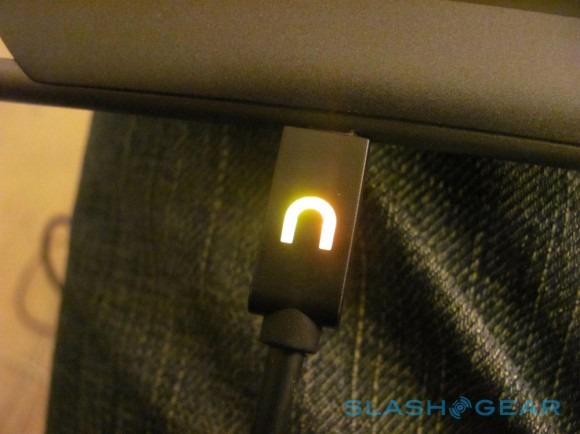 Along the edges of the device there's a headphone jack (on top), volume up/down buttons (upper right), USB plug in (with lovely glowing orange/green "n" on the official cord) (on the bottom), and power button (upper left.) On the back there's a lightly gripping rubbery back with the official "n" pressed into the center, FCC info and BARNES&NOBLE logo printed on the bottom of the back panel, above and below a small speaker hole grid. Along the entire edge of the device is a very sturdy plastic ring – don't go bashing against any brick walls anytime soon, but don't be surprised if it holds up against attacking small animals.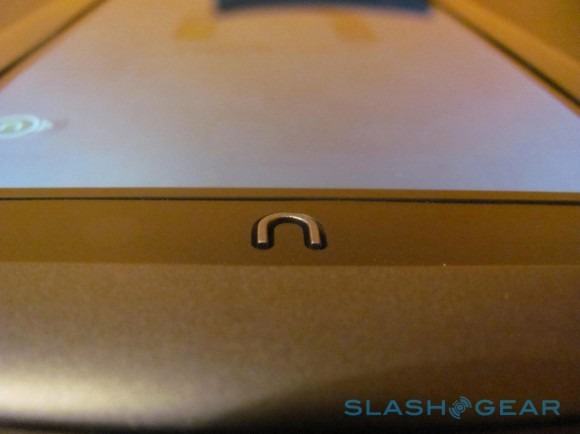 On the front, there's on single button in the center of a piece of plastic as long as the short end of the screen and as tall as the greater border. This button is sort of a "home" button, bringing you back to your desktop from wherever you are in a book, app, in the browser, wherever. This button is again, cleverly shaped in the NOOK "n."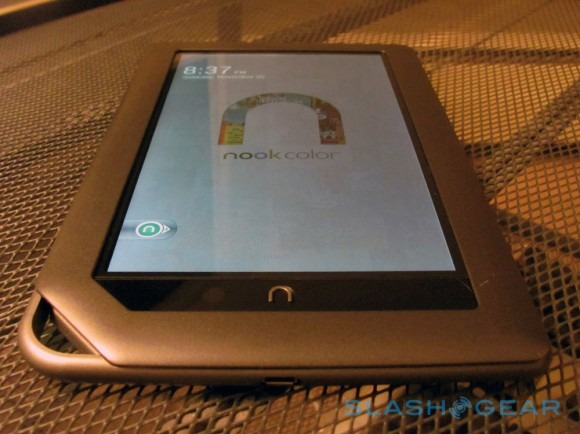 Then there's the screen. The lovely 7-inch backlit LCD screen which I'm told by Barnes and Noble started as a prototype. It's an IPS screen with optics fusion, 1024x600 resolution, essentially no space between the display and the glass, with a lamination across the whole thing to reduce glare. It's certainly not a no-glare situation, especially since it certainly is glass, but the sun's not blasted my eyes out yet with it, that's for sure.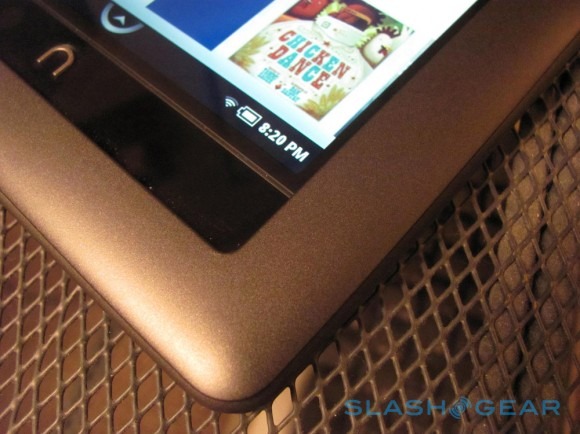 The screen's colors are brilliant. Whether you're accessing a magazine (the best example of still-images, or a video from your "files", you're going to find the display's details to be no disappointment. You WILL see some degradation if you go through the browser to a place like YouTube, even if you're watching an "HD, 1080P" video – I always use The Matrix movie trailers to test screens out, and this doesn't stand up to that test at all – lots of yuck in the blacks and colors and everything. However, if you do have a video optimized for the NOOKcolor, you'll find excellence.
NOTE: Check out this post by user "The Hillarican" on MobileRead forums which explains optimal settings. Use something like the free application "HandBrake" to convert your video. Convert the file you wish to watch to the following: MPEG-4 (FFmpeg) for video codec, AAC (faac) for audio codec, stereo sound mixdown, samplerate of 44.1, and bitrate of 128. DOUBLE NOTE: This seems to work for some people and not for others. If you get it to work, comment below and tell us your super cool secret.
I do wish it were easier to play video content with the NOOKcolor. With other tablet devices (even smartphone devices) it ends up being a much simpler situation in almost every case. On the other hand, this tablet is being marketed as a reading-centric device and they do not seem to push anywhere in the marketing of this device that you'll be able to view brilliant video. Also note that there's no video content available anywhere in the B&N store. Should I wish for an easier video situation on a device that doesn't technically promise it? I can't be sure.
There are several ways to interact with books and apps, meaning several ways to tap, swipe, drag, etc, but I'll get into more of that once we reach the rest of this review series. For now, I'll let you know how well the screen reacts to those actions. Every sort of move or press or tap seems to work perfectly. There are times (especially when tapping something small, like a text link in a book or on the browser) that it takes a few tries to get it to accept your tap, but on the whole, it's a very good experience touchscreen-wise here.
There is one place on the screen that shows a digital ghost when squeezing the device – see picture – this shouldn't be a problem since, you know, why would you be squeezing the thing in the first place, but it'll be interesting to see if this develops into a problem in the future. More than likely this situation arises from there being a piece of equipment inside the casing set up a little higher than everything else, and that's the place that touches the back of the display first.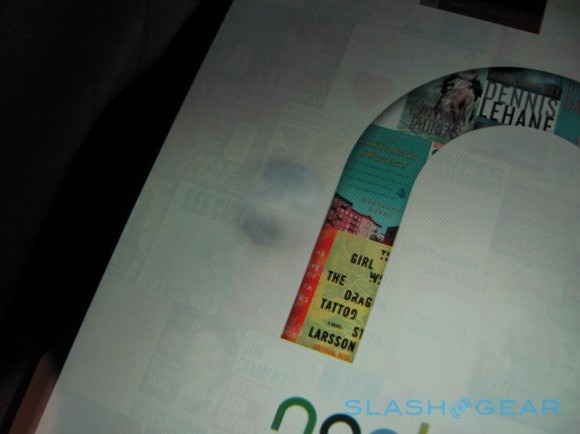 Plugging into the wall or the computer seems to work pretty well, the drive folder showing up on your computer's desktop within a minute, most of the time within 10 seconds. As I've said before, I do really enjoy when any power plug lets me know when the device is fully charged, and this one does just that with a lovely NOOK "n" on the cord on the device's end. While the device is plugged into the computer, you're not allowed to access anything on the device unless you eject the files folder. Once you do this, though, your device will power up even as you use it. IMPORTANT: if you ever decide to fully power your NOOKcolor off, you'll have to press the power button down for more than the otherwise short-click-on if you'd like to turn the device back to its on-state. Holding the button down for around 5 seconds should do the trick.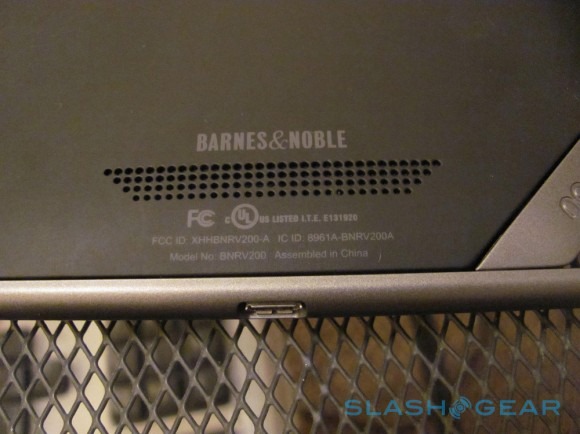 Wrap-Up
The NOOKcolor has very minimal problems in the hardware department. If you're the sort of person who loves to own the latest device in every department, this is definitely the one for reading books. It feels really great, handles well, and looks just lovely. Powered off or powered on, you know that this is an iconic piece of industrial design, and that is to be commended. I do not miss the ability to turn pages with physical buttons, and as of yet (remember we're not reviewing the apps in any form yet) I do not miss the eINK display. The NOOKcolor is bright, it's beautiful, and hardware-wise, it's right on.
Now that our "A Week With" cycle is complete for NOOKcolor, take a look at all of the posts in turn:
A Week with NOOKcolor: HardwareA Week with NOOKcolor: Reading (aka Core Apps)NOOKcolor Unboxing and Hands-onNOOKcolor DemoA Bit of Extra Clarity for Would-be Developers of NOOKcolor Apps
and of course A Week with NOOKcolor: 3rd Party Apps and Final Wrap-Up