A select list of May the 4th Star Wars sales now live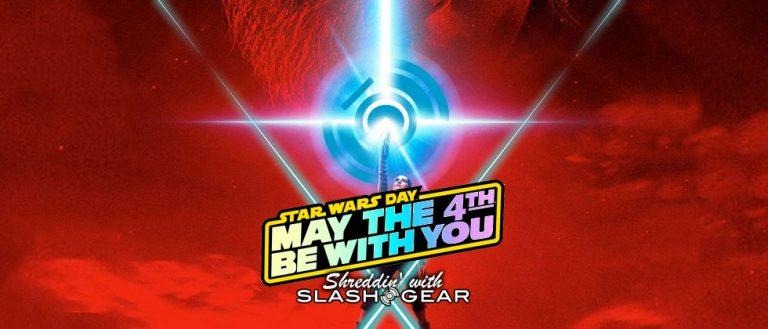 We may receive a commission on purchases made from links.
A bunch of Star Wars-themed events are taking place starting today, the 3rd of May, and last until the end of May the 4th (be with you). This is the ump-teenth time in a row that Star Wars has been celebrated on the 4th of May – back since the first Star Wars Geek heard those fabulous 6 words in that order. Fourth really sounds like Force – so let's use it to fill the bottomless pit of need for more Star Wars merchandise and special events, forever!
Those LEGO-lovers in Florida might want to have a peek at LEGO Star Wars Days at the LEGOLAND Florida Resort. Taking place May 6th and 7th as well as May 13th and 14th, this event series is a couple days after the actual 4th of May, but for those that absolutely cannot stop celebrating Star Wars, there's a massive 1.5-million LEGO brick "LEGO Star Wars MINILAND Model Display" that needs some eyeballs. Have a peek at the LEGOLAND event guide to learn the full nature of the truth.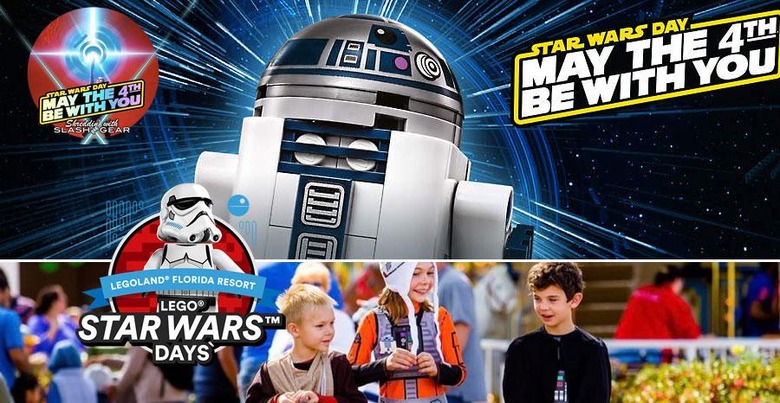 The LEGO Store has their Star Wars event going on from the 4th of May until the 7th of May. They'll be delivering this "exclusive" R2-D2 set with purchases of $50 or more. They'll also have double VIP points on LEGO Star Wars purchases, and some sales on LEGO Star Wars items.

Starting on the 3rd of May is a WOOT Shirts event to celebrate Star Wars day. Therein lies a big pack of Star Wars parodies the likes of which cannot be found anywhere else. They're fairly inexpensive in general, too, which is nice.
The most diverse array of Star Wars oddities are available at odd prices for a limited time at Amazon for the next couple of days. Through Amazon are a set of posters, action figures through the Disney Store, and a bunch of licensed shirts. Star Wars LEGO sets are a few dollars off through that portal as well.

The folks at ThinkGeek have a bunch of rare – and often times unique – set of Star Wars items that've been put on blast this week. Through the end of May the 4th, percentages of prices (20 to 60 percent off) will be taken. In addition, there's a set of pins available for those that spend a cool $80: Maz Kanata, Jabba the Hutt + Salacious Crumb – an odd pack, indeed. Use the code DONTSTARE to attain the pair.
The entire Pottery Barn Kids Star Wars collection is available at 80% of its normal price. That's 20% off its normal price, which means it's almost down to a reasonable price range! Using the promo code PKSTARWARS will take a tiny chunk out of the total price until midnight on May the 4th.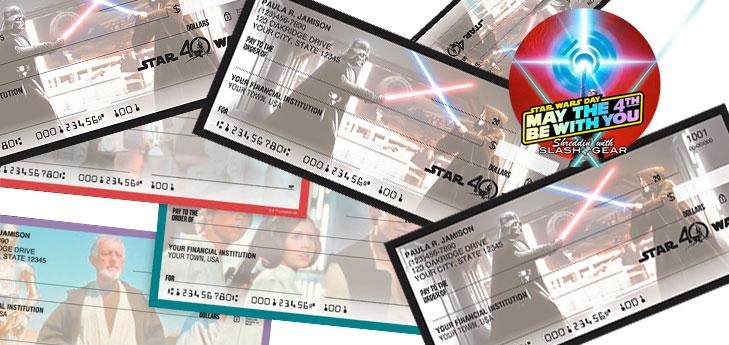 While some of our readers choose to use futuristic payment methods like smartphones with NFC, others still use paper checks. For those users, there's a bunch of Star Wars checks over at Checks in the Mail that are chopped down to standard price size this week. Using the code STAR20 cuts an obvious amount of cash off the price – they've got address labels, bookplate labels(?!), checkbook covers, debit caddies(?!), and credit card / ID holders.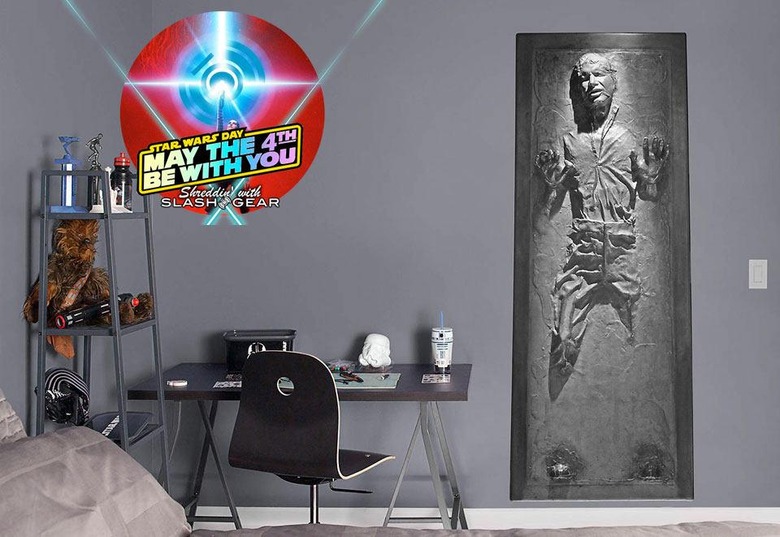 The legendary oddity known as Fathead has 20% off its standard priced Star Wars wall graphics. That includes new designs – and the sale runs from the 4th until the 10th. Jo-Ann Fabrics has between 40 and 50% off Star Wars fabric and no-sew throws – I recommend going to a brick-and-mortal Jo-Ann for this, to make sure you're getting what you're actually ordering, as it always is with fabric.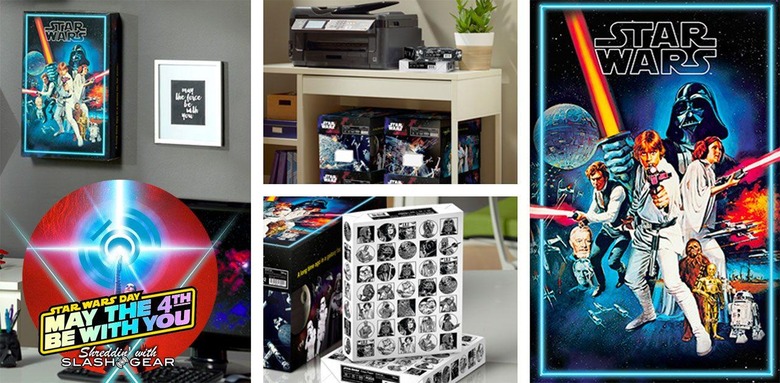 By far the strangest merchandise in the Star Wars universe that's part of this celebration comes from Quill. They've got officially licensed Star Wars copy paper, which – with purchase – they're giving away a Star Wars lunch box. If the product wasn't strange enough, the combination of the products is.
Let us know if you've seen any other unique or otherwise unmissable May the 4th Star Wars events or sales in your area. We'll be updating this list as new oddities appear!