A RIM Apple TV Competitor is the Worst Idea Ever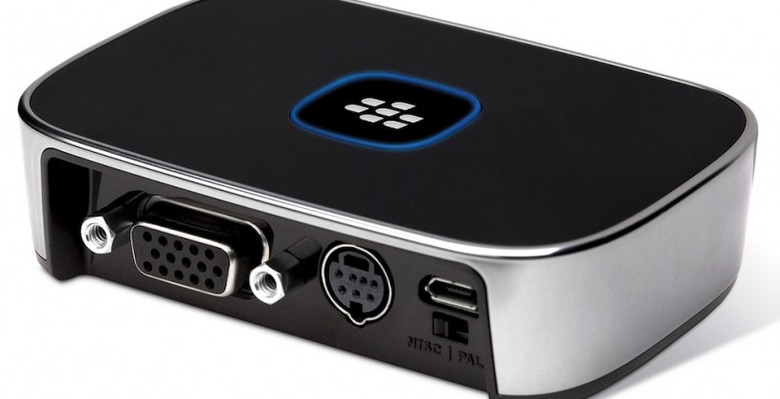 This past week, I was just surfing the web, looking at news stories, and came across what might be the most shocking report I've seen in a long time: Research In Motion is working on an Apple TV competitor.The product is apparently codenamed "BlackBerry Cyclone" and could launch later this year. The device will reportedly include Netflix streaming, YouTube content, and, well, a whole bunch of other stuff that you and I both know will never make its way to a living room-focused product by RIM.
As soon as I read the report, I had to laugh. For one, I seriously doubt that RIM, a company that has made its name by delivering business-focused smartphones, would even consider breaking into the entertainment business with a set-top box that would compete against the Apple TV, and countless other products. As far as I'm concerned, such a device would stray too far from the company's core competency.
But for the sake of argument, let's assume that RIM is, in fact, considering launching a set-top box this year. Can we all agree that it would be the worst idea in the history of the company?
Who, exactly, would buy such a device from RIM? As mentioned, the company is best-known for offering smartphones to business customers. How consumers would feel about it taking a leap into the living room is unknown. But my guess is, most would laugh.
And even if the product launched, it wouldn't perform well at retail. As Apple has proven, set-top boxes are little more than hobby products. The real entertainment experience in the living room is being provided through cable boxes, TiVos, and televisions. And looking ahead, I don't think there's any reason to doubt that televisions might just have all the features a consumer wants, including DVR capabilities, built right in. After all, they're almost there now.
So, RIM's product might just find itself in a market that has no future. And the worst part is, the device will feature a logo of a company that has never tried its luck in the highly competitive living-room-entertainment space.
Call me a cynic, but if RIM even considers launching a set-top box, it would be a mistake. What the company needs to do now is figure out why its smartphone business is in trouble and fix that. It also needs to continue to appeal to corporate customers before the competition replaces it.
Simply put, RIM's future is in the mobile market. To think that RIM would have any future in home entertainment is laughable, to say the least.
Sorry, RIM, but if you're really thinking about launching a home-entertainment product, you'll only embarrass yourself.
You've been warned.