RIM's BlackBerry Apple TV Clone Dubbed Cyclone, To Have Netflix?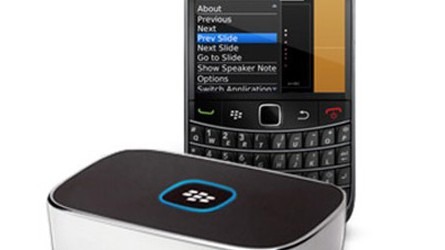 Despite all the dark clouds surrounding BlackBerry maker Research In Motion (RIM) over their smartphone and tablet blunders, horrible earnings call last quarter, lay-offs, and impending split-up of the Co-CEOs, the company has somehow managed to focus energy on developing an Apple TV clone. Earlier this month, word spread of a BlackBerry Media Box and now there are reports that it's codenamed "Cyclone" and will likely feature Netflix.
The BlackBerry Cyclone is rumored to run on the same QNX OS as the PlayBook and the upcoming "superphone." It will take the form of a compact set-top box and be a mix between the BlackBerry Presenter and the Apple TV. But without its own media download store like iTunes, the Cyclone will rely on third-party services. Sources tip that the device would at a minimum support YouTube and Netflix.
Other specs on the set-top box are scant other than having an HDMI-out and WiFi connectivity. It's an odd thing for the company to be focusing on, but it is part of their overall strategy to create a broader ecosystem that will work in harmony with its PlayBook and future smartphones.
[via Electronista]