A-DATA XPG Dual SSD 3.5-inch RAID Enclosure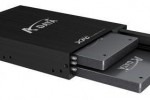 A-DATA have unveiled a RAID enclosure that puts two 2.5-inch SSDs or HDDs into a single 3.5-inch bay.  The XPG Dual SSD 3.5-inch RAID Enclosure has a hardware switch on its backplate that lets you quickly select between its seven different RAID modes: RAID0, RAID1, JBOD, Span, SAFE33, SAFE50 and GUI.  There's also a one-button backup option.
Connection is either via SATA or USB, making the enclosure suitable for either bay positioning in a desktop PC or mobile use.  Up to 1TB drives are supported, and A-DATA have apparently tested it with two 192GB SATA-II SSDs running successfully on USB bus power from a connected laptop.  The enclosure itself is made from aluminium and has power, backup and access indicator LEDs.
No pricing has been announced for the A-DATA XPG Dual SSD 3.5-inch RAID Enclosure, but it should be available by the end of Q1 2009.  The company will also be releasing a non-RAID version of the product, which will convert two 2.5-inch drives into a single, SATA or USB 3.5-inch one.
Press Release:
XPG Dual SSD 3.5" RAID Enclosure provides fast data storage archiving and excellent backup solutions

A-DATA Technology Co., Ltd., a worldwide leader in high performance memory products, announced today that it is launching XPG Dual SSD 3.5" RAID Enclosure to expand its portfolio of SSD solutions.

The A-DATA XPG Dual SSD 3.5" RAID Enclosure is a complete RAID solution through the use of two 2.5" SATA SSDs and/or HDDs mounted on one standard 3.5" form factor drive cage. This multifunctional RAID enclosure can be used as two separate drives, as a redundant drive to protect against drive failure, combined to become one high-performance drive or combined to become one large drive. By utilizing the hardware DIP switch on the back of the unit or included software utility, all these different RAID configurations and more can be set in an instant. Connection via SATA or USB enables easy direct access.

Designed for both internal & external purposes, A-DATA XPG Dual SSD 3.5" RAID Enclosure is the best choice for storage expansion and backup solution.

Furthermore, A-DATA also offers a 2.5" to 3.5" hard drive enclosure (Dual SSD 3.5" Enclosure – without built-in RAID function) converting simultaneously two 2.5" SATAI/II SSD and/or HDD into a 3.5" one.

Both products will be available by end of Q1 2009.  
[via Coolest-Gadgets]