A-DATA SH93 waterproof & shock-resistant portable hard-drive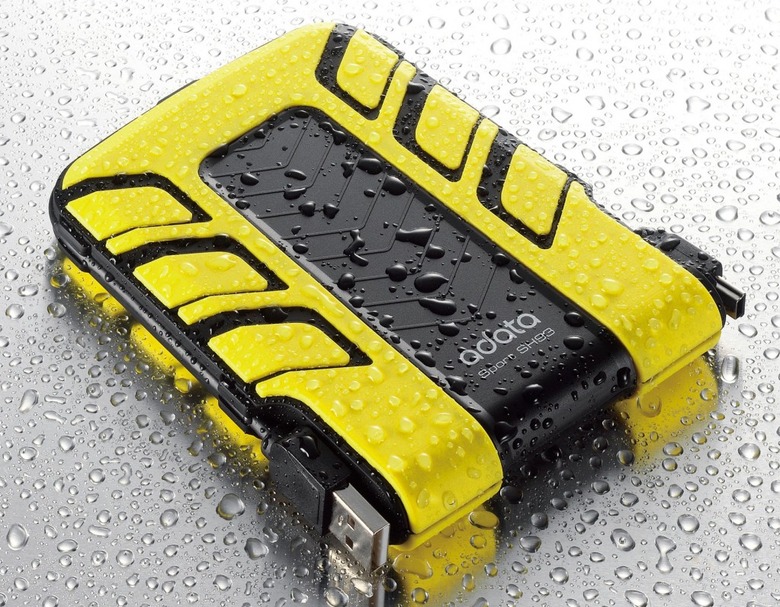 A-DATA have lobbed a few new external hard-drives our way and, while we'd normally squeal like little girls at the thought of data damage, today we're mute as sensible, grown men.  That's because the A-DATA SH93 portable hard-drives are waterproof and shock resistant, thanks to a nifty molded rubber-plastic casing.
Their casing, in fact, makes them waterproof to depths of up to one meter and for periods of up to 30 minutes, which may not sound a lot but is certainly long enough when your housemate drops your precious MP3 backup into the toilet.  Meanwhile the SH93 also passes the MIL-STD-810F drop test, and has a fixed USB cable that wraps around the body of the drive and tucks neatly into place.
The A-DATA SH93 HDD is available in 250GB, 320GB, 500GB and 640GB capacities.  We're waiting to hear back from the company on specific pricing and availability.
Press Release:
A-DATA Introduces Industry's First 1M 30-min Waterproof & Shock Resistant SH93 HDD

Taipei, Taiwan – October 2, 2009 – A-DATA Technology Co., Ltd., the worldwide leader in DRAM memory and Flash application products, unveiled today the industry's first ever waterproof and shock resistant portable HDD SH93, a super strong hard disk drive designed specifically for students, road warriors, and sports enthusiastic.

Waterproof, shock tolerant, cable storage – all in one

Incorporating rubber-plastic mix and special cushion materials, the SH93 sustains 1M waterproof test for 30 minutes and military standard MIL-STD-810F drop test. The MIL-STD-810 test addresses a broad range of environmental conditions to generate confidence in the overall durability of a system design. With the USB cable cord tucking into the slit that goes around the side of the HDD, the SH93 is beautifully designed with a finish paint in racing car yellow. It is easy for users to conveniently carry around massive documents without the fear of damaging files stored in the HDD in the incident of accidental drop or water spills.

The portable HDD has become the most important storage device for road warriors, students, even ordinary individuals in this digital era. With the ever increasing amount of photos, music, video files, and data, the need for high-capacity HDD with extreme durability is constantly expanding. Capacity available in 250GB, 320GB, 500GB, and 640GB, the SH93 offers maximum shock tolerance and greatest possible chance of data survival if the storage device is accidentally dropped on the floor or in the water.

A super strong HDD designed with users' best interest at heart

All A-DATA portable hard drives come with the free-download value-added applications HDDtoGO (no registration required), Norton Internet Security 2009 (60-day trial) and 3-year product warranty period, from which users can enjoy enhanced mobility and security with just few mouse clicks away. Capacity, waterproof, shock tolerant, cable storage, and data security, A-DATA SH93 have them all! For more information, please visit www.adata-group.com.