iPhone 14 Pro Official: Apple's Upgrades Are Huge Front And Rear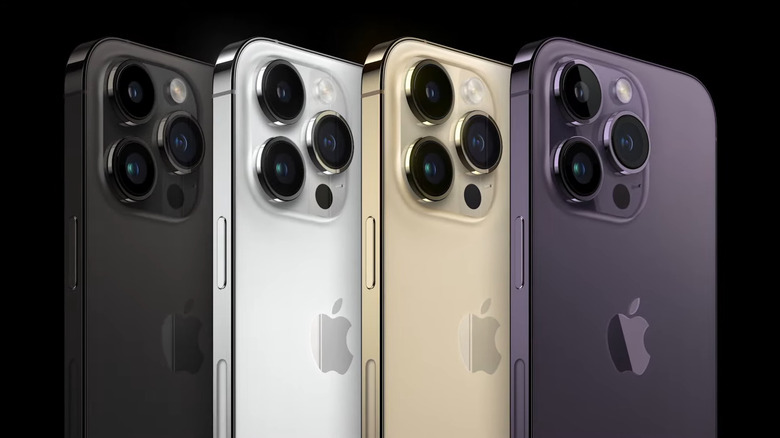 Apple
The iPhone 14 Pro comes at a premium: customers will be paying $200 more than they would for the standard iPhone 14. But with the premium price comes a few premium features, one of which is the camera hardware. Smartphone power users love their device's cameras. Social media has led to a society where people feel the need to document their lives online, and photographs are a good way to do that. 
The setting and staging of the photos are important, but it's all a waste of time if the camera you're using is sub-standard. Phone manufacturers realize this, so they put a lot of effort into their phone's camera hardware and software. One of the key differences between modern entry-level, mid-range, and high-end phones is the quality of the cameras they have attached to them. So what makes the iPhone 14 Pro's better than the rest?
While the regular iPhone 14's camera setup is superb on paper and should meet the needs of most users, you can still go a step further. Although it shares a number of features with its slightly cheaper variant, Apple claims the iPhone 14 Pro features its "most pro" camera system so far.
Apple's most pro camera yet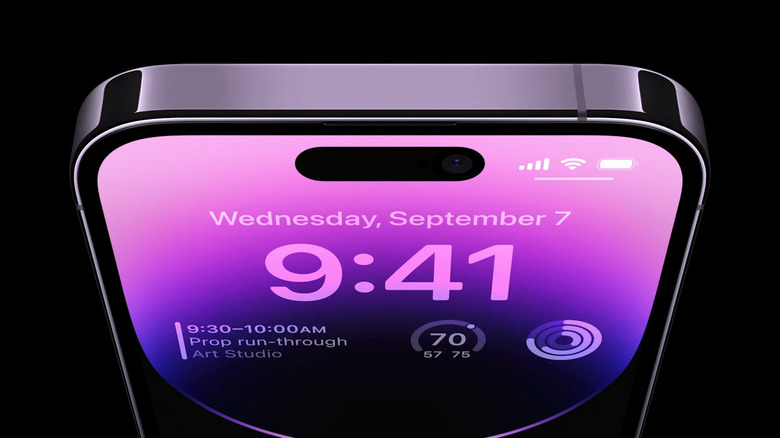 Apple
The center point of the iPhone 14's camera system is a 48MP main sensor. The device will perform 4 trillion operations per photo and the iPhone's Quad-pixel sensor is 65% larger than the last Pro model — which means it will have a far easier time rendering images that were taken in low light. The main camera is set to F/1.78 and has a 24mm focal length, a seven-element lens, and second-generation sensor-shift optical image stabilization (OIS). The sensor can be set to different modes depending on the kind of photo you would like to take. 
There is also support for ProRAW shooting, for folks that want to take high-quality images that allow for versatile editing down the line. Alongside the main camera, there is a new 12-megapixel Ultra Wide Camera that boasts a 1.4-micron pixel size, F2.2 aperture, 13mm focal length, and a six-element lens. Both lenses make use of Apple's "100% focus pixels" system, which affects how light can influence parts of an image. Macro photography support is also included for photographers who like to get up close and personal. As with the standard iPhone 14, low-light photography has also seen an improvement — though the Pro takes this to the extreme. 
Photos taken in sub-optimal lighting conditions should be an incredible three times better on the Pro when compared to previous iPhones. As with the iPhone 14, the Photonic Engine is also available to give poorly lit photos a boost. Apple's adaptive flash is also a key part of the device and is capable of adapting to different focal lengths. The iPhone 14 Pro's telephoto camera has received less of a low light boost than its shorter range companions — but is still twice as good as its predecessors. Video recording is also an option at 4K/30fps and 4K/24fps in Cinematic mode