Yaber Pico T1 Projector Review: Movie Time, Anytime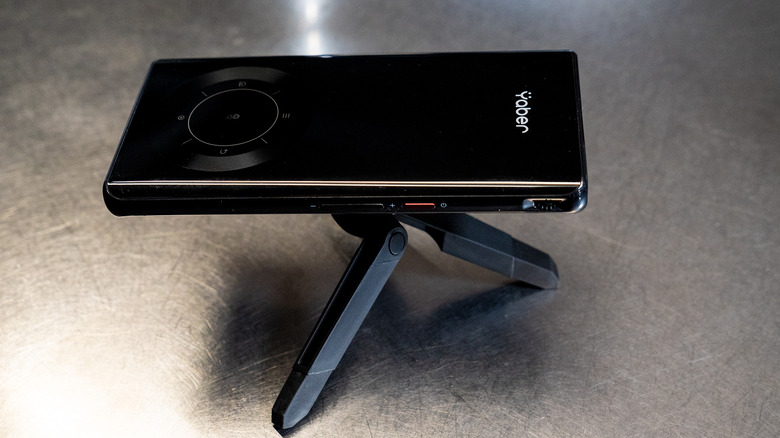 Ewdison Then/SlashGear
Watching videos on the go has become more common thanks to our smartphones, but it's pretty much a solitary activity thanks to those same devices. The small screen of a phone, while big enough for personal viewing, makes group watching a bit awkward. Tablets are, of course, better in this regard, but not everyone has a large slate in their bag all the time. Even a large tablet, however, can't take the place of a big screen like a TV, so pico projectors have started to pop up, trying to fill in the gap. Compared to home projectors, this market is still as small as the projectors, which fortunately leaves plenty of room for innovation and competition. The Yaber Pico T1 is the latest attempt to win the pico projector crown, so we had to take it for a spin to see if size really does matter.
It's almost unbelievable that something this small can actually be a decent projector, but that's the promise of the Yaber Pico T1. Shorter than a smartphone, albeit also thicker, the projector can easily slip into your pocket when you need to just grab and go. That said, it won't exactly be useful unless you bring other things with it, and the whole entourage requires a rather large pouch that won't fit in any pair of pants. 
The Yaber Pico T1 seems to also have some smartphone DNA in its design. The glossy, black piano surface is reminiscent of many premium phones, and the fingerprint and oil smudges on it will also remind you of the common problem that these devices have. All sides of the device serve a function, including the bottom, where the magnets can be found. There's no wasted space, which means that it is as compact as it can be while still providing all the functionality you can expect from a projector, no matter the size.
Video and audio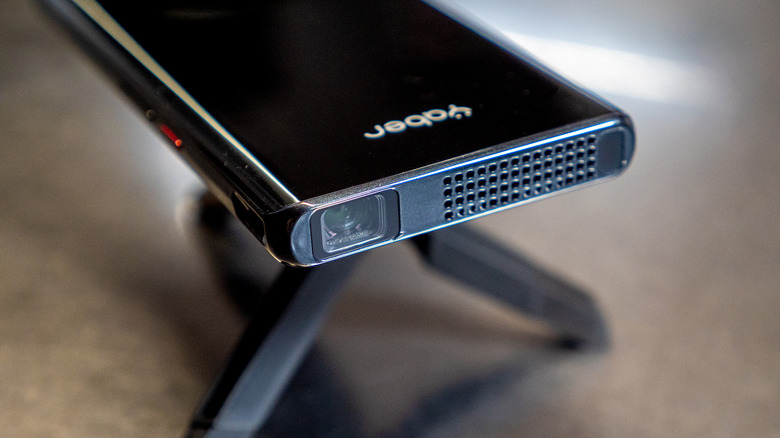 Ewdison Then/SlashGear
Of course, a projector lives or dies by its video output, and it's a criterion that is especially problematic for projectors of this size. Smaller projectors can't use large bulbs or large speakers, so their actual performance is capped from the get-go. If you set your expectations right, however, you might be surprised at how well the Yaber Pico T1 performs in the real world. With a brightness of only 110 lumens, this pico projector is clearly not meant to be used in a well-lit room. You'll need to seek shelter in a dark room to really enjoy its output, but it won't disappoint you if you get the environment just right. In the dark, the Yaber Pico T1 delivers vibrant colors that do justice to videos and images, and the 60Hz refresh rate is decent even for games, provided you're using an HDMI connection.
The projector can get its content from a variety of sources, both wired and wireless, and it can even support input of different resolutions. Unfortunately, it can only output video at a resolution of 960x540 pixels, regardless of the source content, so expect to see pixelated quality if you zoom in far enough. That makes the Yaber Pico T1 a poor choice for reading text or making presentations with small text, but it's going to be good for movie time at a friend's house or even inside a camping tent. Despite its diminutive size, Yaber was still able to cram a 1.5-watt speaker that actually gets the job done with minimum fuss. It can get pretty loud without getting tinny, but it unsurprisingly lacks the bass to make your chest thump during action scenes. It is at least loud enough to drown out the fan, which is impossible to ignore in a small room when nothing is playing.
Controls and software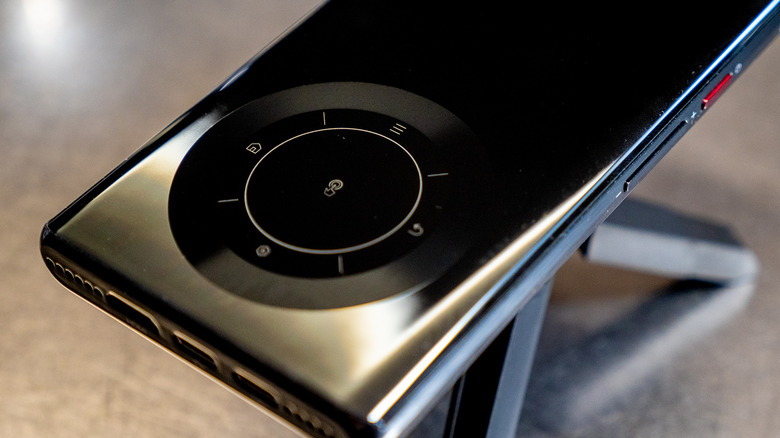 Ewdison Then/SlashGear
The Yaber Pico T1 isn't just a pico projector, it's a smart pico projector. While it can get its input from a computer, a smartphone, or any other external source, it can also run its own show thanks to Yaber's Android-based Smart OS. It's no Android TV, mind you, but it at least offers all the basic streaming services you'd want, including YouTube, Netflix, Disney+, etc. Of course, you can also download third-party apps and games, depending on what's available from Yaber's app store.
The user interface for this custom OS is, fortunately, intuitive and easy to use. In many cases, you might not need to fiddle with those controls at all. By default, the projector is set to max brightness, and its vertical auto keystone is always in effect. You will need to dive into the settings to change the display orientation or position, though, like if you want to flip it because you want to project the image on a ceiling. There's a physical focus dial on the side of the projector itself, so you won't have to bother with countless menus just to tweak that.
You'll have two options when you do want to control the Yaber Pico T1. There's a touch-sensitive area on the top of the projector when you're close to the device, but you can also use the provided remote control when you're kicking back at a distance. Unfortunately, neither control options have any sort of backlight, making it cumbersome to use them in the dark. Considering you'll want to use the Yaber Pico T1 in a dark room, that is a rather ironic oversight. The back of the projector has the ports for mini HDMI and two USB-C ports. The latter can be a bit confusing because only one of the two can actually be used as a data source, while the other can only be used to power the projector. It would be nice if both USB-C ports could pull double duty, but that is, unfortunately, the case for many devices that implement this standard in non-standard ways.
Accessories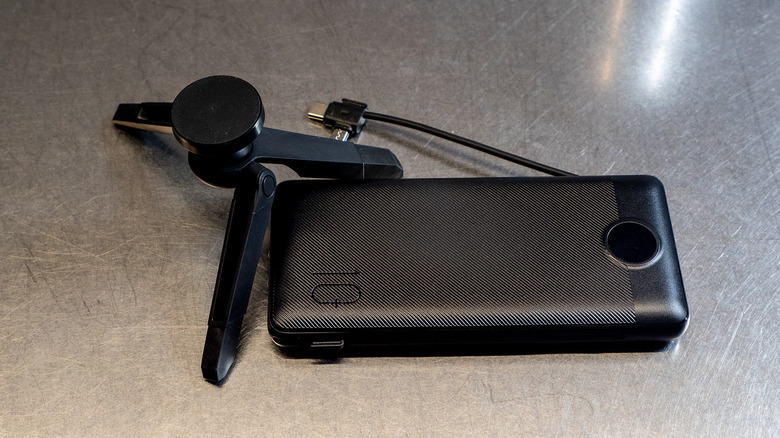 Ewdison Then/SlashGear
While the projector itself is small enough to fit inside of a relatively big pocket, it isn't going to be useful if you bring only that with you. In exchange for its small size, the Yaber Pico T1 doesn't have a battery inside. To some extent, that limits its portability since you'll need to include a power source with it all the time. It might be possible to receive power from a smartphone, but then you'd have to worry about its battery level, too.
Fortunately, Yaber does ship the Pico T1 with a 10,000 mAh portable battery that's large enough to power the projector. Although any power source that supports Power Delivery 3.0 or Quick Charge 2.0 will also work, it's definitely good that the company included one in the package. This hefty power bank has connectors for micro USB, USB-C, and Lightning devices and has a convenient display that shows its remaining charge. Unlike conventional power banks, this one has collapsible prongs that would let you plug it directly into an outlet, provided it is a U.S. socket.
Also included in the box is a small magnetic tripod that sticks to the bottom of the pico projector. While the feet don't exactly offer the most stable support, it definitely works in a pinch. Unfortunately, the Pico T1's seamless design doesn't have any opening for supporting a traditional tripod, so this is actually the only tripod you can use. All these accessories, including a mini HDMI-to-HDMI cable, can be stashed in the included pouch that you'll have to bring with you wherever you want to use the Yaber Pico T1. It might not be as dramatic as having a fully-functional projector in your pocket, but it's still significantly more portable than most home projectors.
Final thoughts: Portability comes at a cost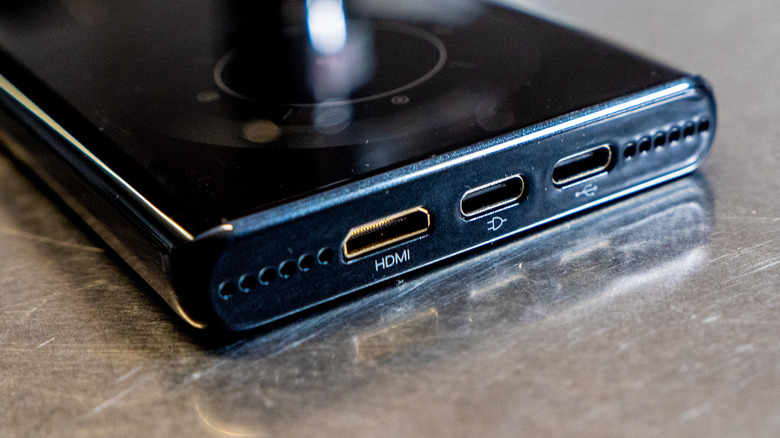 Ewdison Then/SlashGear
Pico projectors serve a very niche market of movie fans who want to enjoy content anywhere, but on a larger screen. That freedom, however, doesn't come for free, and the costs might sometimes outweigh the benefits. You'll need to have a dark place to set up the projector, including a flat surface to project images on. In this particular case, you even need to have a power source, though any power bank would suffice. You'll also be limited to a measly 540p resolution, which is far below what film buffs would consider decent. It almost sounds as if there's no point to a pico projector at all, but the Yaber Pico T1 manages to make a good case for this kind of device.
This pico projector isn't going to compete with larger projectors in terms of quality, of course, but it actually manages to hold its own inside a sufficiently dark room. A bright and colorful 540p output on a 15-inch projected space is still decent compared to the small screen of your phone. Audio is also serviceable, and the ability to use any source, including streaming services, is a huge bonus in its favor. At a $239 early bird price ($209 if you don't need the power bank), you can get your hands on a portable entertainment system you can take with you anywhere. For people on the go who love to share videos and show off photos to family and friends, the Yaber Pico T1 is definitely something worth considering.