Chrysler Built The Hellcat Powered Jeep Wrangler Everybody Wanted, But Never Sold It
The Jeep Wrangler is such a popular vehicle that it  has birthed an entire subculture. You can scarcely drive without seeing a Wrangler. For good or bad, the Dodge Hellcat series of vehicles also enjoy an immense level of popularity. It's no wonder that Dodge comically decided to cram a 707-horsepower supercharged V8 into almost their entire product line.
Like peanut butter and jelly go together, it's only reasonable that Chrysler/Stellantis would consider shoving a Hellcat motor into a Jeep. And they did, with the Jeep Grand Cherokee SRT Trackhawk. It became the fire-breathing monster sport-utility vehicle every Jeep enthusiast never knew they needed. For a brief time, it was one of the fastest SUVs in the world, and fans were elated.
And that might have been that, until another, wilder vehicle was made: the Jeep Wrangler Trailcat. But the world was not ready for it, and this beast, deemed too dangerous, was sealed away forever. 
Too good to be true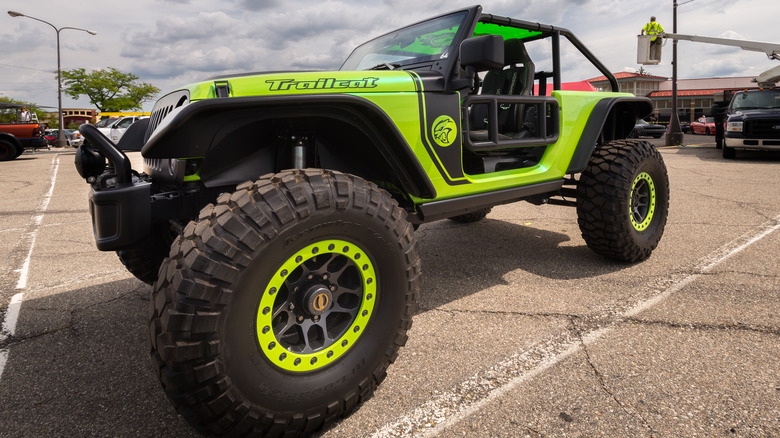 Steve Lagreca/Shutterstock
For Jeep's 75th anniversary in 2016, the brand unveiled a series of concept vehicles. There were Jeep truck designs, and modified Renegades and Wranglers galore. But one Jeep stood out: the Jeep Wrangler Trailcat. 
According to a Stellantis press release, the Trailcat sported a six-speed manual transmission, 39.5-inch mud tires, LED lights and tons of other treats for the extreme off-roading fan. The crown jewel of the Trailcat was the supercharged 6.2L V8. With that engine came 707-horsepower and the ability to climb rocks faster than any other vehicle can or should. It probably violated several international treaties just by existing. 
When designing this vehicle, Jeep engineers likely didn't entertain a single idea containing the words "sensible" or "sane." While there's no way to know for sure, designs look like they were inspired by heavy metal guitars and airbrushed murals on the sides of conversion vans. 
Unfortunately, the Trailcat concept would stay a concept, owing to safety concerns. Jalopnik reported that Tim Kuniskis, head of the North American Jeep brand, claimed that the vehicle would simply be too dangerous. If a Jeep Wrangler had more horsepower than some supercars, the "if you can read this, flip me over" bumper sticker would carry an immense sense of urgency.