The Difference Between Every Hulu Plan: Which Is Right For You?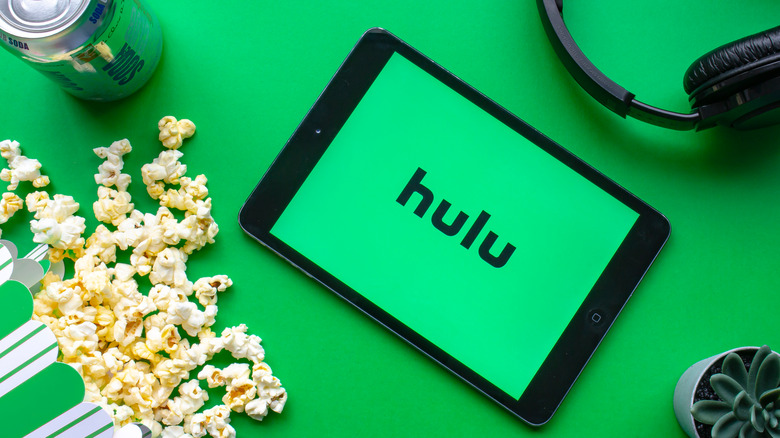 oasisamuel/Shutterstock
It can be a challenge to decide between streaming services, but even after you do narrow it down, you'll probably still have a few options to pick from. Most platforms offer more than one subscription plan, and Hulu is no exception — in fact, at the time of writing, it offers four of them. Figuring out which of Hulu's membership offerings works best for you depends on a few factors. We'll be getting into the specifics of each of them soon, but if you're having a tough time choosing, you should ask yourself a few questions.
What's your streaming budget like, and are you eligible for any discounts? Beyond that, you'll also want to consider whether you hate unskippable advertisements enough that you're willing to pay a bit extra to avoid them. As well, which streaming services are you already paying for, and what would each Hulu plan offer you that you aren't getting anywhere else?
Also, don't worry about making the wrong choice; you can always change your plan later if you decide you want something different. With that said, note that if you subscribe to Hulu through a third party like Amazon, Apple, Verizon, or similar, the process to change your subscription structure may be a bit different.
Basic and ad-free Hulu plans detailed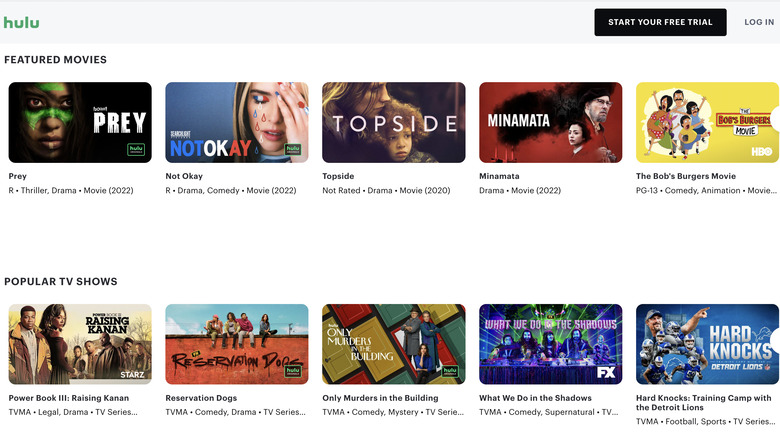 Hulu
Basic Hulu is the most affordable membership plan and will grant you access to the platform's streaming library at $6.99 per month, or you can pay $69.99 per year instead, which costs more upfront but will save you close to $14 (basically like getting two months for free). The catch is that you'll have to put up with advertisements being peppered throughout the shows and movies you watch — not unlike broadcast TV commercial breaks, except a little more awkward because there usually isn't a designated spot for the ads to go.
Alternatively, you can sign up for ad-free Hulu, which offers the same selection of media as the ad-supported version but ditches the ads for the most part. Some content may have ads that will play at the beginning or end even on the ad-free tier, but it doesn't apply to everything. You can sign up for the no-ads plan for $12.99 per month, though it doesn't offer a yearly subscription option like the ad-free plan.
Either choice will let you watch shows like "What We Do in the Shadows" and "Bob's Burgers," as well as new movies such as "Prey" and critically acclaimed films like "Parasite." Some TV shows and movies, including "Prey," aren't streaming anywhere else, either, so if you want to watch them without having to wait for a physical release or a move to a different platform, this is where you'll find them.
Hulu's bundle with Live TV, Disney+, and ESPN+
If you want more than just Hulu's own on-demand library of movies, shows, and originals, there's the Live TV, Disney+, and ESPN+ bundle that includes, well, all of that. The Live TV portion of this plan adds more than 60 live-streaming television channels spanning local, regional, and national networks that cover everything from sports to news.
Beyond that, this membership also grants access to both the Disney+ and ESPN+ streaming services. If you sign up for the bundle, you'll be able to browse Hulu's library, see what's going on live, check out even more extensive sports coverage and originals through ESPN+, and rack your brain trying to decide which of the many "Muppets" movies you want to watch on Disney+. 
The bundle is basically four subscriptions in one, which is why it comes with such a high price tag of $69.99 per month — though keep in mind that's the same price as a full year of ad-supported basic Hulu. This plan option comes with the ad-supported version of Hulu, meaning you will see advertisements. If you want Hulu, Live TV, Disney+, and ESPN+ all rolled into one and with minimal ads, it'll set you back $75.99 per month instead.
Hulu's add-on entertainment options
Don't fret if you feel like standard Hulu won't be enough and the bundle would be too much, though. It's also possible (encouraged, even) to pick the baseline plan you want and then select add-ons to supplement your subscription. They aren't limited to just ESPN+, Live TV, or Disney+, and can tack a number of different services onto your current subscription, with prices varying between each one. Add-ons are a great way to make sure you're getting exactly what you want from Hulu. 
Some of the add-on options are fairly cheap, including Disney+ for an extra $2.99 per month and Live TV ​​​​Español for $4.99. The rest are more expensive, with Cinemax, ESPN+, Live TV Sports, and Live TV for Unlimited Screens all coming in at $9.99 per month each. A couple of add-ons are a tad cheaper, including Live TV Entertainment at $7.99 per month and Starz for $8.99, while the last two options are the priciest: HBO Max for $14.99 per month and Showtime for $10.99 per month.
So if, for example, you only want Hulu and HBO Max, you can sign up for the ad-supported or ad-free on-demand Hulu plan and then toss HBO Max in with it for a total of about $22 per month with ads or about $28 per month without ads. Of course, the possible combinations aren't limited to just those examples; it's like an à la carte menu, but for watching stuff.