What Fans Should Know About Han's RX-7 From 'Fast And Furious: Tokyo Drift'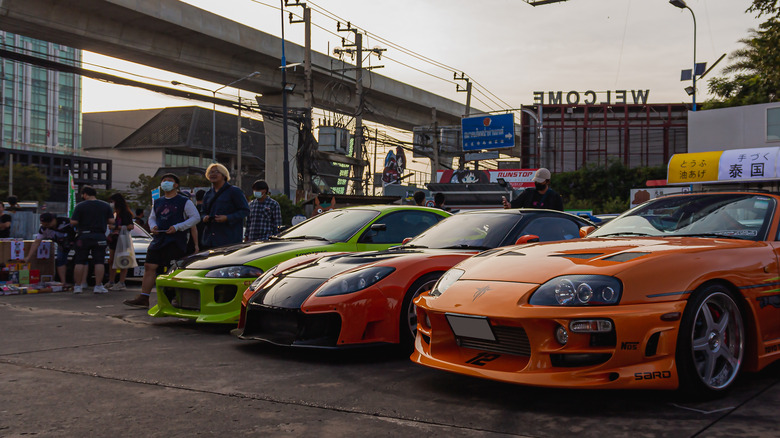 Suphakit Bunsan/Shutterstock
There are some things about Han Lue's Mazda RX-7 in "The Fast and the Furious: Tokyo Drift" that are probably more jaw-dropping than its already striking aesthetics. Aside from Dom Toretto's first racing ace, Han's iconic ride is easily among the most impactful RX-7 appearances in the long-running franchise. Debuting in 1991, the RX-7 FD was not only the last generation of Mazda's legendary lineup, but it was also its best iteration (via Mazda). Actor Sung Kang's character Han showcased just that, albeit in an even bigger spotlight, by capturing its captivating performance and showing car-worthy looks on the silver screen.
Of course, it was also the car in which Han seemingly met his untimely demise, further highlighting its significance in the series. Some might think its slick drifting prowess, dashing exterior, and explosive ending were the only things worth noting about Han's RX-7, but it seems like there's more to it than fans might know about. For starters, most of its standout scenes — from the epic donut segment to the death-defying car chase — were actually filmed in L.A., not Tokyo. According to a YouTube video by the film's technical advisor Craig Lieberman, this was done with the help of CGI and some clever film editing. But while the action sequences are part of what made the RX-7 a fan favorite, its main attraction lies in the "Fast and Furious" car itself.
Han's RX-7 transformed a JDM icon into something special
What made the "Fast and Furious" Mazda RX-7 stand out is how it looked almost nothing like a stock FD, and that's thanks to its widebody kit courtesy of VeilSide. Another of Lieberman's YouTube videos revealed that Han's RX-7 was built by VeilSide specifically to showcase its body kit for car shows, and it used to be red instead of orange. Although there were nine other examples used in the film, the hero car had the most upgrades, which allegedly gave it 305 horsepower. However, the VeilSide RX-7's looks alone were enough to convince vehicle coordinator Dennis McCarthy to turn it into a principal car.
Han's RX-7 was rocking VeilSide's Fortune body kit, which made it almost a foot wider than its stock counterpart, but there's a good reason why it had such a name. For comparison's sake, the RX-7 had a sticker price of £25,000 ($29,528) in 1993 (via EVO). The custom Fortune kit itself is already worth ¥2,200,000 (about $16,000) excluding additional labor and shipping costs, and the "Fast and Furious" car even came with optional carbon body panels that could easily amount to over $20,000 in total (via VeilSide). Imported cars like these usually end up as scrap post-production, but fortunately for fans, that wasn't exactly the fate of Han's RX-7.
What happened to the 'Fast and Furious' RX-7?
In "The Fast and the Furious: Tokyo Drift," the RX-7 literally ended its appearance with a bang, but in reality, it simply took a trip back to its homeland. Due to the 25-year import rule, the cars couldn't remain in the U.S. and had to be returned to Japan after filming. Lieberman claims the only two remaining examples of Han's RX-7 were eventually bought by UK dealership Newera Imports. According to its seller, the second surviving counterpart was bought by a "well-known Australian sports car collector." 
As for the hero car, its styling was apparently envisioned by VeilSide CEO Hironao Yokomaku as a blend of supercar looks with hints of Japanese heritage. The exposed screws on its headlight were meant to mimic samurai armor, while its rear was inspired by the '63 Corvette Stingray. The result is a bespoke RX-7 that took first place at the 2005 Tokyo Auto Salon before it even became a "Fast and Furious" car. 
Unfortunately, the hero car is already sold as well, but at least Han — Sung Kang, rather — won't feel too down, because it's not his favorite car in the franchise. In a YouTube video interview, Kang revealed that those honors actually belong to the "Tokyo Drift" Mustang Fastback due to his admiration for Steve McQueen and "Bullitt." Well, at least Han's iconic car will forever remain the definitive "Fast and Furious" RX-7 in the eyes of fans worldwide.