Apple Ads May Become More Prominent As Hardware Sales Plateau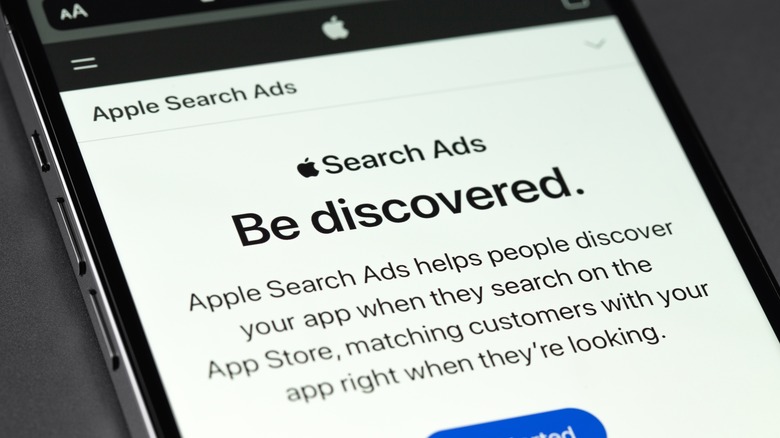 Primakov/Shutterstock
Given Apple's stance on ads from the likes of Facebook and Google, people might presume that the company is completely against advertisements. For that reason, it may come as a shock to all but the keenest Apple user that the company does have ads of its own, but the fact that they're so discreet is a testament to Apple's tasteful implementation. That, however, might be changing drastically in the near future, as the company is now reportedly aiming to grow its advertising business to double-digit revenues. Of course, the story's bound to get a little bit complicated, given how Apple has effectively limited the powers of its would-be competitors, putting it yet again in the role of a company that's using its position and power to potentially monopolize another market.
Ads have actually been around on Apple products, particularly the iPhone and the iPad, for half a decade now. At the moment, they only appear in the App Store when you search for certain things, as well as in the News and Stock apps. In the latter two, ads are just like your normal ads, but App Store ads appear as promoted apps in spots that developers or publishers have paid for.
Apple's advertising platform is just one part of its overall services business, a segment that the company has been trying to grow steadily over the years. Selling hardware has always been Apple's primary source of revenue, but that has started to slow down recently. Bloomberg's Mark Gurman now reports that the company is aiming to triple its ad revenue from $4 billion per year to double-digit figures, and it's reportedly going to take more steps to reach that goal.
Advertisements almost anywhere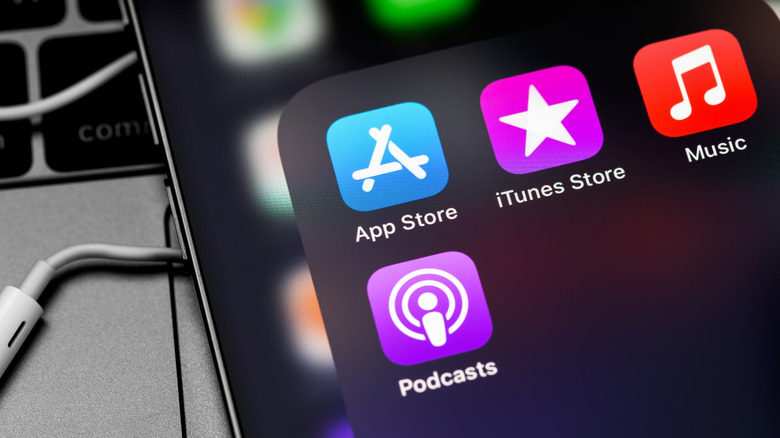 Primakov/Shutterstock
According to the report, Apple may expand its advertising presence to more apps, including Maps, Books, and Podcasts. Maps is definitely a lucrative option, with businesses paying for a spot in search results. Books and Podcasts might be a bit more contentious, though, since users may find ads in these places to be intrusive and, to some extent, invasive. Most ads, after all, work by analyzing the consumption behaviors of users regardless of anonymity.
Gurman also believes that Apple TV+ is another candidate for new ads. Apple could very well offer a cheaper ad-supported tier with a limited selection of content, similar to what Netflix is trying to accomplish. The jury is still out on whether that strategy will be successful in turning ad-tier subscribers into full-paying customers, but it is an avenue that is worth considering.
While expanding its advertising business sounds pretty normal, it does put Apple in a rather precarious situation, at least as far as public perception and government regulation goes. The company was both praised and criticized for its strict App Tracking Transparency policy that put many advertisers at a disadvantage. With its more aggressive ad expansion plans, some of these rivals in the advertising business could claim that Apple was merely setting the stage for its own ad platform, creating a potential monopoly that would let it dictate advertising terms to favor itself. Given how Apple has already been repeatedly accused of monopoly in its App Store, the accusation isn't without precedent, but Apple could also easily spin it as something that is critical to protecting its users' privacy and safety.