IKEA US Is Getting Some Seriously Fast Electric Car Chargers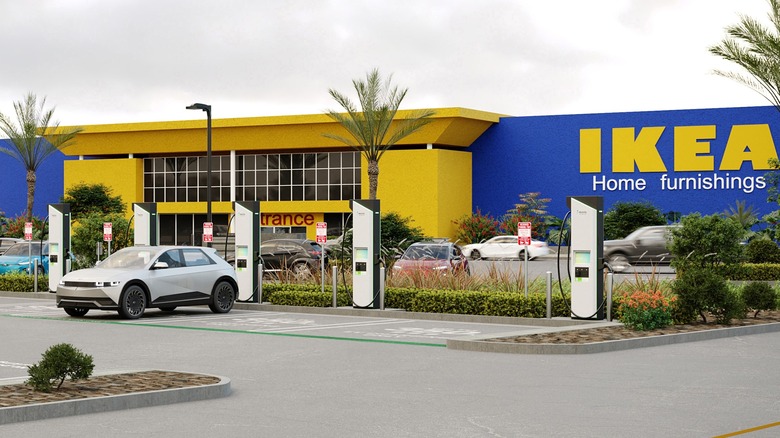 IKEA/Electrify America
If you enjoy getting lost in IKEA for hours on end, you might be pleased to know that you'll soon be able to give your EV a quick charge while you're in there, too. The retailer, famous for its massive stores and furniture that can be a challenge to assemble, has just made an announcement that should be of interest to shoppers driving plug-in vehicles. IKEA has long emphasized its interest in being more eco-friendly, including setting the goal of becoming climate positive by 2030. Part of that goal involves greener home deliveries, which translates to a shift toward electric cars. Now, IKEA will be introducing a whole lot of new EV charging stations, and this won't only affect IKEA's delivery trucks.
In order to make that 2030 dream a reality, IKEA has slowly been shifting its delivery fleet to electric vehicles. That's part of its sustainability strategy, tackling the entire IKEA chain — from the manufacturing of products to the management of the stores — including the vehicles that are used by the company at large. This now includes those of its customers, with the news that it will be teaming up with Electrify America to bring ultra-fast EV charging stations to many stores across the United States.
Super-fast chargers are coming to 25 states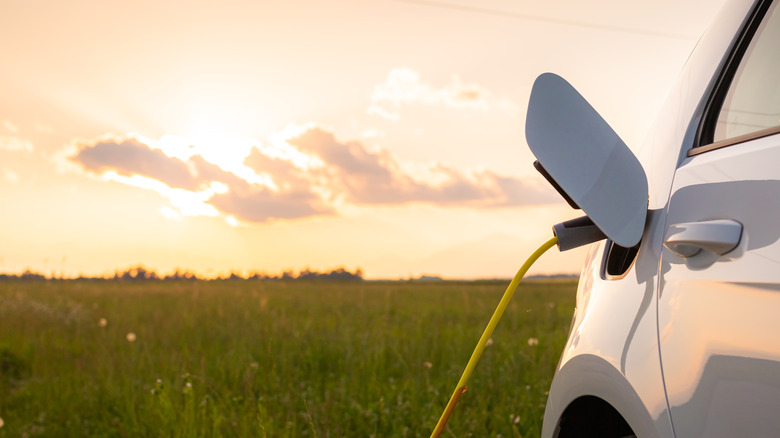 24K-Production/Shutterstock
As part of IKEA's collaboration with Electrify America and Electrify Commercial, new ultra-fast public charging stations are going to be introduced to over 25 IKEA locations spread throughout the United States. It'll eventually mean quadruple the current number of EV chargers available at IKEA stores in the U.S, spread across locations in 18 states. That includes Arizona, California, Connecticut, Florida, Illinois, Kansas, Maryland, Massachusetts, Michigan, Minnesota, New York, Pennsylvania, Ohio, Oregon, Texas, Utah, Virginia, and Washington.
IKEA hasn't disclosed which stores in particular will receive these ultra-fast EV chargers, but we do know that the entire process is meant to start in late 2022 and conclude by the end of 2023, so it won't be long now. Across these 25 locations, a total of more than 200 individual electric car chargers will be installed. These chargers will provide the quickest possible charging speeds in the US at present, ranging from 150kW to 350kW — though individual rates will depend on the electric vehicles themselves, too — and will be available to be used by customers, employees, and delivery vehicles alike. 
As IKEA seems to be making good progress toward its 2030 goal, Electrify America is also expanding rapidly. The company has announced that it now has over 3,500 individual EV chargers, but that number may be about to grow exponentially — the company hopes to upgrade its network to reach 1,800 charging stations and 10,000 individual chargers in the U.S. and Canada by 2026.