Samsung's First Foldable Galaxy Tablet Tipped To Launch In Near Future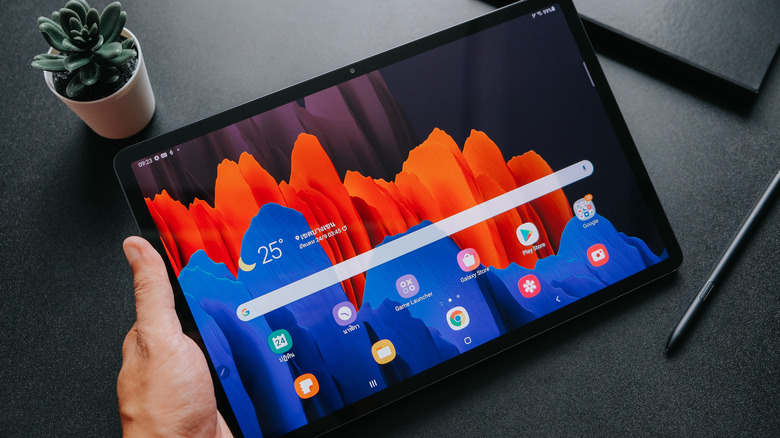 Framesira/Shutterstock
In just a few days, Samsung will unveil the latest generation of its foldable devices. Thanks to a flood of leaks, it feels like we already know everything about the Galaxy Z Fold 4 and the Galaxy Z Flip 4, at least unofficially. What's certain is that Samsung wants to go all out on these two models, allocating plenty of its production power to them in the hopes of recouping losses from other smartphone segments. That said, these aren't the end-all and be-all of Samsung's foldable plans, and it seems that we may be just five to six months away from seeing the company's third foldable device in the form of a large foldable tablet.
Foldable and rollable screens have always been made with the intention of solving the problem of size. Many people want large displays for their phones, computers, or TVs but don't want to pay the price in terms of space. A foldable phone strikes a balance by using a flexible screen in order to fold into something smaller for easier storage.
As one of the world's biggest display makers, Samsung has naturally played around with different kinds of screens that change shape. From curved but rigid screens like the one on the old Galaxy Round to the flexible folding panels on the Galaxy Z devices, Samsung has shown off many form factors and concepts for the future. Few of these prototypes have actually landed on the market, but we might not have to wait much longer for one of them to finally debut.
Galaxy Z Tab may arrive in early 2023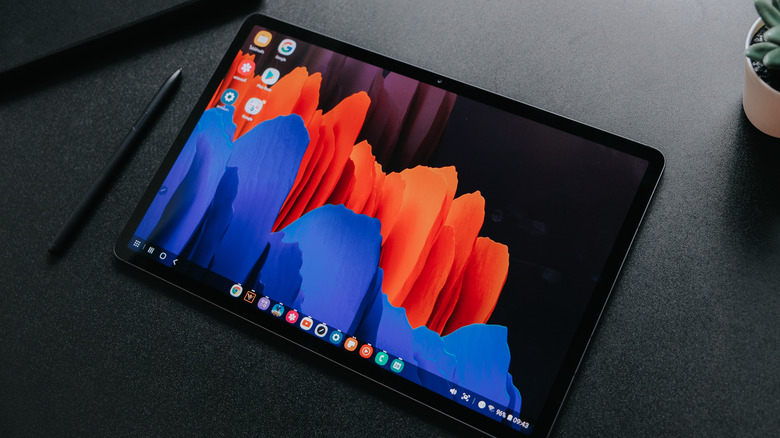 Framesira/Shutterstock
According to a post on Naver, Samsung will launch its first foldable tablet on the same day as the Galaxy Tab S9 (via SamMobile). If the company sticks to its current schedule, that could happen in just half a year, around January or February 2023. Details are still scarce, unsurprisingly, but the mere idea that we're this close to seeing a foldable tablet could put the rumor mill into high gear.
Of course, Samsung has already shown multiple prototypes of a large slate that folds into a smaller form in different ways — it even named at least two of these, hinting that they could be the commercial names for these technologies. The Flex S is what most will probably think of when imagining a large table that has to fold into a more portable form — in this case, folding in opposite directions to create an S or Z shape. The Flex G, in contrast, has two flaps that fold on top of each other, resembling a squished G instead.
The rumor doesn't mention which direction Samsung will go, but the Flex S style is definitely more impressive to look at and probably more practical since you can use the tablet even while folded. This tablet could be called the Galaxy Z Tab or Tab Z, depending on whether it's true that Samsung is considering dropping the Z branding. Whichever way it goes, this tablet will definitely be the talk of the town next year, presuming it does launch as rumored.