The Incredible Features Of Princess Diana's Ford Escort RS Turbo
Most of us will never be monarchs, but you could drive a car that used to belong to a well-known member of the British Royal Family — the late Princess Diana. If you're picturing some kind of a fancy, out-of-this-world kind of vehicle, you might be surprised to learn that the car in question doesn't look that much different from what many average people drove back in those days. However, the 1985 Ford Escort RS Turbo S1, now up for auction, comes with a set of exciting adjustments made specifically for Her Royal Highness, making it truly one of a kind.
The iconic vehicle has now been put up for bid by Silverstone Auctions, and it's being offered without reserve, which means that whatever price it manages to fetch is what it will go for. Princess Diana, sometimes referred to as "Britain's Queen of Hearts," was a popular figure in the British monarchy and continues to be loved by her most dedicated supporters, so it's possible that the car may not be cheap. Fox News claims that the auction house is hoping to surpass £100,000.
The 1985 Ford Escort RS Turbo S1 was ordered specifically for Princess Diana and comes with a few special features that make it stand out from typical models of the car. Although Princess Diana herself only owned it for a short while, the owners that bought it after her also didn't drive it too much, so it's in mint condition. Let's take a closer look at its features.
The only one of its kind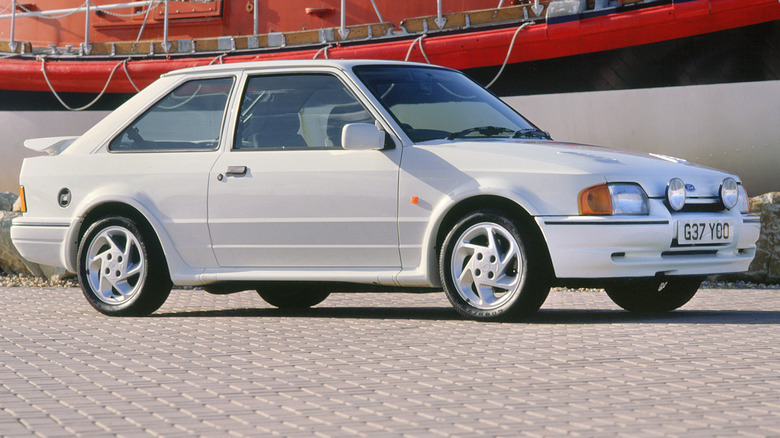 Heritage Images/Getty Images
You might imagine a princess to drive a more luxury vehicle, according to the auction house that is now selling the car, Diana was "a city girl at heart." She had a soft spot for Fords in particular, and those vehicles didn't stand out from the cars driven by any regular citizen. Her soon-to-be husband Charles, Prince of Wales, gifted her a very normal-looking 1981 Ford Escort Ghia as an engagement present, and Princess Diana seemingly stayed true to the brand. The 1985 Ford Escort RS Turbo Series 1 is special because it was made to be so for her. It's the only 1985 Escort RS Turbo S1 that was painted all black. The other models were white.
The car was also equipped with a radio in the glove compartment. This was a requirement because Princess Diana always traveled with security. Ford added further customization on her request, swapping the grille for something a little more low-key. All in all, the resulting vehicle looks nice for the times, but it's no Ferrari or Porsche. You could reasonably imagine someone without a large fortune driving this car.
Princess Diana only had the car for three years, until 1988. She then returned it to Ford with a mere 6,800 miles on the odometer. It had a few owners over the years, but since 1994, it remained in the hands of the same owner who also didn't drive it often. Its total odometer now sits at 24,961, and the car is fit to drive. The final price of this little bit of the U.K. Royal Family history still remains to be seen.