The Bizarre Story Of How Dude Perfect Got A Chance To Go To Space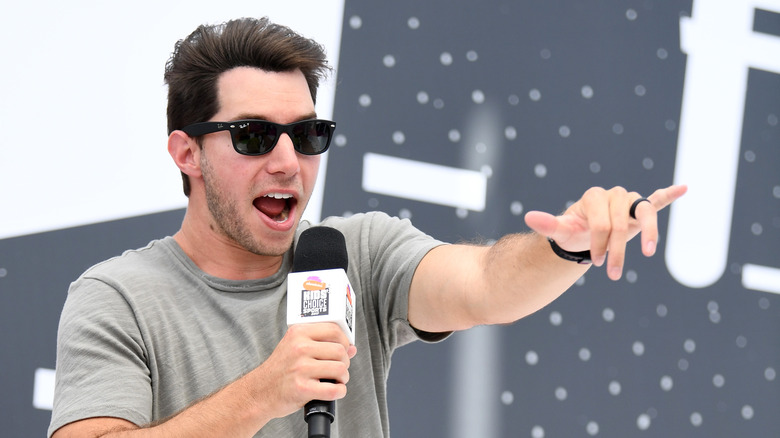 Emma Mcintyre/Getty Images
Blue Origin just completed its sixth successful human spaceflight with New Shepard NS-22, taking off from its launch site in West Texas on August 4, 2022. Among the six people participating in the journey offered by the Jeff Bezos-backed company were the world's first Egyptian and Portuguese astronauts, and one very famous YouTuber named Coby Cotton.
For those unaware, Cotton is the co-founder of the popular group Dude Perfect, which is known for entertaining trick stunts and commands a staggering 58 million subscribers on its namesake YouTube channel.
According to a Forbes estimate, the channel made $20 million in 2021 and continues to grow with its YouTube revenue, live shows, and merch sales. At first, it might seem like Coby Cotton just got lucky or simply paid millions of dollars like a lot of other rich folks to hitch a joyride to the edge of space.
Still can't believe Coby is going to outer space tomorrow lol pic.twitter.com/Nvj8p9N6io

— Dude Perfect (@DudePerfect) August 3, 2022
Surprisingly, though, Cotton didn't even have to pay for his seat aboard the Blue Origin vehicle because his seat was sponsored by MoonDAO. And his trip to space was also tied to a team-based challenge among his Dude Perfect colleagues — the kind of challenge the quintet often undertakes in videos on their YouTube channel, with each team member keeping a scorecard of their victories.
From stunts to space
Cotton's journey actually started with a vote put up by MoonDAO, which asked participants to pick between four influential groups/personalities. The winner would get a seat aboard the Blue Origin ride that would be sponsored by MoonDAO. The voters chose Dude Perfect as the winner, albeit by a slim margin.
Then, there was the decision as to which member of the stunt entertainment quintet would be going to space. MoonDAO left that to the group, whose members came up with the idea of a rocket contest among themselves. They had already conducted two such rocket competitions in the past, and the videos garnered hundreds of millions of views.
As they say, the third time's the charm. Or at least, it was for Coby Cotton, who has an identical twin named Cory (also a Dude Perfect member). It was Coby who took the victory lap in the third iteration of Dude Perfect's rocket challenge, and with it, a ticket for a space joyride with Blue Origin. Cotton was eventually joined on the latest Blue Origin mission by a few remarkable personalities.
Among the crew were Mário Ferreira and Sara Sabry, the first people from Portugal and Egypt, respectively, to get the astronaut badge. Next in line was Vanessa O'Brien, the first woman to "reach extremes on land, sea, and air" — climb the world's highest mountain peak, reach the deepest underwater point in the ocean, and now, touch the edge of space. Rounding up the crew of six were tech pioneer Clint Kelly III and former CEO of Young's Communications Steve Young.