Porsche Won't Keep Its New Electric Motors To Itself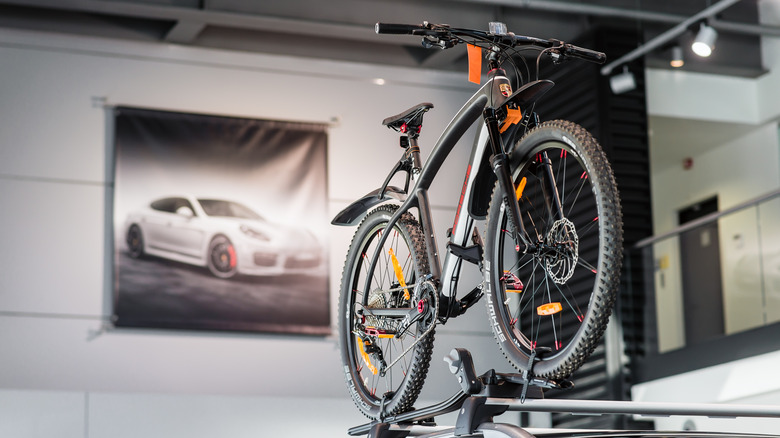 Sklo Studio/Shutterstock
Porsche is expanding its e-bike repertoire with the development of electric motors for bike models beyond its own lineup. The renowned German automaker is making big moves in the bike sector lately. From introducing two new e-bike models to becoming the majority shareholder of budding start-up Greyp Bikes, 2021 alone has been quite eventful for Porsche e-bike fans. Earlier this year, Porsche also invested in Fazua — one of the first to develop a minimalist lightweight e-bike system – before fully acquiring it in June.
The company itself has been manufacturing its own e-bikes in collaboration with established mountain-bike brand Rotwild. While Porsche intends to continue making e-bikes with Rotwild, it will also be focusing efforts on its new partnership with Dutch venture capital Ponooc in growing its latest project: Porsche eBike Performance GmbH. So, what is this new joint-venture about, exactly? Well, let's just say it has a lot to do with developing high-performance parts that will soon be integrated into the next generation of e-bikes.
Making the next-gen e-bikes powered by Porsche
Porsche is no stranger to developing award-winning e-bikes in collaboration with other companies, such as the Cyklaer which won this year's German Design Award. Likewise, the automaker aims to expand its e-bike technology even further with Porsche eBike Performance GmbH, as revealed in a press release. The division will be tasked with developing "electric drive systems for two-wheelers," including electric motors, batteries, and even e-bike software. Initially, these parts will help power e-bikes of Stuttgart-based company P2 eBike GmbH, but will soon expand to other e-bike brands. However, that doesn't mean the new joint-venture won't be integrating these into Porsche's own brand.
Although Porsche sees its eBike Performance venture as a "technology partner" that develops next-gen e-bike systems for other brands, the company's also hinting at producing "particularly powerful eBike drive systems" for its own upcoming electric bike lineup as well. Porsche's current e-bikes utilize frames, motor, display, and braking components from third-party manufacturers like Rotwild, Shimano, and Magura. Only time will tell when we'll actually start seeing e-bikes bearing Porsche's iconic logo on more than just its top tube once the company develops then finally distributes its own in-house e-bike system. After all, Porsche already set an EV world record, so gunning for another one in the e-bike sphere might not be out of the question.