Samsung's Next Foldables Look A Little More Like iPhones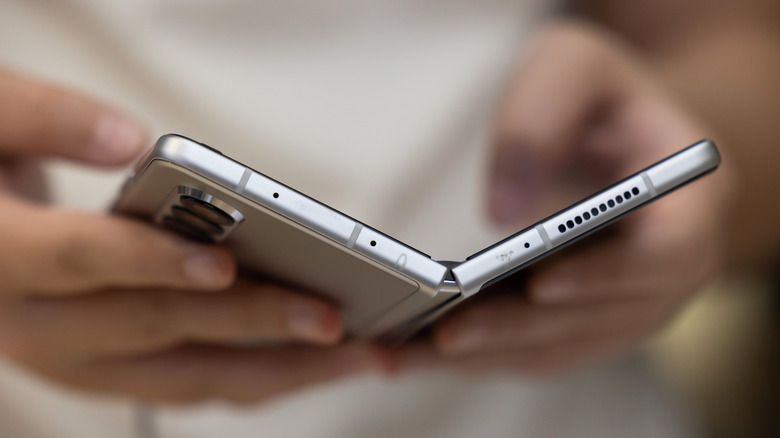 Bloomberg/Getty Images
Last week, Samsung confirmed August 10 as the launch date for its next generation of foldable smartphones. At the August edition of Galaxy Unpacked 2022, we expect the Korean smartphone giant to unveil the Galaxy Z Fold 4 and its flip-styled sibling — the Galaxy Z Flip 4 — among a handful of other devices. As the day of the launch inches closer, there has been a steady stream of leaks surrounding these devices. To cite an example, a recent leak talked about the likelihood of both the Galaxy Z foldables for 2022 costing a bit more than their predecessors. Another leak shed light on the design and styling of these devices remaining largely unchanged compared to Samsung's existing foldable lineup.
With the likelihood of even more leaks likely to appear as the launch date inches closer, it seems Samsung itself is interested in joining the party. On July 27, the company released a small teaser showcasing a few design details of the Galaxy Z Fold 4 and the Galaxy Z Flip 4. The short 45-second clip released on Samsung's social media channels shows glimpses of both devices. The video appears to indicate that Samsung's 2022 foldables may borrow several design cues from Apple's iPhone while also continuing to stick with the tried and tested silhouette borrowed from its predecessors.
Samsung's latest Galaxy Unpacked 2022 trailer
Samsung's latest teaser touts the Galaxy Z Fold and the Galaxy Z Flip as devices that would help people to explore new ways to "work and play." In the first few seconds of the teaser, the main foldable display of the Galaxy Z Flip can be seen. At around the 18-second mark, we see a familiar camera layout reminiscent of last year's Galaxy Z Flip 3. At least from this angle, it looks as if the vertically stacked dual camera setup and the flash module located beneath them have largely remained unchanged on the Galaxy Z Flip 4.
The video ends with a side profile view of the Galaxy Z Flip 4. This is when you'd notice the major styling difference between the Flip 3 and the Flip 4. In this angle, the Galaxy Z Flip 4 looks quite a bit more chiseled and flatter compared to its predecessor. This is quite different from the Galaxy Z Flip 3, which was a lot rounder when looked at from the sides. This is also where Samsung seems to have taken a lot of cues from Apple.
As for the rest of the specs, we are still pretty confident that both phones will get the Snapdragon 8+ Gen 1 treatment. The Galaxy Z Fold 4 is rumored to get a much better, higher resolution camera this year and will also support a 120Hz refresh rate on both displays. Besides the aforementioned design changes, hardware updates on the Galaxy Z Flip 4 will likely be incremental in nature.