Samsung's Next Event Teases Foldables In Short Order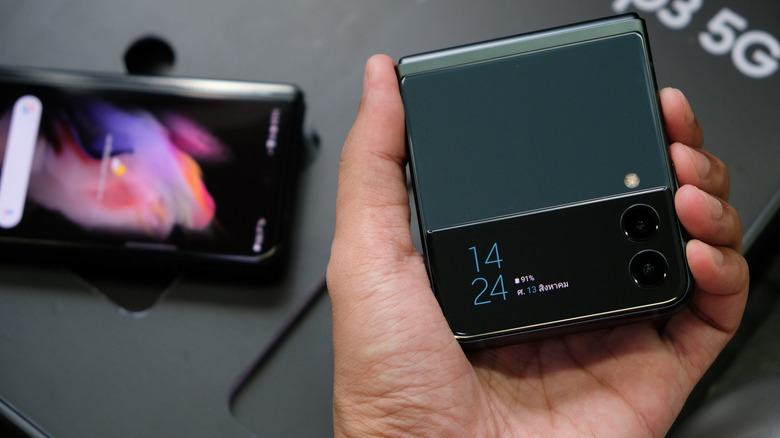 Framesira/Shutterstock
Samsung has been hosting an August edition of its Unpacked launch event for the past few years. Previously, these events saw the company refresh the now-defunct Galaxy Note lineup. Starting in 2020, however, Samsung has primarily used this occasion to showcase its foldable lineup and to refresh its tablets and wearables. The 2020 event, for example, saw the announcement of the Samsung Galaxy Z Fold 2 and the 5G edition of the Galaxy Z Flip. A year later, we saw Samsung launch the Galaxy Z Fold 3 and the Galaxy Z Flip 3 at its August Unpacked event. And by the looks of it, the August 2022 edition of Galaxy Unpacked will be a similar story.
There have been multiple rumors about the likelihood that the August 2022 edition of Galaxy Unpacked will be the launchpad for Samsung's Galaxy Z Fold 4 and Galaxy Z Flip 4 devices. While we are still on the fence as far as the final names of these devices are concerned, we can now confirm that Galaxy Unpacked for August 2022 is definitely happening thanks to an official confirmation from Samsung itself, albeit in a cryptic form (via Twitter).
Samsung's cryptic invite for Galaxy Unpacked August 2022
In the wee hours of July 19, 2022, Samsung posted three images via its official Twitter handle. The first image showcases a bunch of letters, numbers, and symbols in what seems to be a random jumble. The second image showcases a group of circles in several colors, while the third image shows some of these colored circles above which there is text that reads, "When will something greater arrive?"
We have a secret to tell you. #SamsungUnpacked

— Samsung Mobile (@SamsungMobile) July 18, 2022
Solving this puzzle reveals the date for the next Galaxy Unpacked event — which, in this case, happens to be August 10, 2022. It remains to be seen what Samsung truly means by the text "something greater," though. There is also talk about some of the colors used in the teaser image becoming part of Samsung's Bespoke customization options for the two foldables likely to be announced at the event.
Samsung's 2022 foldables: What we know so far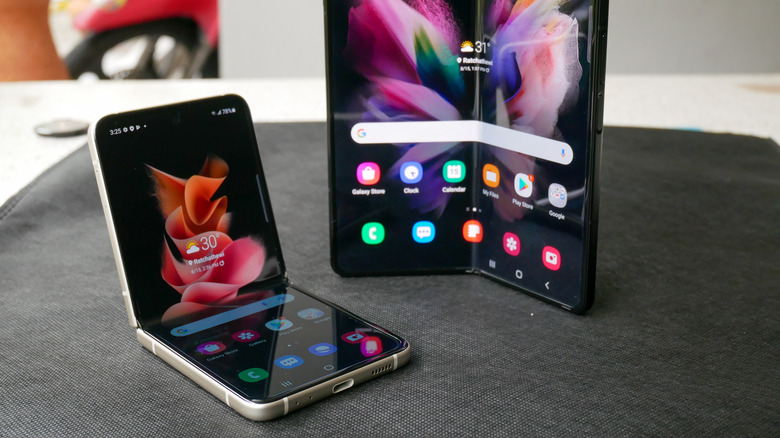 Bhubeth Bhajanavorakul/Shutterstock
We have been hearing rumors surrounding the Galaxy Z Flip 4 and the Fold 4 for a long time now. Based on these rumors, it is thought that the Galaxy Z Fold 4 will be an incremental update over its predecessor. Apart from getting Qualcomm's Snapdragon 8 Plus Gen 1 chipset, the phone is rumored to feature a triple camera setup (50MP+ 12MP UW+ 10MP telephoto). The foldable 7.6-inch AMOLED panel will likely support a 120Hz refresh rate. The secondary display on the Galaxy Z Fold 4 is rumored to measure 6.2-inches across and will reportedly support a 120Hz refresh rate, as well. There has also been talk about the phone featuring a 4,400mAh battery.
As for the Flip 4, this one is rumored to get the same chip as the Fold 2. The phone will also reportedly get a foldable 6.7-inch AMOLED panel that supports FHD+ resolution. The front-facing camera is rumored to support 10MP resolution and could be housed within a hole punch. Consumers also expect there will be an additional cover screen that will measure 2.4-inches across. In addition to this, there has also been talk about the device getting a 3700mAh battery.