Galaxy Z Fold 4 Leaked Cases Hint At Disappointing Design Update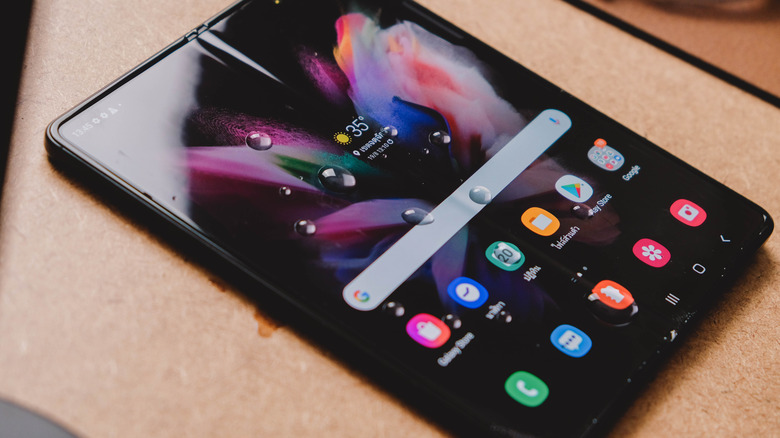 Framesira/Shutterstock
In less than two months, Samsung is expected to reveal its next generation of foldable smartphones. If the ongoing steady stream of leaks and rumors is anything to go by, this year's selection might not be that exciting or desirable, at least for those who have already experienced these devices before. Of course, there will be upgrades inside, particularly with the specs, and there will undoubtedly be improvements in durability and reliability. In terms of core features and external design, however, there might not be that many improvements, and any changes might be too subtle to even make a difference. As if to prove that point, the cases for these phones might look unsurprisingly familiar, at least based on leaks ahead of the official debut.
To be fair, the Galaxy Z Fold 4 will still carry a ton of goodies, at least when it comes to the specs that will drive the phone. There's the Snapdragon 8+ Gen 1, for starters, and probably 12GB or more of memory. Storage capacity is reportedly being doubled as well, so you'll be able to buy one with 1TB of storage. The main camera might also be upgraded to 50MP at long last, but that's pretty much it as far as core upgrades go, at least based on the leaks.
Externally, the Galaxy Z Fold 4 is expected not to change as much, with only a very slight increase in display size thanks to a decrease in bezel size. The overall design still remains the same, which means that the S Pen is still an external accessory and a separate purchase. These unofficial details are seemingly confirmed by accessory retailer MobileFun, which shared a few images of cases for the foldable phone.
A case of deja vu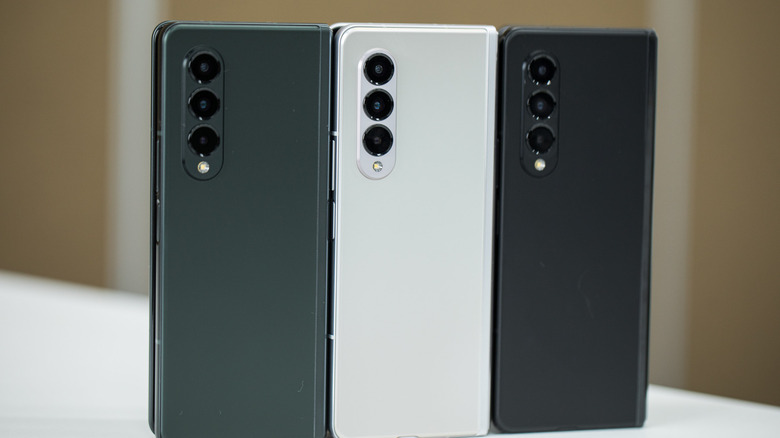 Jack Skeens/Shutterstock
No one will blame you if you mistake these leaked cases as belonging to the Galaxy Z Fold 3 model. You might even begin to wonder if the source made a mistake or was misled into thinking these are for the upcoming foldable phone. Of course, they are still unofficial, so that might be the case, but the leak does mesh with what we've heard so far. In terms of appearances and external functionality, the Galaxy Z Fold 4 will be a dead ringer for the Galaxy Z Fold 3.
The most disappointing part of this leak, however, is that Samsung apparently still hasn't figured out how to best put the S-Pen beside the Galaxy Z Fold 4. The folio case that it launched with the Galaxy Z Fold 3 still seems to be the officially blessed method, and that has been laughed out of the market since day one. There have been plenty of alternative third-party designs launched since then, and it's borderline ridiculous that Samsung still wasn't able to come up with a better design a year later — again, assuming the leak is accurate.
There is, however, one new addition to the line of accessories for the foldable phone. Samsung will apparently be selling an official screen protector now, which is a smart move considering how much trouble replacing the protector involves. That said, owners should still be careful when applying or replacing the built-in protector, as it could completely ruin the expensive Galaxy Z Fold 4 in the process.