Oppo Reno 8 Pro Review: Raising The Mid-Range Bar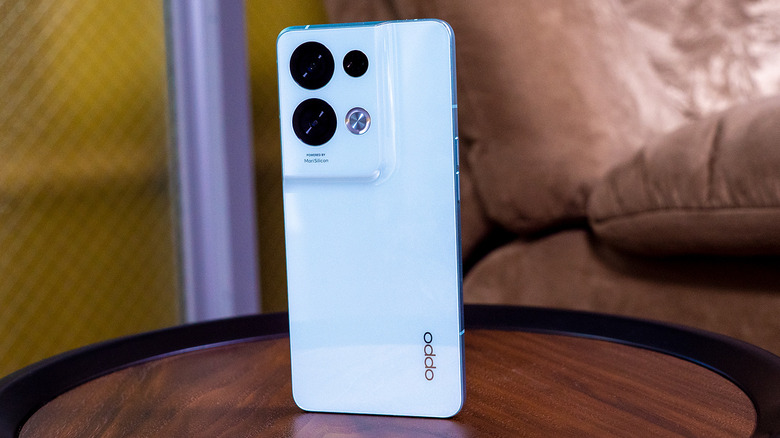 Ewdison Then/SlashGear
Oppo hit the jackpot when it launched the Find X5 Pro earlier this year. In a rising sea of smartphones with obnoxiously large camera bumps and nearly identical designs, Oppo's flagship offered a breath of fresh air with its clean lines and minimalist aesthetic. The unibody construction hasn't been seen in the smartphone market for quite a while, and the Find X5 Pro gave a much-needed reprieve from the ruling design trends in the market. It won many design awards, unsurprisingly, but it wasn't all about looks, either. The Oppo Find X5 Pro was a true flagship in every sense of the word, and its new MariSilicon X imaging chip proved its mettle against bigger and older brands.
But as with any hit new product, following it up is always just as critical as the first generation. That's especially true when you have multiple lines that have family ties but remain distinct in their goals. For Oppo, the challenge was to make sure that even its mid-tier Reno series could keep up with its newfound prestige, which is why a lot hinges on the Oppo Reno 8 Pro's success. At first blush, it does seem that the newest member of the Reno family does share that Find X5 Pro DNA, but looks can be deceiving, especially when it comes to smartphone designs. We've tested the latest model to see if it also has the guts to stand tall with its cousin or if its beauty is only skin deep.
Design and display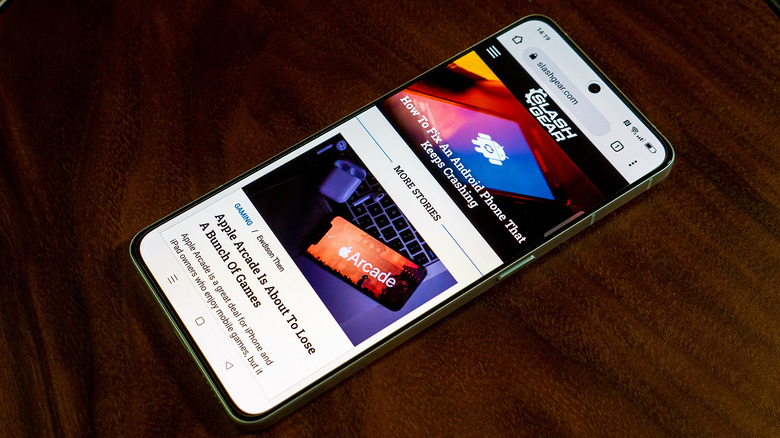 Ewdison Then/SlashGear
Right off the bat, the Oppo Reno 8 Pro stands out as different from other smartphones, even among its older siblings. Unless you've seen the Oppo Find X5 Pro before, you'd think it's a brand new design. In some ways, it is, because it isn't an exact replica of the company's flagship smartphone. Unfortunately, that's not always for the best.
The Reno 8 Pro brings that beautiful unibody design to the mid-tier smartphone market, merging the camera bump with the rest of the back in a smooth contour reminiscent of a soft sand dune. That camera bump, however, is huge, taking up more than half the width of the phone. It also slopes down only on the inner edges, leaving the top and left edge with a harder chamfered design. The resulting aesthetic looks like a mix between the Galaxy S21 Ultra's Contour Cut Camera and the Find X5 Pro's gentler curves.
The phone's flat edges are also more pronounced, calling to mind the design of older iPhones. This gives the Reno 8 Pro a distinct look that seems to fluctuate between soft and hard, curved and straight. Those flat edges at least help in getting a more solid grip on the phone, which is helpful because it feels quite big. The phone feels light in hand, though, despite the aluminum frame. The glass-covered back isn't as slippery, but it is a fingerprint magnet. Oppo includes a TPU case inside the box for your peace of mind.
The large 6.7-inch FHD+ display is bright, vibrant, fast, and responsive. It's difficult to find any fault with the AMOLED screen other than having only two refresh rate choices of 60Hz and 120Hz. The punch-hole cutout for the 32MP selfie camera isn't distracting after a while, and the thin bezels leave plenty of room for content that matters. Whether it's playing fast-paced games or watching HDR10+ videos, the OPPO Reno 8 Pro is definitely up to the task.
Performance and battery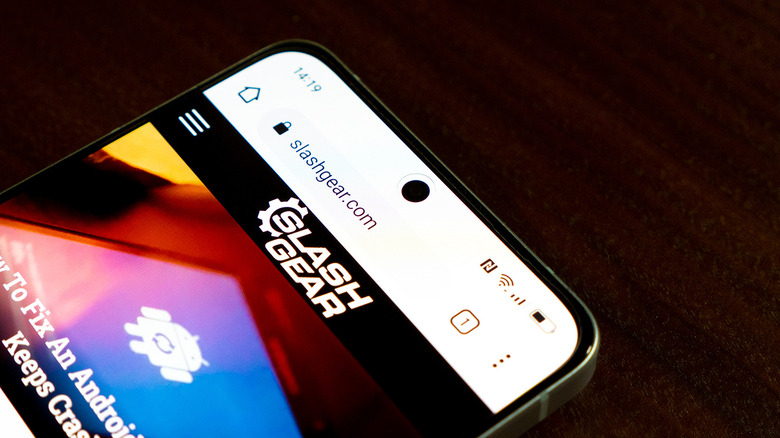 Ewdison Then/SlashGear
Unlike its China-only counterpart, the global version of the Reno 8 Pro swaps out the Snapdragon 7 Gen 1 for a MediaTek Dimensity 8100 5G. MediaTek gets a lot of flak for its more affordable chipsets, but this is not such a case. The Dimensity 8100 offers plenty of muscle for both regular apps as well as heavy-hitters like mobile games. "Fortnite," for example, plays smoothly without any lag caused by hardware. The phone does get noticeably warm after an hour of intensive use, but it also cools down quickly. Benchmarks put the phone almost at the same level as last year's high-end flagships, which isn't surprising, but always take numbers with a grain of salt.
Our review unit comes with 12GB of RAM, which can be expanded with 3GB, 5GB, or up to 7GB more by taking some space away from internal storage. That storage is capped at 256GB, though only about 220GB is actually usable out of the box. Sadly, there is no option to expand it with a memory card.
The Reno 8 Pro comes with stereo speakers, with the earpiece functioning as the second output. The sound that comes out is plenty loud, with minimal distortion at maximum volumes. There is definitely enough bass to give heavier sounds much-needed punch, and you won't be pressed to connect your earphones just to get clearer sounds. There's no headphone jack, of course, so you'll have to reach for wireless speakers if you do prefer more private listening.
The 4,500mAh battery doesn't sound too impressive and is, in fact, the exact same capacity as last year's Reno 7 Pro. Where the two differ is in the faster 80W charging, which juices the Oppo Reno 8 Pro from zero to full in a little over half an hour, presuming you're using the provided charger. While the battery performance is actually solid with a good eight or so hours of continuous use, it is disappointing that Oppo didn't include any wireless charging capability. Like many mid-range phones, it doesn't seem to be ready to adopt that now standard feature just yet, even if all the other pieces are already in place.
Cameras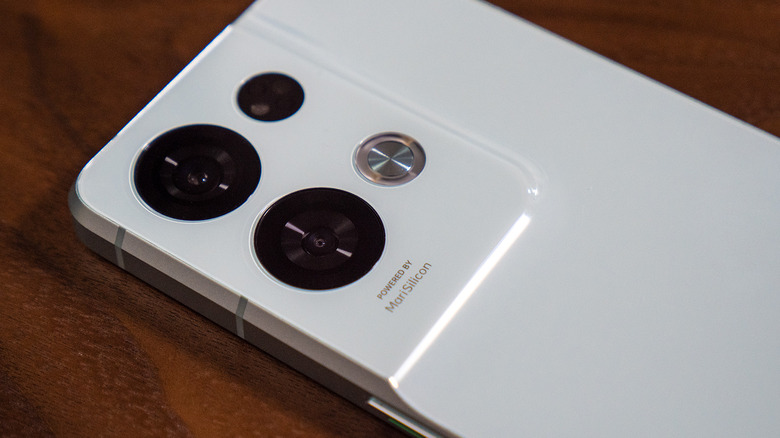 Ewdison Then/SlashGear
The Reno was originally conceived to be Oppo's camera-centric line, at least for a mid-range market. Naturally, it doesn't have all the hardware and features that the Find X5 Pro has to offer, which is what makes its excellent performance even more impressive. That can probably be attributed to the Oppo MariSilicon X NPU, the company's premier AI-powered imaging silicon; it gives the phone an edge over its peers, especially when it comes to processing and low-light photography.
The phone comes with the market favorite 50MP Sony IMX766 as the main star of the show. This sensor is already in use by many mid-range phones, and its higher-quality output on the Reno 8 Pro further confirms the MariSilicon X's capabilities. With natural lighting, the photos it produces are clear, crisp, color accurate, and detailed. It is perhaps thanks to that dedicated imaging chip that you won't even feel the absence of optical image stabilization, which is admittedly still a rarity on this tier. The camera does struggle a bit indoors, but not to the extent that the photo becomes unusable.
Unsurprisingly, quality takes a hit when you switch to the 8MP ultra-wide camera. It isn't a terrible drop, thankfully, but the loss of detail is still very noticeable when you compare the two's outputs. The 2MP macro camera is almost like a joke, though, and one has to wonder why phone manufacturers keep including such hardware. And as is typical with smartphones in this price range, there is no telephoto camera, either.
Software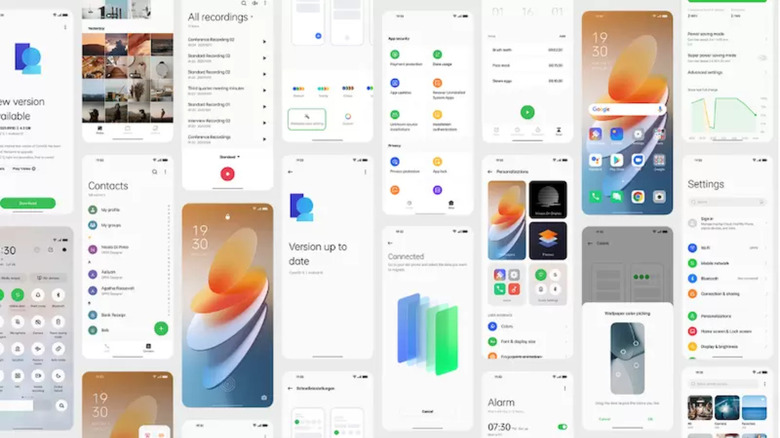 OPPO
In the old days, all but the biggest smartphone brands would launch new phones with the latest Android version. Those days are long gone, fortunately, and Oppo has been doing its best to improve its record in that field. The Oppo Reno 8 Pro comes with ColorOS 12.1, which thankfully keeps in sync with Android versions. That means it's running Android 12 already and, based on Oppo's promises, should be upgraded to Android 14 or even 15. Security updates, on the other hand, are promised to last for four years.
True to its name, ColorOS is one of the more colorful variants of Android in the market. It cleaned up its act a while back, but it hasn't completely gone stock. The UI offers plenty of customization options for those who love to personalize every detail of their phone's appearance. Thanks to a combination of the beautiful display and the capable processor, even animations are smooth and fluid and don't feel like they're bogging down the phone.
In addition to theming, ColorOS offers plenty of features to keep users of all levels happy. As mentioned, RAM Expansion lets you take some internal storage to be used for memory. Sidebars are becoming more common on custom Android experiences, and it's here as well. You could easily get lost in the number of features Oppo provides. Unfortunately, it also provides plenty of pre-installed apps as well, both its own and those of third-party partners. They can be removed, of course, but it would be swell if they weren't there at all in the first place. A single checkbox during the setup process could be a good compromise between offering a clean slate and inundating a new owner with icons.
Verdict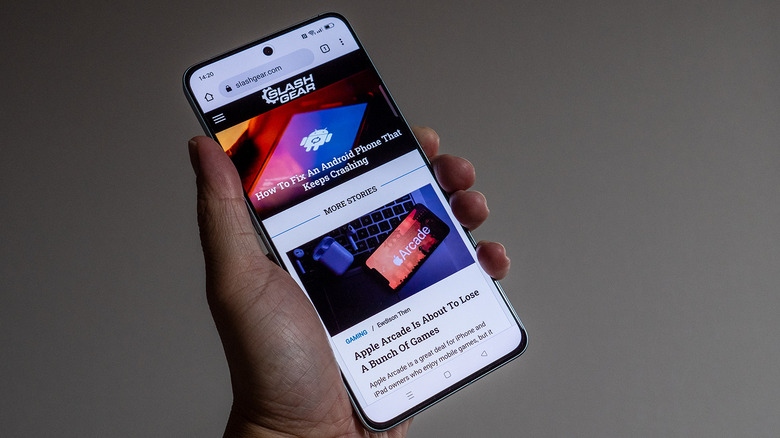 Ewdison Then/SlashGear
The Oppo Reno 8 Pro is clearly a cut above the rest. Although its camera borders on the obscenely huge, it is easily masked and forgotten thanks to its novel and beautiful minimalist design. Power is definitely not something that the phone lacks, both in raw performance and in battery life. Even though it is dragged down by a mediocre ultra-wide camera and a dismal macro shooter, the 50MP main sensor does excellently, especially with some help from the MariSilicon X NPU. The Reno 8 Pro definitely sets the standard for mid-range phones this year thanks to its adequate performance on almost all fronts and its elegant design that gives it a more luxurious flair.
It isn't without its flaws, of course, especially with its price tag. At around $580, it stretches what people might expect from a mid-range handset in terms of price. One could always opt for a cheaper mid-range phone or a cleaner Android experience, like with a OnePlus 10R or similar, but you'd be hard-pressed to find a phone that brings all these features together in a single package. With smartphone prices rising on all tiers, there will always be choices that will have a more accessible price tag but come with their own set of compromises. Although it does come with a higher price tag, the Oppo Reno 8 Pro does offer some of the best in this range, making it a better choice for a long-term investment.