OPPO Find X5 Pro Review - Elegance And Power In Your Hand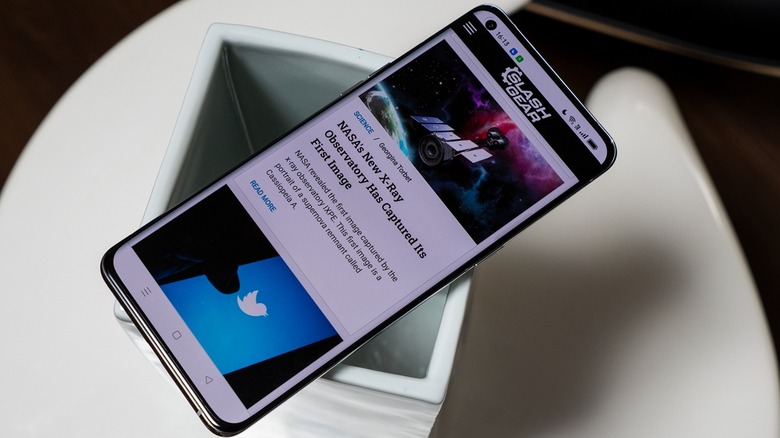 Ewdison Then/SlashGear
OPPO has been steadily rising in prominence in the global smartphone market, in some part thanks to Huawei leaving a gaping hole in that space. It has also been making giant leaps in what continues to be one of the hottest and most critical parts of a smartphone today, its cameras. The company has invested heavily in this department, creating its own chip dedicated to imaging and striking up a partnership with famed camera maker Hasselblad. While this bodes well on paper, the phone still must be tested in the real world, where names sometimes don't matter that much. 
Despite being one of the most important features, a smartphone isn't just a camera with some phone features slapped on. Does the OPPO Find X5 Pro live up to the hype, or does it fall flat on its face? Read on for our in-depth review to find out if OPPO's early 2022 flagship has what it takes to outshine everyone else.
The OPPO Find X5 Pro design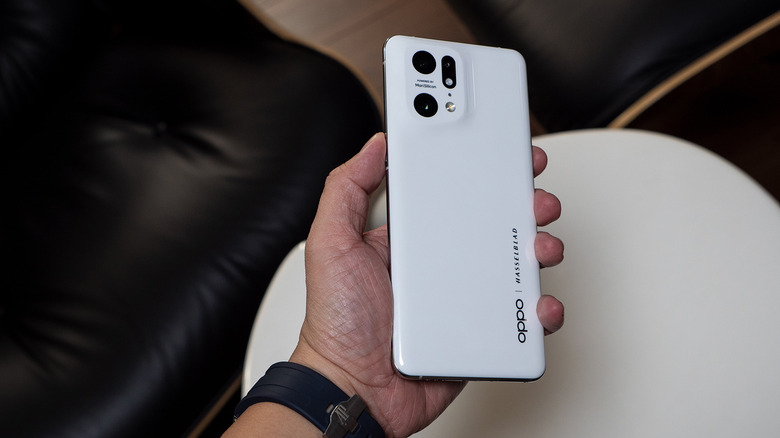 Ewdison Then/SlashGear
Right from the get-go, the OPPO Find X5 Pro is already unique and striking, especially for those with an affinity for minimalism. While the curved edges of the screen are nothing new, flipping the phone around reveals something you probably wouldn't expect from smartphones these days. Sure, OPPO introduced this new design language last year with the Find X3 Pro and then a variation in the Find N foldable phone, but it is reassuring to see that it is cementing that unique aesthetic rather than changing year after year after year.
Unlike almost all smartphones today, including the iPhone, the OPPO Find X5 Pro doesn't have a visually distinct structure and material housing the cameras. Yes, there is a camera bump, but it is almost like a literal bump rather than a separate slab of metal, plastic, or glass segregating the cameras from the rest of the phone's body. Instead, there is a gentle slope that rises from the surface to accommodate the camera hardware. At certain angles, you can't even see that slope, making it appear like the cameras are lying flat, flushed on the phone's back.
This unconventional design has two main benefits, the first one being the absence of a large hole that could compromise the structural integrity of that back glass plate. More importantly, it creates a single visual form that has no breaks other than the small circles for the cameras. Along with the choice of milky white and dark black colors, this design's smooth lines and lack of unnecessary distracting elements creates a clean and minimal look that evokes a feeling of calmness and serenity.
The materials OPPO chose for that also contribute towards that goal of promoting a sense of peace when using the phone. Although more expensive and harder to manufacture, the choice of ceramic instead of regular glass makes the phone feel comfortable and warm to the touch while also offering some confidence and assurance thanks to its more durable properties. OPPO also used a special coating that reduces fingerprint marks, relieving you of the stress of having to wipe off smudges every now and then.
Display and audio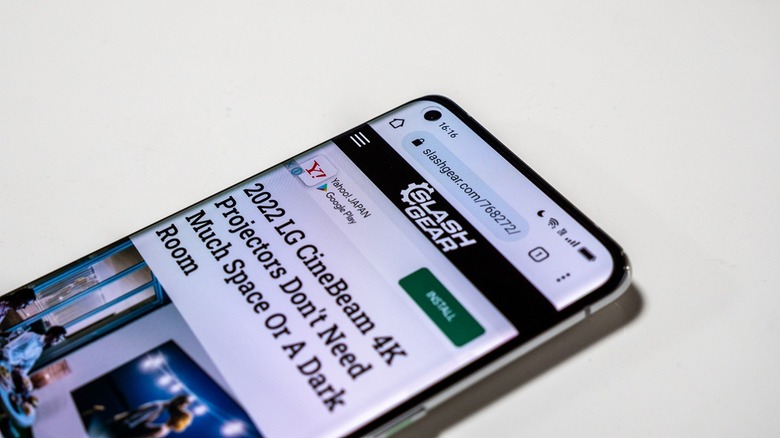 Ewdison Then/SlashGear
The front of the OPPO Find X5 Pro isn't as luxurious, but it is equally elegant. That's thanks to the 6.7-inch LTPO2 AMOLED screen with extremely thin bezels and a punch-hole cutout that stays quietly at a corner rather than the center. OPPO has always delivered phones with impressive displays, and this one is no different.
As you would expect from a high-quality AMOLED panel, the Find X5 Pro's screen is bright and vibrant, with colors reproduced accurately. Blacks are rich and deep, even when viewed from extreme angles. These properties go a long way in making images and videos pop, especially when viewing HDR content. The screen is also capable of a 120Hz refresh rate, and, as always, the software decides when to apply it and when to dial things down to 60Hz or even 1Hz.
The phone has one bottom-firing speaker, but the earpiece on top pulls double duty as the second audio output. This stereo speaker setup is quite loud, though you will find the usual distortions when you really push the volume to the limit. Of course, no headphone jack to be found anywhere, but that has become so normal these days despite still feeling a bit tragic.
Performance and battery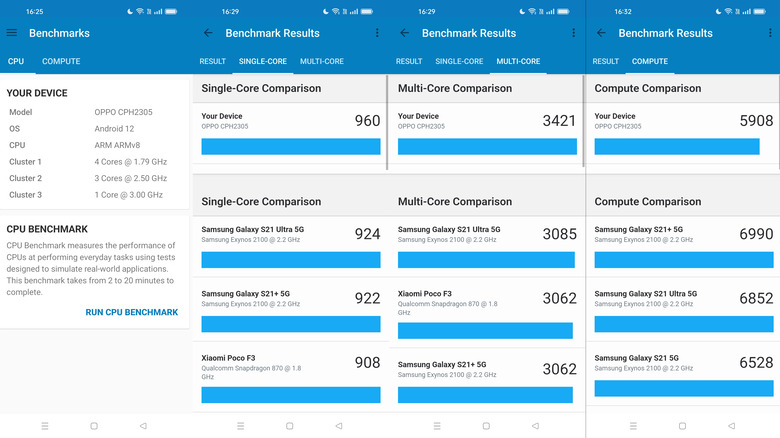 Ewdison Then/SlashGear
The OPPO Find X5 Pro comes with the best hardware the smartphone market has to offer, which pretty much boils down to the Snapdragon 8 Gen 1 chipset. Our review unit came with 12GB of RAM and 256GB of storage, but there are even higher configurations available. Although internal storage can't be expanded with a microSD card, RAM can be augmented with 3GB stolen from that fixed UFS 3.1 data storage.
Although the phone does have the latest Qualcomm silicon, it seems that the Snapdragon 8 Gen 1's benchmark scores are all over the place, depending on the brand and model of the device it's running on. Based on Geekbench scores, it would almost seem like the Find X5 Pro will disappoint in terms of raw power, but synthetic benchmarks don't always paint the whole picture. They don't even paint an accurate picture when it comes to real-world use since they have to set arbitrary standards in order to have any modicum of reliability.
OPPO might be trying to err on the side of caution and throttle the CPU performance before it gets too hot to handle. This doesn't necessarily mean that the phone will under-perform, though you might experience a few frame drops on more intensive games like Genshin Impact. 
In day-to-day use, however, these scores might seem negligible as the Find X5 Pro breezes through anything you throw at it without breaking a sweat or burning your palms.
The phone does have a large 5,000 mAh battery to burn through, and a SuperVOOC charging speed to match. With an 80W fast charger, it takes less than 30 minutes to go from zero to full. This is the first time the company has made this technology available since it got leaked back in 2020 and is a slight step up from the 65W charging that it has been using for quite a while now. It also supports 50W "AirVOOC" wireless charging that advertises 47 minutes of charging time, at least with a matching 50W wireless charger from OPPO.
Cameras and photography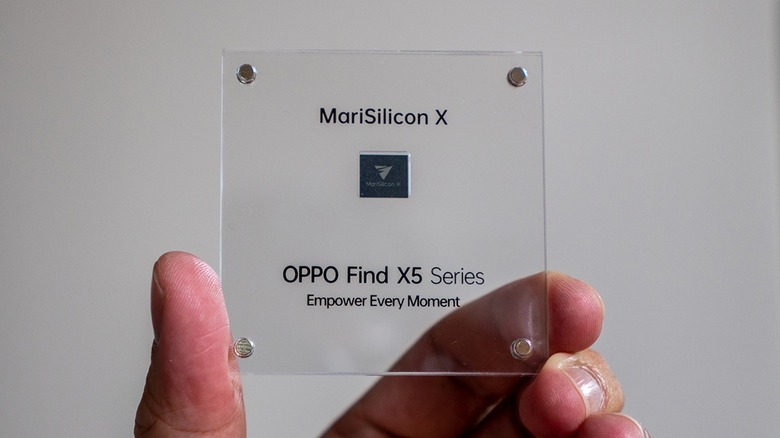 Ewdison Then/SlashGear
The OPPO Find X5 Pro's minimalist design belies the power it hides within, and we're not just talking about the processor or even the display. OPPO went to great lengths to level up its mobile photography chops, and this has clearly paid off. The phone boasts one of the best cameras we've come across to date, which is remarkable considering it isn't Huawei, Samsung, or Apple.
Sure, the cameras sound similar to what last year's Find X3 Pro had, at least on paper, but the devil is in the details, as they say. We still have the same 50MP Sony IMX7766 sensor for both wide and ultra-wide cameras, so you won't have to choose between field of view and quality. The main camera also has a new 5-axis stabilization system that combines the typical lens shift stabilizing mechanism with sensor-shift tech.
The biggest upgrades in this department come from two fronts. First is the new MariSilicon X chip that OPPO announced last year, giving the Find X5 Pro a dedicated imaging processor powered by AI and machine learning. The biggest news, however, is Hasselblad's involvement in fine-tuning the camera output and shaping the user experience.
The results are simply amazing, producing crisp and vivid images no matter the lighting situation. Unlike many of its peers from the region, the Find X5 Pro's output isn't pasty or over-saturated, reproducing colors as they naturally look in the real world. The camera app has also been designed to mimic Hasselblad's camera user experience, including its familiar leaf shutter sound.
Software experience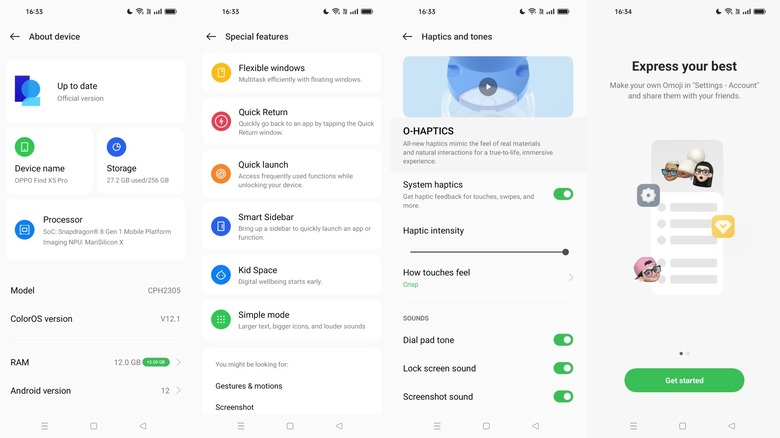 Ewdison Then/SlashGear
The Find X5 Pro comes with the company's latest ColorOS, version 12.1, which happily means it's also running Android 12 out of the box. That does mean a couple of pre-installed software and plenty of customization, though OPPO has been more discreet in the changes it makes in recent iterations. There are still plenty of unique features to go around, of course, and they're fortunately the ones that users would probably like to have around.
For example, you can have floating windows as well as a sidebar that you can slide out to launch some apps or functions, features that would be familiar to many Samsung Galaxy owners. 
There is also a PC connect feature that will let Windows users cast their phone's screen to their desktop or laptop, making it more convenient to use two devices and two platforms at the same time. Of course, these are all built on top of Android 12, which brings a ton of privacy features, including a new Privacy Dashboard and indicators when the mic and the cameras are in use.
Final thoughts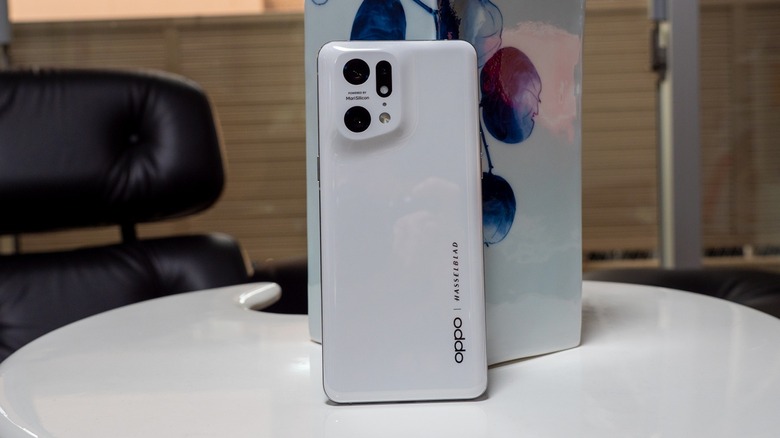 Ewdison Then/SlashGear
Smartphones have started to look more similar to each other, even when their camera bumps are sized and positioned differently. There seems to be a trend now to actually banish those metal and glass plates to create a more unified look. The OPPO Find X5 Pro definitely takes that to a new level that creates a visually pleasing and elegant aesthetic that is not only clean but also soothing.
That's not to say that the phone is all looks, though, as it is definitely one of the most powerful options in the market today. Synthetic benchmarks be damned, the powerful computer in your pocket will make short work of your daily tasks and entertainment needs, and its generously large battery promises you won't have to scramble for a charge until you get home late at night. 
Thanks to its new MariSilicon X imaging NPU and its partnership with world-renowned camera expert Hasselblad, the images and videos it produces are simply superb, making the OPPO Find X5 Pro one of the best smartphones this year in our book.