Telsa Just Made A Head-Turning Decision About Bitcoin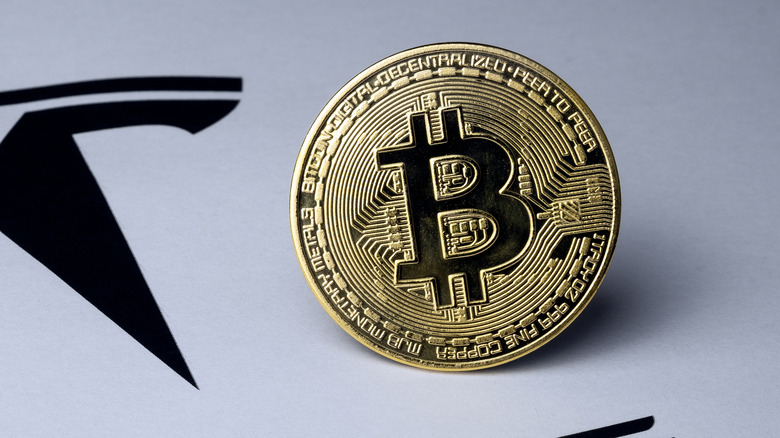 mundissima/Shutterstock
Tesla's Q2 financial report includes an announcement that it has dumped nearly 75% of its Bitcoin holdings. Or to put it more appropriately given the current crypto industry meltdown, Tesla cashed out with $936 million worth of its Bitcoin assets, labeling it as "Bitcoin impairment" in its Q2 2022 release, following a fat investment worth $1.5 billion in 2021. 
"Tesla's goal is to accelerate the advent of sustainable energy. Cryptocurrency is a sideshow to the sideshow. So, cryptocurrency is not something we think about a lot," Musk answered in response to a query during the earnings calls, adding that sustainability was the core focus of the company. Further, Musk also gave an alternative rationale behind the company's decision to lighten up on its Bitcoin holdings, and a note about one other key crypto.
"We were uncertain as to when the COVID lockdowns in China would alleviate. So it was important for us to maximize our cash position," Musk explained. However, that doesn't mean it's the end of the Bitcoin journey for Tesla. The Tesla chief hinted that the cash out should not be seen as an official brand verdict when it was just a smart business move based on liquidity concerns. Notably, Musk added that the company was open to increasing its Bitcoin investments in the near future. And just to send home the message that Tesla hasn't given up entirely on its crypto ambitions, Musk made clear that the carmaker is still holding on tight to its Dogecoin stash.
Tesla's history with Bitcoin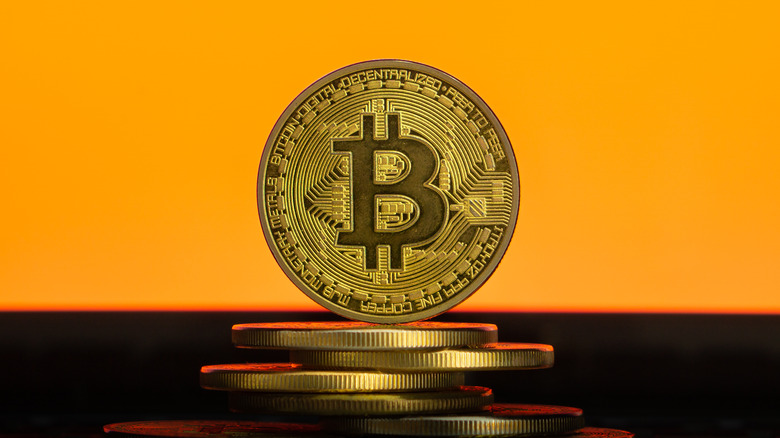 24K-Production/Shutterstock
In February 2021, Tesla revealed in its 2020 annual report that it had purchased Bitcoin worth a staggering $1.5 billion. The announcement sent Bitcoin's exchange value surging by around 20%, putting its value in the $47,000 bracket. For comparison, the current exchange rate of Bitcoin is hovering around the $22,900 mark, as per CoinDesk data. Such was the market frenzy kickstarted by Tesla's announcement that the high volume of crypto trading led to technical issues for Binance, Kraken, and Gemini, according to a report from CoinDesk.
Tesla also announced plans to accept Bitcoin as a form of payment for purchasing its cars, then started accepting bitcoin payments a few weeks later. At that time, Bitcoin was trading for around $56,800, which was higher than the $55,990 retail price of the Tesla Model 3 Performance. Of course, most people buy and own fractions of bitcoins at this point in history, much like the U.S. dollar is split into cents.
Square, led by former Twitter CEO Jack Dorsey, and MicroStrategy were among the biggest names that were bullish on Bitcoin early in 2021. But the disclosure from Tesla – the world's most valuable carmaker led by the world's richest man – was seen by industry watchers as one of the biggest catalysts toward the mainstream adoption of Bitcoin. Evangelists made bold predictions that Bitcoin was finally on the route to becoming a major global financial force as El Salvador and the Central African Republic further pushed the crypto narrative.
Winter is here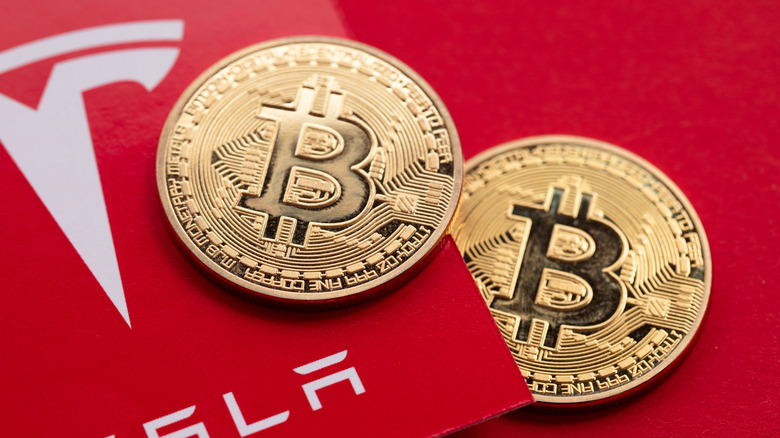 Ink Drop/Shutterstock
Another revelation from Tesla's fiscal second-quarter earnings call came in the form of a comment from Tesla CFA Zachary Kirkhorn, who indicated that the electric vehicle company actually made a profit from its Bitcoin asset sale. "We converted a majority of our Bitcoin holdings to Fiat for a realized gain, offset by impairment charges on the remainder of our holdings," Kirkhorn was quoted as saying in a transcript of the earnings call.
Despite any and all efforts from Tesla's leaders to assure the public that they haven't lost faith in cryptocurrencies altogether, the entire ecosystem seems to be in a bit of a tailspin, and this move by Elon Musk's car company isn't helping.
According to a report from CNBC, the crypto market has lost over $2 trillion in value in a span of a few months. Worried by the volatility, the Bank of England called for tighter regulations on the whole ecosystem, which is definitely not a good omen for growth prospects. India dissolved the Blockchain and Crypto Assets Council (BACC), a body that was supposed to represent the interests of companies engaged in the crypto business. As The Times reports, this epic market crash has left investors and project leaders helpless, with many seeing their life savings wiped away in a matter of few days. If Tesla turned around and traded another $1 billion in cash for bitcoin tomorrow, there would still be no guarantee that this so-called crypto winter would end any time soon.