The 10 Coolest Features Of The 2022 Toyota GR86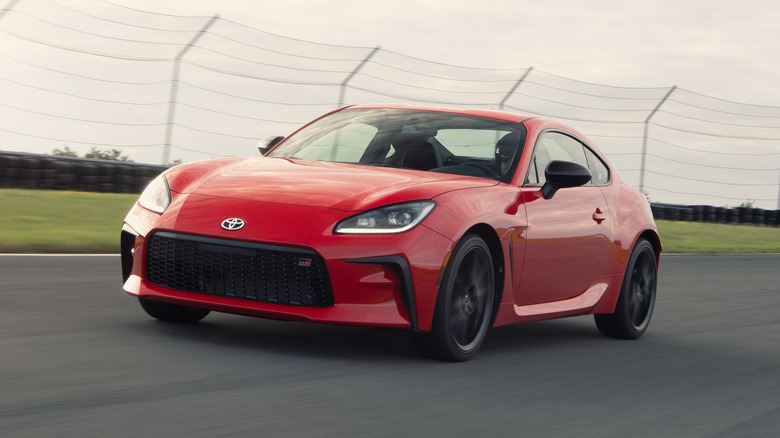 Toyota
In 2012, Toyota launched a new sports car that had been developed in conjunction with Subaru. In the US, it was first marketed as the Scion FR-S, but by 2017, it had been given a Toyota badge and christened the Toyota 86. The first generation of the car combined excellent handling with wallet-friendly pricing to make one of the best affordable sports cars on the market. SlashGear drove it in 2017 and called it a "lesson for supercars," but at the time, we weren't too impressed with its engine's power and refinement. Now, ten years after the launch of the first generation of the car, a second generation has arrived, and it has a slightly different name: the Toyota GR86.
In principle, the car's basic formula is still the same, focusing on fun, affordable driving. But, the 2022 model year car comes with a host of upgrades and new features that promise to make it even better than its predecessor. Toyota has gone over almost every detail of the car with a fine-tooth comb, reworking everything from the powertrain to the aerodynamics. Alongside its twin, the Subaru BRZ, the GR86 offers a package unlike anything else on the market.
A new, more powerful 2.4L engine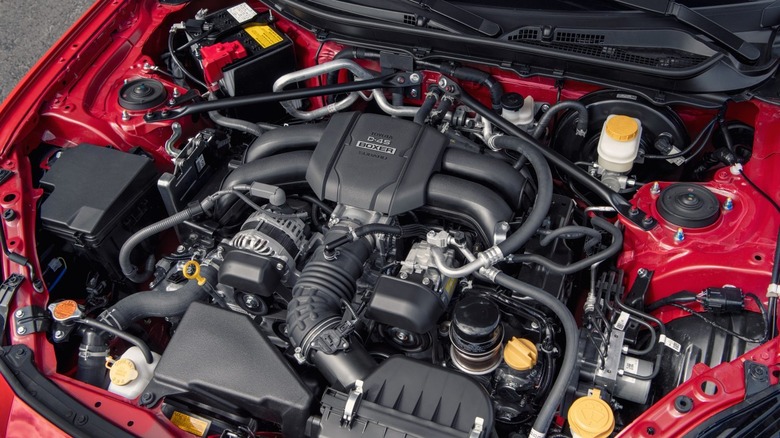 Toyota
One of the most common complaints about the previous-gen 86 was that its chassis could handle more power than its engine could deliver. Toyota took this criticism on board and developed a new engine for the GR86, with more power and a larger displacement. This new unit is a 2.4L flat-four that makes 228 horsepower and 184 lb-ft of torque, an increase of 23 horsepower and 28 lb-ft of torque over the previous car. It might not seem like a huge increase, but it made all the difference when we drove the GR86.
The car felt more powerful at lower speeds, partly thanks to the fact that peak torque arrived at 2,700 rpm sooner than in the old car. It's still not going to be able to compete with the likes of the Nissan Z or Toyota Supra in terms of all-out speed, but then it doesn't need to. The joy of driving the GR86 comes with giving its engine a good thrashing without worrying too much about breaking the speed limit.
Either manual or automatic transmission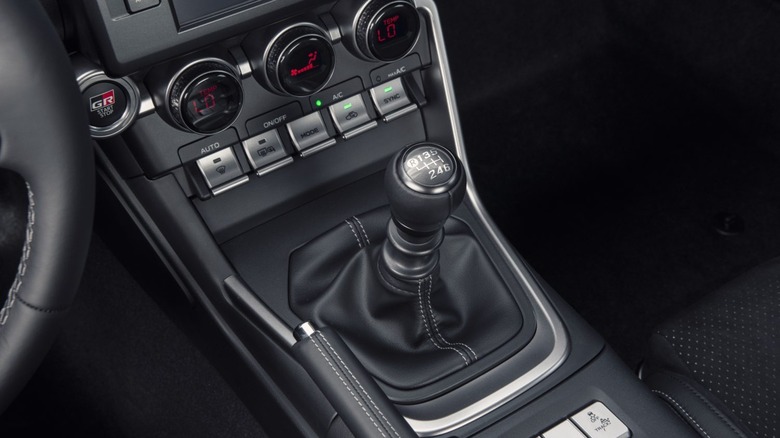 Toyota
Manual transmissions are becoming a rarer sight in modern sports cars, but the GR86 still comes with a six-speed manual as standard. A six-speed auto 'box is also available for $1,075 extra, but after reviewing both options, we think the manual is the one to have. While being just fine, the automatic isn't anything extraordinary, and it's certainly not as sharp as offerings from upmarket rivals like Porsche. The stick-shift, on the other hand, feels exactly like a sports car transmission should: short, sharp, and easy to master. It's a fraction quicker than the automatic, too. With the manual transmission equipped, Toyota claims the GR86 will go from 0 to 60 mph in 6.1 seconds, but the automatic takes half a second longer.
In the automatic, four shifting modes are available: Normal, Sport, Snow, and Track. Track mode is the harshest setting, but even on Sport mode, every bump in the road will be felt. However, the biggest drawback of choosing an auto transmission rather than manual is simply that buyers won't be able to take the GR86 right up to its redline at legal speeds, and with a car like this, that's half the fun.
Reworked chassis with more rigidity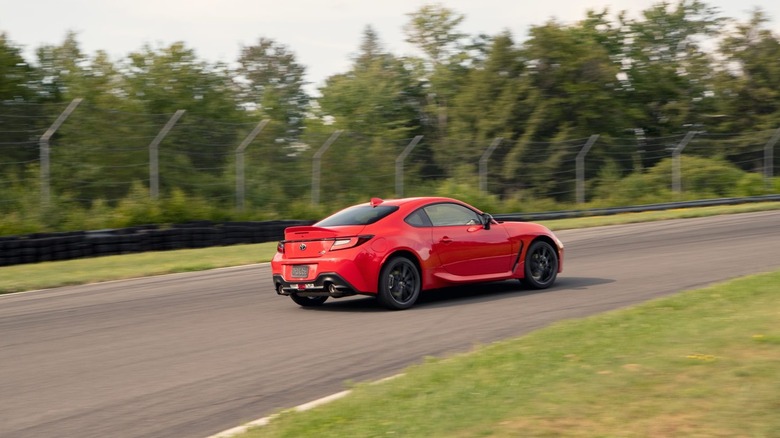 Toyota
To complement the more powerful engine, Toyota redesigned the car's chassis for better rigidity. There are new diagonal cross members that reinforce the joints between the front suspension and the frame, Toyota points out in its press release, and high-strength fasteners are used throughout the car. The frame is now made from a mixture of steel and aluminum, and body panels like the hood, front fenders, and roof are also now all aluminum.
This all translates to a car that feels noticeably sharper to drive than its predecessor. It's able to corner faster and get up to speed on straights quicker than the old model, but it never feels any less predictable in terms of grip. Body roll is kept to a bare minimum and, on the track at least, the car's newfound stiffness means that it's easier to get the back end out than ever before. It seems like the GR86's chassis is just as suited to drifting as the last-gen car, so it's no surprise to see that professional drifters have already started developing competition-spec builds.
Performance-focused wheels, tires, and brakes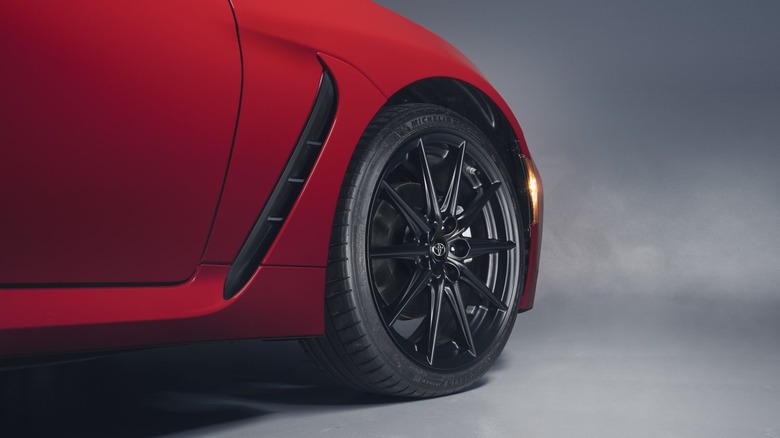 Toyota
It wasn't just the chassis that needed an upgrade to keep pace with the new 2.4L engine, but the tires and brakes also needed to be upgraded. The GR86's brakes now feature 11.6-inch ventilated front rotors and 11.4-inch ventilated rears for better stopping power, and there's a new brake pad composition to help reduce fade under track-day conditions. The base-spec car gets 17-inch wheels as standard, and the Premium spec gets a set of semigloss black 18-inches.
Keeping things firmly glued to the ground are a set of Michelin tires, either Primacy HPs on the base-spec car, or Pilot Sport 4s on the Premium car. The latter option offers more grip, but the former is better for tail-happy drivers or anyone looking to save a few bucks. Either way, both of the factory options are very capable, although CarShtuff recommends that a set of winter tires like the Bridgestone Blizzak WS90 would be preferable for drivers looking to daily their GR86 in colder climates.
Aero-focused exterior design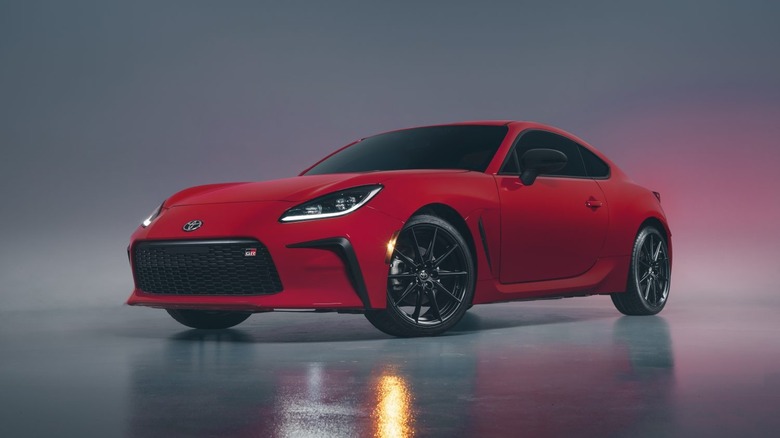 Toyota
To juice every last bit of performance out of the new GR86, Toyota has reworked the car's exterior design for better aerodynamics. Toyota notes that the new grille is designed to feed air to the intake more effectively than before, and the front bumper features textured molding in an effort to reduce drag. Look closer at the car's side profile and you'll notice everything from the front fender to the rear wheel arches have been altered from the previous-generation car, creating something that looks similar to its predecessor from a distance, but very different up close.
On Premium trim cars, a new ducktail rear wing has been added that looks similar to an aftermarket 86 wing that's sold by Japanese tuner Liberty Walk. The Liberty Walk 86 kit is one of the brand's best-selling designs, but at the time of writing, they have no kit available for the GR86. However, rival kit maker Pandem has beaten them to the punch, releasing a predictably over-the-top widebody kit that transforms the car's design from mild to wild, featuring crazy overfenders and ground-scraping bagged suspension.
New options including a GR Performance exhaust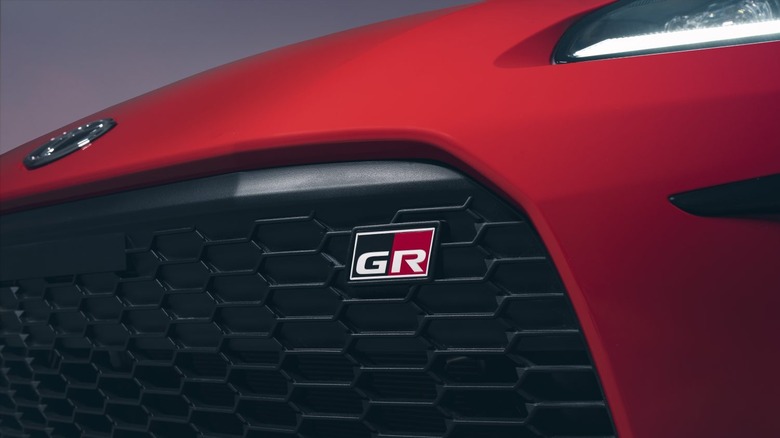 Toyota
The previous generation 86 has one of the most extensive aftermarkets of any modern car, with everything from track-ready performance upgrades to wild body kits available from a variety of global retailers. In comparison, Toyota's stock options list used to be quite slim, but with the new GR86, the brand has gone some way towards fixing that. An all-new line of GR Gazoo Racing accessories can be optioned in, including a dual cat-back GR performance exhaust and GR performance stabilizer bar (via Toyota).
Other options include a performance air intake kit that features a larger airbox and a performance air filter. Quick shift kits, racing-inspired brake pads, and a bolt-on strut tie brace are all also available for buyers looking to give their car a performance edge. That's in addition to the usual range of colors, exterior accents, and vinyl graphics that allow drivers to customize their car's looks in more ways than ever. The GR sub-brand is still fairly new, as it was only launched in 2017, but it seems that Toyota is doing all that it can to really push the GR name's relevance among its more petrol-headed buyers.
Overhauled connectivity and infotainment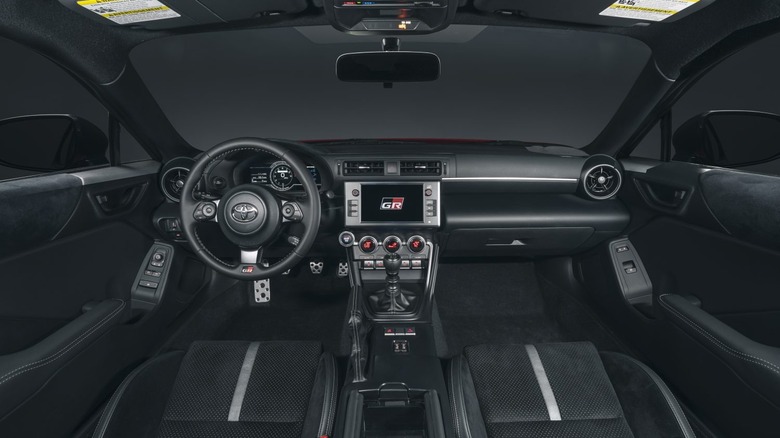 Toyota
As well as pushing the performance of its car into new territory, Toyota also wanted to make the GR86 easier to live with. A key part of the livability of modern cars is how connected they are, and so the new-gen model comes with an updated suite of infotainment to keep tech-oriented buyers happy. A new 8-inch centrally-mounted infotainment screen replaces the 7-inch unit in the previous car, and Android Auto and Apple CarPlay are standard across all models. Base-spec models come with a six-speaker audio system as standard, which increases to an eight-speaker setup on the Premium trim. An extra 200W subwoofer is also available as an option for those who want their tracks to have a little more bass, the company notes.
SiriusXM satellite radio is available as a three-month trial when buying the car, but after that, owners will have to pay a separate fee if they want the feature. Drivers and passengers needing to charge their phones will find two USB ports available in the center console, plus an audio port for wired connections to the car's audio system.
Complimentary NASA membership for a year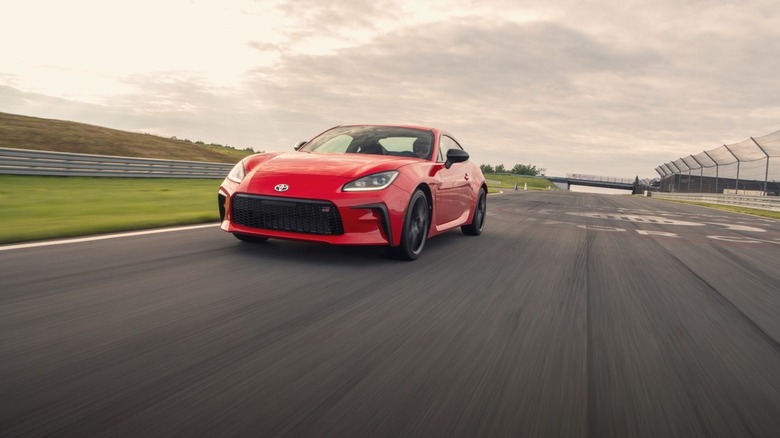 Toyota
Toyota isn't offering signups for everyone's favorite space agency, but instead, it's offering something a lot more useful for sports car owners. Each new GR86 will come with a complimentary year's membership to the National Auto Sport Association (the other NASA), which will include free entry to one of the organization's High Performance Driving Events. Owners will also get discounted entry into any other events held throughout the year that are sanctioned by NASA.
The partnership between NASA and Toyota's GR Performance was first launched in 2020 for buyers of the GR Supra, and it proved so popular that it was extended to the new GR86 for 2022. The message seems to be that GR is very keen on getting buyers to try out its new cars on the track, even if they've never been to a track day before. Apart from being great fun, Toyota says that the program encourages buyers to learn how to properly handle their cars, in the presence of professionals and in a much safer environment than on open roads.
Tried-and-tested Japanese build quality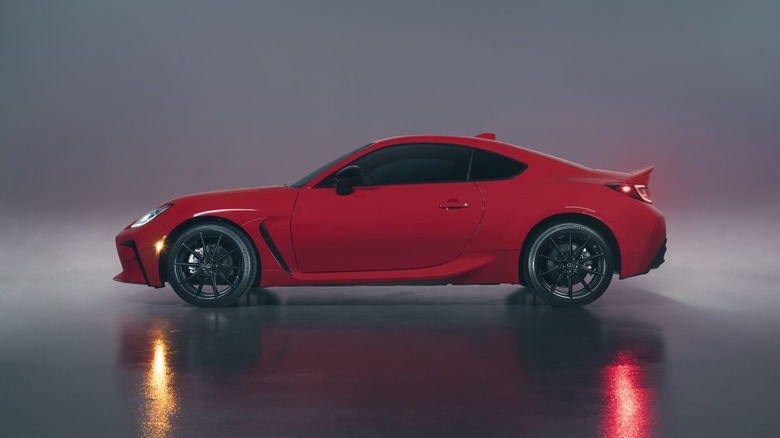 Toyota
Few things take the fun out of sports car ownership faster than having a car that constantly breaks down. Luckily, Toyota as a brand has built up a reputation for strong reliability over the years. Unfortunately, low sales figures mean that there isn't a lot of concrete data to compare the 86's reliability ratings to its rivals. But given the number of owners on GT86 forums with over 150,000 miles on their cars, it's safe to assume that the new-gen car will be just as reliable as the rest of Toyota's lineup.
For extra peace of mind, however, Toyota offers a three-year or 36,000-mile warranty as standard, with a five-year or 60,000-mile powertrain warranty and a five-year corrosion warranty. That's a pretty competitive package for the segment, but it's made better by the fact that Toyota also throws in two years or 25,000 miles of complimentary maintenance. It's a perk that rivals like the Mazda Miata and Subaru BRZ don't offer, and it helps make the GR86 one of the cheapest sports cars on the market to own.
Starting price of just $27,700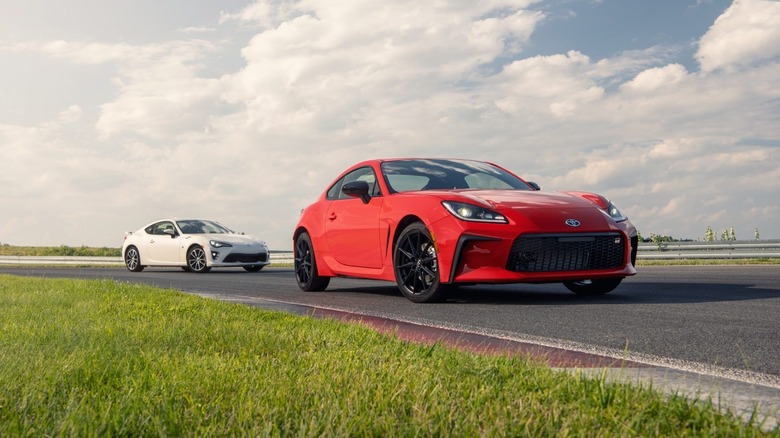 Toyota
One of the biggest selling points of the GR86 is its low starting price, with a base-spec example starting at just $27,700 plus fees. Build slots for the 2022 model year are now starting to sell out, and in some territories, they're completely gone, with the UK's entire allocated units selling out in just 90 minutes upon launch. In the US, Toyota has already begun marketing the 2023 model year car, which has marginally increased in price to $27,900. It's almost identical in price to the Mazda Miata, which starts at $27,650 for 2022, and it's a fraction cheaper than the BRZ, which starts at $28,955.
No matter how you look at it, the Toyota GR86 remains a great choice for a new sports car, and with its upgraded engine, revised chassis, and updated tech features, it's now better than ever. It seems that Toyota has made a real effort to listen to buyers and fix criticism with this new generation of the car, and it's a safe bet that the GR86 will continue to remain popular among enthusiasts for the foreseeable future.