TP-Link Just Took The Sting Out Of Tri-Band Wi-Fi 6E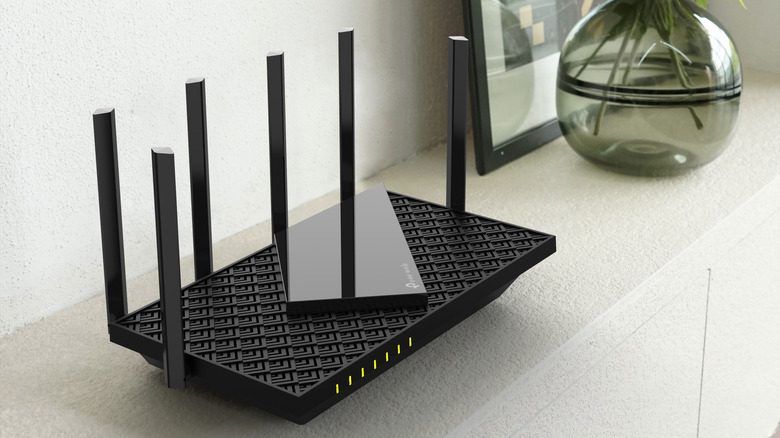 TP-Link
We may receive a commission on purchases made from links.
For a few years, proponents of the nascent 5G network technology made it sound like the be-all and end-all of wireless connectivity. Unfortunately, the marketing hype overshadowed developments in the Wi-Fi space, and consumers might be surprised to see networking equipment labeled with Wi-Fi 6E. Of course, your old single-band router will continue to work — with various definitions for work in this case — as will your slightly newer dual-band box. If you want to get the most optimal internet connection in today's congested homes, though, you'll probably want to tap into the power of Wi-Fi 6E, which means buying a new router that actually supports the new standard. There will be plenty of shiny new choices in the market with Wi-Fi 6E in its infancy, but TP-Link's newest tri-band router promises to make everything as simple as pie.
Comparisons between the invisible internet network bands and highways aren't far off — the three spectra now available to Wi-Fi networks are almost like the expanding evolution of highway lanes. The old 2.4GHz band, for example, only had three channels that devices had to compete over to get data through. The addition of 5GHz increased the number of non-overlapping channels, but the growing number of internet-connected devices in houses, plus interference from nearby networks, can easily make those advantages moot.
Wi-Fi 6E extends that further (hence the name) by finally adding the newly approved 6GHz band. The numerical jump between 5GHz and 6GHz might not look like much, but it significantly boosts the bandwidth of networks almost four-fold; 6GHz can also deliver network speeds of 1Gbps or more on its own, so you're promised high-speed, low-latency connections. What's the catch? You need a new router that supports Wi-Fi 6E, which is where TP-Link comes in.
The TP-Link Archer AXE75 detailed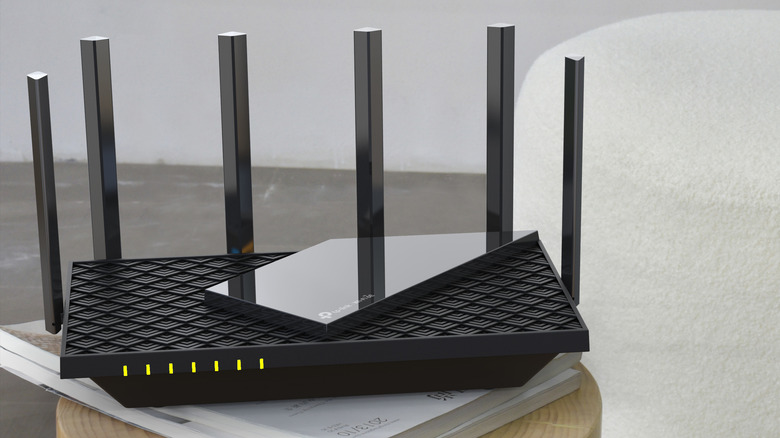 TP-Link
TP-Link's newest offering is a tri-band Wi-Fi 6E router that can utilize all bands at the same time to deliver a whopping 5400 Mbps Wi-Fi connection. It can support significantly more devices connected simultaneously, probably even more than you have in your house now. Its six high-gain antennas ensure Wi-Fi reaches every nook and cranny possible, so you won't have to worry about dropped frame rates or buffering because you moved too far away. And if that's not enough, you can connect a TP-Link OneMesh Extender for even wider coverage.
Going beyond the impressive network capabilities, the Archer AXE75 also brings next-gen processing performance thanks to its 1.7GHz quad-core processor and 512MB of high-speed memory. There's also a USB 3.0 port that lets you connect external storage to share with devices connected to the same network. The router also utilizes the latest WPA3 security protocol, ensuring only authorized devices will be able to connect to your home network.
Despite all of these advanced features, the Archer AXE75 is as easy — or perhaps even easier — to use as the simpler routers of the past. A simplified setup removes the stress of getting the router ready for use, and Tether lets you monitor and control the router even when you're far away. TP-Link's HomeShield makes security feel less daunting, and parental controls make sure you have the last say when it comes to your family's safety. The TP-Link Archer AXE75 Wi-Fi 6E Tri-Band Router retails for only $199.99 on Amazon.