GM Reveals Its Nationwide Fast Charging Plan To Solve Electric Cars' Biggest Problem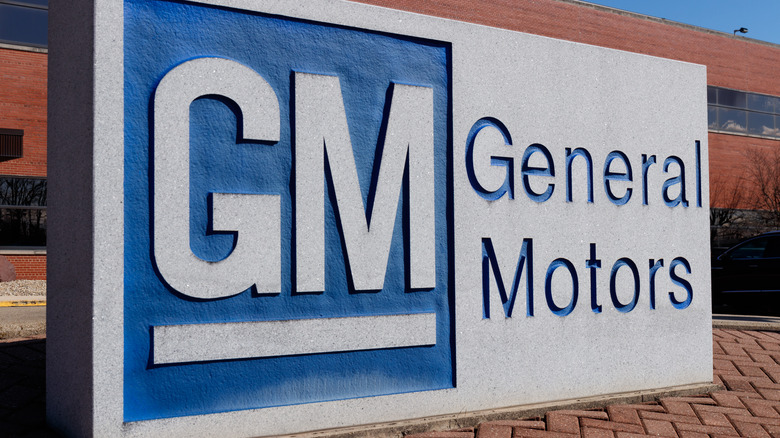 Jonathan Weiss/Shutterstock
Going from coast to coast in an electric vehicle sounds difficult. Although charging points are more common now, and some EVs on the market have very impressive ranges, it would still require a lot of planning. One slip-up or wrong turn might leave you stranded by the roadside with a dead battery, waiting for someone in a gas-powered truck to tow you to a charging point. Well, the risk of things going wrong on a long journey is about to be drastically reduced. According to a press release from GM, the motoring giant is partnering with truck stop company Pilot to install thousands of charging points across the United States.
The expanded charging network is just one part of GM's $750 million infrastructure plan. Other goals the company has are to include installing "3,250 charging stalls in major metro areas" within the next three years, "up to 40,000 chargers in local dealer communities," and "enabling access" to over 100,000 charging points in North America. The project also ties in with Pilot's $1 billion plan to upgrade its travel centers nationwide. The popular truck stops will be fitted with a number of premium features, including "free Wi-Fi at most locations, expanded seating and lounge areas, updated and modernized restrooms, on-site restaurants including Pilot's signature fresh hot and cold deli, premium coffee, and shopping for travel essentials and souvenirs." People charging their vehicles at one of Pilot's travel centers will have access to all of this 24 hours a day, seven days a week.
GM's EV charging network is expanding dramatically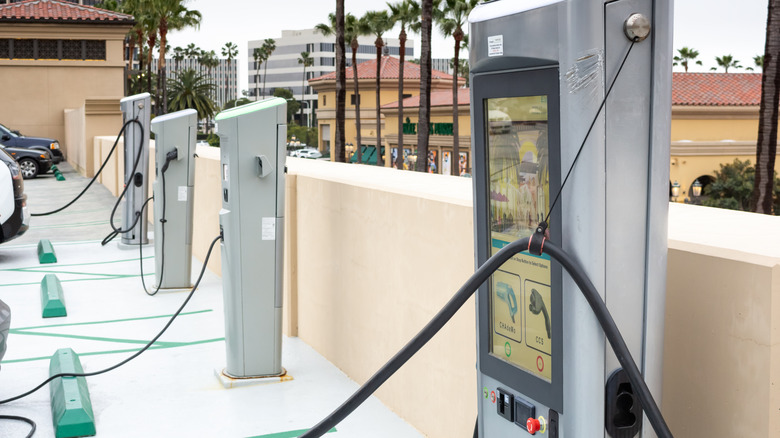 The Image Party/Shutterstock
GM intends to create a network of 2,000 charging stalls at up to 500 Pilot and Flying J travel centers across the country. The stalls will be open to vehicles from all manufacturers, though those driving GM electric vehicles will have access to a few perks. GM drivers will benefit from discounts, a "streamlined charging process," and the ability to make reservations. Among the new chargers are high-power 350-kW fast-charging stalls. These Level 3 chargers are capable of providing up to 120 miles of range in as little as 10-20 minutes, depending on the vehicle used. The fast-charging stalls will be provided by EVgo, which is also partnering with GM to install over 3,250 fast chargers in various cities. A statement from the car company says EVgo was chosen as a partner on the project because of "its expertise in building, operating, and maintaining DC fast-charging infrastructure."
Mary Barra, GM Chair and Chief Executive Officer, said: "We are committed to an all-electric, zero-emissions future, and ensuring that the right charging infrastructure is in place is a key piece of the puzzle." Many of the new stations have been specifically placed in rural or underserved locations. This may drive up EV sales as a lack of charging infrastructure has repeatedly been identified as a key factor holding back electric vehicle adoption. GM's "phase one" EV charging stalls are expected to be operational at some point next year. Eventually, charging points may be available as frequently as every 50 miles along major roads.
GM isn't the only company expanding EV infrastructure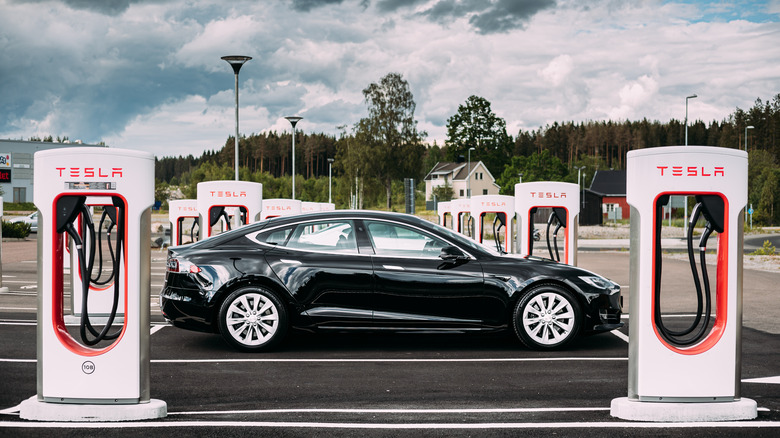 Grisha Bruev/Shutterstock
U.S. President Joe Biden has previously stated he wants half a million electric vehicle charging points installed across the US by 2030. The ambitious plan formed a part of the President's $2 trillion infrastructure bill last year. Last month, the administration put out a press release announcing a $700 commitment from numerous private companies with the goal of helping "make EV charging more affordable and accessible." Among them was Elon Musk's Tesla, which announced it was opening up access to its vast charging network.
Tesla currently has 908 charging stations across the U.S. and plans to add to that number following heavy investment in its Buffalo, New York Gigafactory. Other companies adding to the United States include Electrify America, which currently has over 750 charging stations nationwide and has promised to build "up to 10,000 ultra-fast chargers at 1,800 charging stations." German company Siemens is also pledging to build a million electric vehicle chargers, which will spread across the U.S. over the next four years.