27% Wish Their Current Car Had This Unique Tesla Feature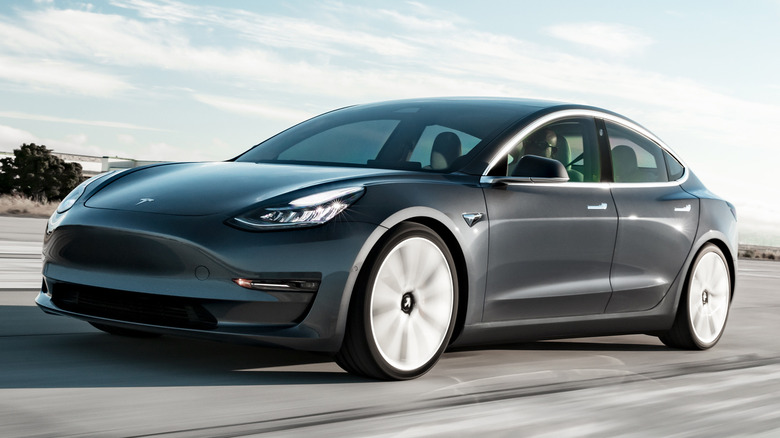 canadianPhotographer56/Shutterstock
In a recent SlashGear survey of 621 readers in the United States, 27% of adults said they would have their current vehicle equipped with Tesla's Autopilot feature if possible. The poll results likewise revealed that many readers also desire other Tesla features for their vehicles nearly as much as Autopilot, including Wi-Fi updates at around 22%, Movie Mode (streaming apps) at 17%, Keycard access at 17%, and Sentry Mode at 16%.
Autopilot is essentially an advanced version of cruise control. What makes it unique compared to the regular cruise control you find in other vehicles is that Autopilot allows the car to stay in a lane without driver intervention. As well, drivers who opt for the enhanced version of Autopilot get access to other smart features, including Autopark and Smart Summon (via Tesla).
However, the system isn't completely autonomous, as the controversial name implies. Drivers still have to keep their hands on the steering wheel at all times, for example. It's a free feature that comes standard with all Tesla models from 2019 and up. For older models, customers can still access the feature by updating their vehicles with the latest Autopilot software, assuming the car has the required hardware installed for it to work.
How does it work?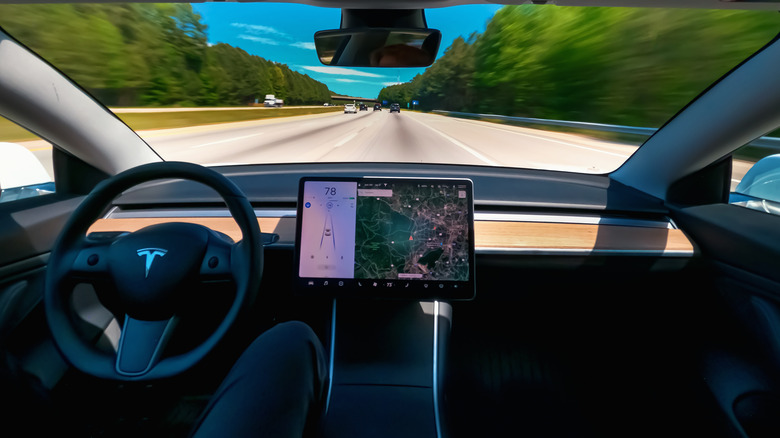 TierneyMJ/Shutterstock
Tesla's Autopilot feature is supposed to make driving on the road easier and smoother and can come in handy when you have to drive long distances. Although there is plenty of hype surrounding this self-driving feature, it's actually rated at Level 2 when it comes to automation, according to international standards set by the Society of Automotive Engineers (via Car & Driver). This classification means the technology can help — but not completely replace — drivers.
To begin with, Autopilot has to be switched on as it is not the default mode. Once it's on, eight external cameras give 360-degree visibility for up to around 820 feet (via Tesla). Drivers can also set their cars to match the speed of surrounding traffic with the Traffic-Aware Cruise Control feature. Additionally, they don't have to steer the wheel as there is Autosteer to stop them from veering off. Because vehicles equipped with this feature are not fully automated, Tesla says drivers still have to pay attention to the road and that their hands should be on the steering wheel at all times.
Drivers can opt for Full Self Driving (FSD)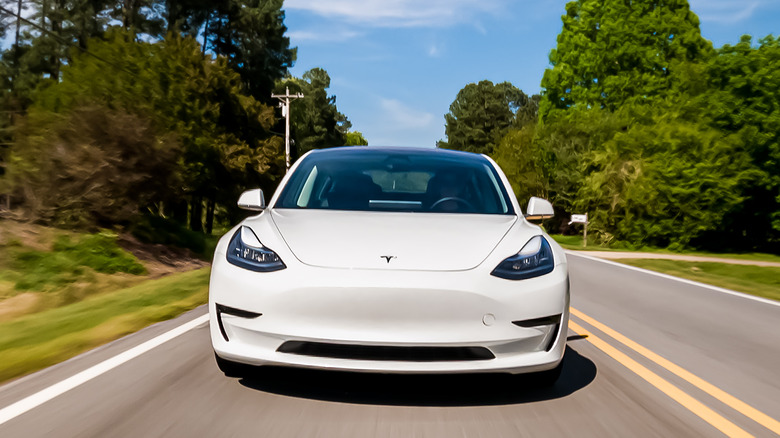 TierneyMJ/Shutterstock
Tesla is currently testing out Full Self Driving (FSD) beta software. This is a premium package that offers all of the functions of Autopilot and Enhanced Autopilot, plus the added ability to identify stop signs and obey traffic lights. The FSD option will soon also offer Autosteer on city streets, according to the automaker. Drivers are still required to keep their eyes on the road with this system.
Some critics of FSD allege that Tesla's label is misleading to buyers. In a 2021 interview with CNBC, U.S. National Transportation Safety Board Chair Jennifer Homendy said, "My biggest concern is that Tesla is rolling out full self-driving technology in beta on city streets with untrained drivers." Nevertheless, FSD beta testing is still ongoing. This option is only open for Tesla customers who purchase the FSD software needed for it to run. At the time of writing, buyers have to pay a $12,000 one-time fee or $199 per month to have the system installed (via CNBC).