Everything We Know About Kanye West's New Concept Car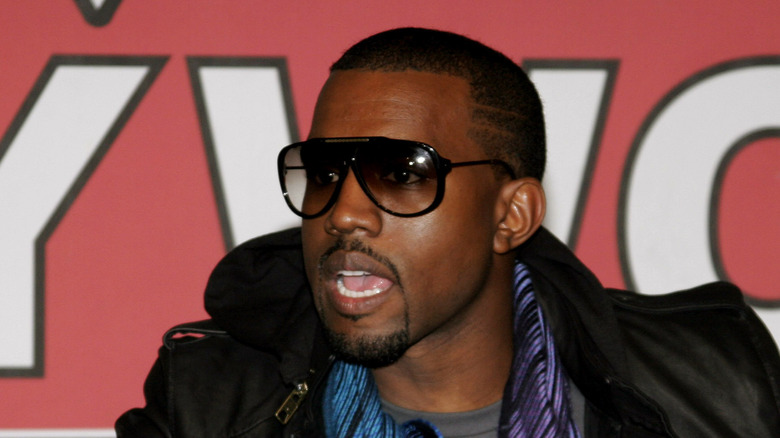 Tinseltown/Shutterstock
Kanye West has no fear of new ideas, though some of the many projects he takes on rarely seem to make it past the spitballing phase. One of the projects that has recently exceeded most expectations and made it to the "drawing on a sheet of high-quality paper" phase is West's proposed concept car — the "Donda Foam Vehicle"
The vehicle is one of the projects that have been undertaken by West's company Donda, itself announced back in 2012 without a particularly clear direction. Donda would see West "assembling a team of architects, graphic designers, directors musicians, producers, AnRs, writers, publicist, social media experts, app guys, managers, car designers, clothing designers, DJs, video game designers, publishers, tech guys, lawyers, bankers, nutritionist, doctors, scientist, teachers [sic]," with the shopping list of specialists intended to staff the new company's proposed 22 divisions so as to "make products and experiences that people want and can afford," West promised.
The controversy-plagued rapped's other projects have found varying levels of success. His music and clothing lines look to be doing relatively well, while his proposed video game based around helping his mother get to Heaven seems to have fallen from the map. The prolific anime fan's company and 2010 album, Donda, also appear to be named after his mother, who passed away in 2007.
What we know about the Donda Foam Vehicle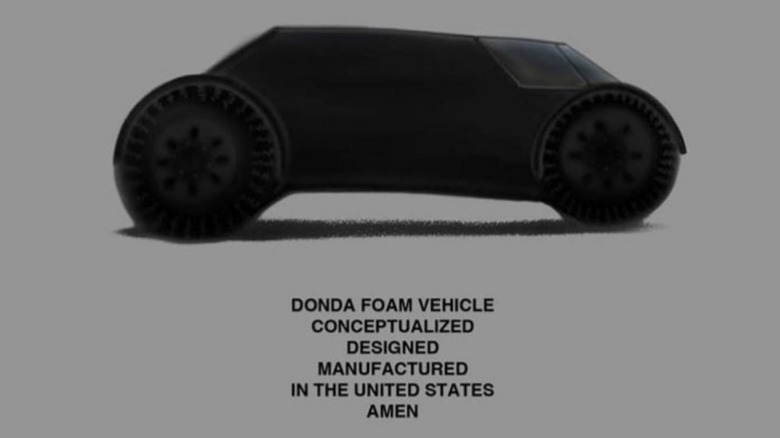 Shaun Enzo/Instagram
Most of what we currently know about Ye's concept vehicle comes from an Instagram story posted by rapper Shaun Enzo. If Enzo's post is to be believed, the "Donda Foam Vehicle" will be "conceptualized," "designed," and "manufactured" in the United States. Visually, the striking vehicle seems to resemble a PlayStation One era moon buggy of some kind. The back wheels are notably larger than the front, and the only windows are apparently the windshield itself, one on the passenger door, and presumably one on the drivers side.
Chances are, the wordsmith voice of a generation is not working alone on the "DFV." According to GQ, New York-based shoe designer and "Yeezy" collaborator Steven Smith is also on board with the project. It is worth noting that, while Smith has extensive design experience, it is mostly related to footwear and not vehicles. There is hope, though, as according to his Instagram Smith is apparently a huge fan of motoring. Based on Smith's social media, his design choices could flow in a couple of directions: fingers crossed the Donda ends up more Challenger than Beetle. For reassurance on that, we'll need to be patient, as no word on the Donda Foam Vehicle's pricing, specifications, or release timeline has leaked at the time of this article's publication.