This Tesla-Powered BMW EV Combines Classic Styling With Modern Power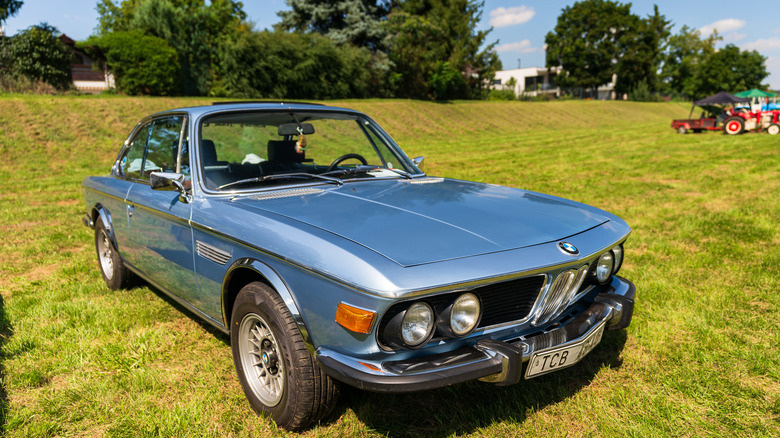 Ondrej_Novotny_92/Shutterstock
Teslas aren't usually associated with classic cars, but they can be, at least a Tesla engine is installed into a timeless BMW model's chassis. Regarding classic BMWs, the E9 3.0 CSI coupe is among the most desirable automobiles on the market. Its value has significantly appreciated over the years, starting at around $11,000 in the '80s and soaring to $30,000 by 2008 (via Hemmings). With BMW's future steering towards electric, however, original parts for these classic coupes might soon be ancient history. Of course, that won't be the case with this 1975 BMW 3.0 CSI Coupe, which had its six-cylinder engine swapped for a Tesla S P85 electric motor.
The car's being sold on Bonham for an eye-watering price tag ranging from £175,000 to £200,000 (about $212,800 to $243,200). Its listing detailed how the old-new BMW EV was subjected to a 3-year restoration and electric conversion process. This includes upgrading most of its parts to the more racing-oriented 3.0 CSL's specifications. The idea behind this conversion was to update the '75 3.0 CSI using "21st-century innovation" but without changing its classic "essence." While purists might see its electric conversion as a detractor rather than an asset, the vehicle proves its worth through its history — its past ownership is quite rich, literally.
The BMW EV wasa Saudi Prince's Batmobile
One of the last produced examples of BMW's E9 coupe was sold on Bring a Trailer for over $200,000, which is well within the BMW EV's price range. But the Tesla-powered BMW CSI also has some historical significance, especially in terms of proper maintenance. It belonged to the late Saudi Arabian Prince Mashour bin Saud, who had four keepers tending to the car when it was purchased in 1978. Aside from having a taste of royalty, the BMW EV was also a rare right-hand drive model. Its paper trail reveals how its registration was changed from the prince's original "2 BAT" to "BAT 9K," including handwritten letters to Michael Gardiner, who was tasked with selling the car for him.
In 2019, the BMW 3.0 CSI was bought from Gardiner's widow and was eventually brought over to established electric conversion specialists at Electric Classic Cars. The company, which successfully converted classics like a 1979 Porsche 911 and the original Volkswagen Beetle, did a complete overhaul on the iconic BMW both inside and out. Furthermore, this classic BMW EV even includes the original straight-six engine should its driver ever feel like going back to gas. Although electric conversion has kept this classic up to speed, let's look at its other improvements.
A Future classic or classic of the future?
The BMW E9 3.0 CSI might have been zippy on the road back in the day, but compared to modern standards, it lacks in the power department. As the video above shows, the converted BMW E9 Coupe changes that by totaling 450 horsepower. It's described as being "much, much faster" than when it was using petrol, with the capability of going from 0 to 60 mph in under four seconds. Drivers will no longer have to worry about repairing and replacing parts like the propeller shaft and gearbox, as they have all been removed in place of their electric equivalents.
Regarding fuel economy, it's said to go as far as 200 miles on a full charge. That's not bad for a 1975 classic, considering it's almost as efficient as modern models like the BMW i4. Unlike most restored classic cars, this BMW also has the benefits of having zero emissions and a relatively silent driving experience. Overall, this BMW EV blends the iconic CSI, legendary CSL, and modern Tesla Model S into a single exhilarating package that's as retro as it's futuristic.