One Of The Coolest Police Cars Japan Ever Had Isn't What You'd Expect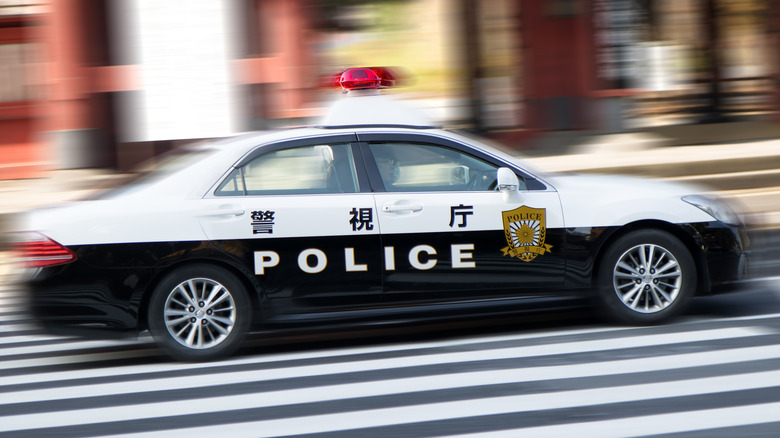 Milkovasa/Shutterstock
Japan produces some of the most iconic vehicles in the world, but its coolest police car isn't something one would associate with the land of the rising sun. With speed as a big factor in pursuit cars, it's only natural for police departments to have a little oomph in their patrol fleets. The thing is, one of the most popular police cars in Japan isn't a JDM icon, but rather an American staple. Enter the Ford Mustang Mach 1 police car, Tochigi prefecture's intimidating presence of authority that was on the road during the 1970s (via Hagerty).
Unlike other drool-worthy patrol car concepts, including the Porsche police cruiser concept, this American muscle vehicle had been in service for more than a decade. In fact, the Japanese police department's Mustang Mach 1 was such a popular model that it showed up in various types of media and was even turned into a literal figurine — a 1/18th diecast model to be exact. Given Ford's reputation for producing some of the fastest patrol cars on the road, it's no surprise a Mustang Mach 1 served as a fitting police force candidate. However, this does beg the question: how did the classic '70s Mustang get into the hands of Japan's Tochigi prefecture police department in the first place?
What happened to the Japanese police Mustang?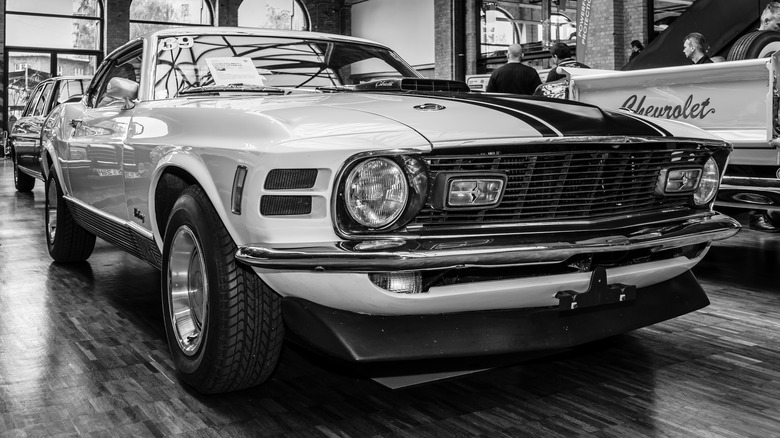 Sergey Kohl/Shutterstock
Sporting a monstrous big-block V8 engine, it's safe to say that not many miscreants in domestic vehicles were able to outrun Tochigi prefecture's furious pony. The Japanese Mustang police car is a 1973 Mach 1 Cobra Jet, one of the few examples that were legally exported in the '70s, according to Hagerty. Ford North America manager Mark Wilson suspected that the Mustang Mach 1s came into the country around 1972 to 1973, and were likely marketed towards American troops staying there after the Vietnam War. As for the oddly foreign Japanese police car, it was apparently donated to the prefecture, according to local news outlet Asahi Shimbun.
After being in service for more than a decade, this pony is now tied down at the Tochigi driver's license center exhibition room in Kanuma — and it's not the only American automobile in the showroom that fulfilled its duties abroad. A Chevrolet that had been in Tochigi prefecture's service for over two decades — which was even used to escort the emperor — is parked right beside the celebrated Mustang. Of course, that doesn't mean Japan's police cars mostly consist of American muscle; there are also some beefy JDM stars in its lineup.
Japanese police cars are not horsing around
Most of Tochigi prefecture's patrol cars, including its sporty pursuit vehicles, were donations from local firms and auto manufacturers. In 2018, Tochigi prefecture police held a celebration event to unveil a Nissan GT-R R35 donated by a local resident. This isn't the first time either, as the same individual — who happens to be a company executive — also donated a luxurious Lexus LC 500, according to the local outlet. Aside from wealthy individuals, it's a good thing Tochigi prefecture is also surrounded by the automotive factories of renowned brands such as Nissan and Honda, both of which became benefactors, as well.
The prefecture alone now holds several exotic sports cars provided by their respective manufacturers to be turned into pursuit vehicles, including a Honda NSX and a Nissan Fairlady Z. It's not just stock variants, either — Japan's police force even has racing spec'd 370Z NISMOs on duty, as seen in Nissan's YouTube video. While these sporty Japanese police cars might be on the force, don't expect them to be the local enforcement's daily drivers anytime soon. The local outlet reports that Japan's expressway traffic unit still utilizes the humble Toyota Crown sedan for patrols. Other more common patrol units in the Japanese police fleet include Daihatsu Hijet vans, Honda police bikes, and a less flashy Mazda RX-8 for pursuits (via Autoweek). In the sea of JDM patrol cars, however, the Japanese police Mustang still stood out as the lone ranger, one that was able to make two countries proud.