Samsung Gaming Hub Begins Rolling Out Today: What To Know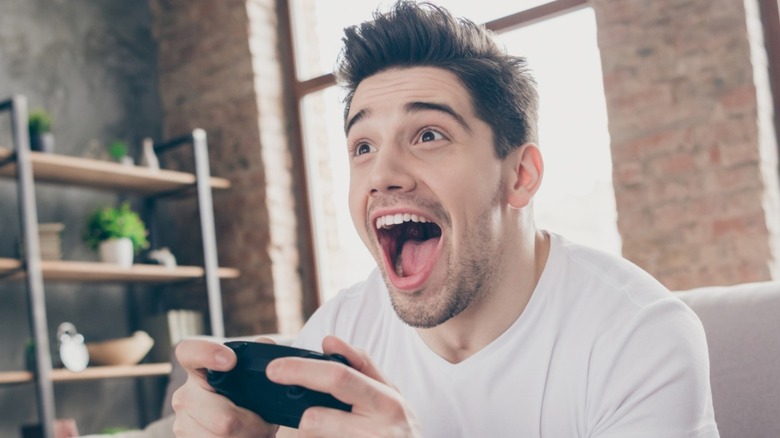 Roman Samborskyi/Shutterstock
We may receive a commission on purchases made from links.
We have been hearing about Samsung's new cloud gaming platform — the rather unimaginatively named Samsung Gaming Hub — for a while now. Rumors about the existence of this platform emerged back in October 2021, following which Samsung made the platform official at CES 2022. At the tech expo, Samsung confirmed that it would begin rolling out Samsung Gaming Hub to its 2022 Smart TV lineup in the next few months. Nearly seven months later, it looks like the company is finally ready to deliver on this promise.
Here at the tail end of June, Samsung announced the arrival of the Samsung Gaming Hub on all of its 2022-manufactured Smart TV models. The company also announced partnerships with several stakeholders in the gaming space — including Microsoft (Xbox), NVIDIA GeForce NOW, Google Stadia, Utomik, and Amazon Luna. While the rest of these services were available on other Smart TVs, as of today, the Xbox Game Pass is only available on Samsung Smart TVs.
Samsung claims that the arrival of the Gaming Hub will enable gaming enthusiasts to access some of the best gaming titles and gaming-related content at a centralized, easy-to-access location. Apart from its 2022 lineup of Neo QLED 8K, Neo QLED 4K, and the rest of its QLED TVs, the Samsung Gaming Hub will also be available for the company's 2022-released Smart Monitor Series.
What is the Samsung Gaming Hub?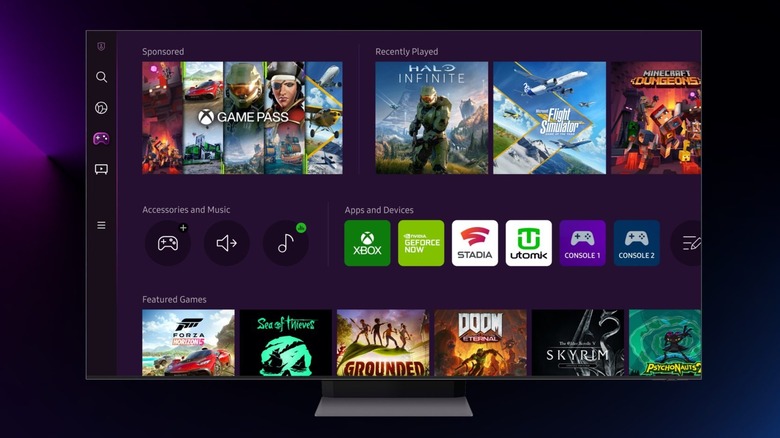 Samsung
In its simplest form, the Samsung Gaming Hub is an app within Samsung's Smart TV software. The primary function of this app is to allow Samsung Smart TV users to play high-quality games on their large screens. Unlike in the past, when gaming on a TV or a monitor meant connecting a gaming console or a PC to the displays, the Samsung Gaming Hub lets users experience an entirely new way of gaming.
With Samsung Gaming Hub, there are no gaming consoles or PCs in the picture. Instead, all the gameplay happens in the cloud, and the end-user only needs to sign up to a gaming service of their choice for a fee. The primary requirement for a smooth experience is a fast, reliable internet connection. Some of the names mentioned earlier have launched individual services to allow cloud gaming. Because this can get confusing and overwhelming, the Samsung Gaming Hub essentially acts as a hub enabling users to access multiple gaming services from a single app.
Apart from games, the Samsung Gaming Hub also integrates other gaming-oriented services, including curated recommendations and information about new and upcoming gaming titles. In addition, the hub also supports integration with other streaming services like Twitch, YouTube, and Spotify.
The service can be accessed with a standard Samsung smart TV remote, but you'll need a Bluetooth-enabled controller to play. According to Samsung, this service "supports all the most popular gaming controllers." TVs with Samsung Gaming Hub preinstalled will be on sale globally starting June 30, 2022.