2022 Bentley Flying Spur Hybrid Review: A Taste Of The Good Life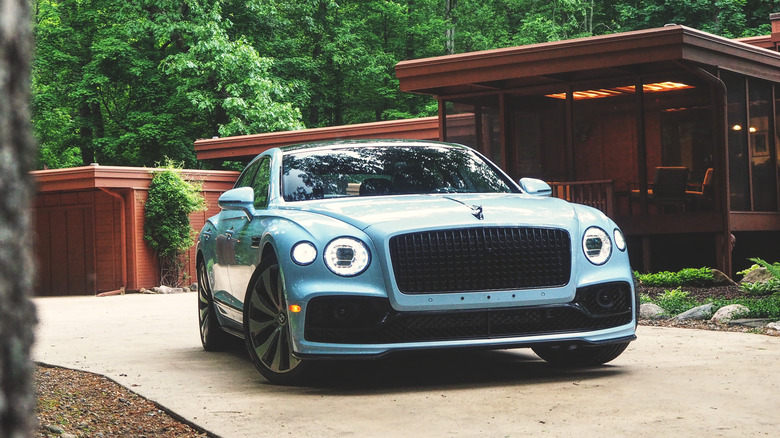 Chris Davies/SlashGear
As answers to the "if you could only have one car, money no object, to suit any situation" question go, the Bentley Flying Spur makes a compelling case for itself. As rewardingly fast as a sports car, as elegant and cosseting as any limousine, and — paint, trim, and wheels depending, certainly — a little less louche than some of its luxury sedan rivals, the fulsome four-door is short on neither pace nor tech. The Flying Spur Hybrid, meanwhile, also adds prescience to the equation.
Bentley, after all, is going electric, and it's not doing that slowly. Plug-in hybrids have already shown their worth in the automaker's range, with 1 in 5 of its Bentayga SUV sales now of the electrified model. In the next couple of years, electrification will be the norm not the exception to Bentley's line-up, and by 2030 it'll offer naught but BEVs.
The definition of wafting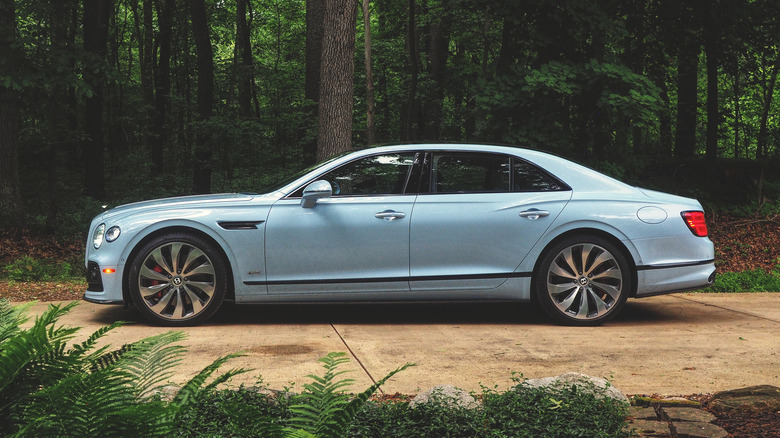 Chris Davies/SlashGear
With all that on the horizon, you could see the Flying Spur Hybrid as a stepping stone, though a striking one certainly. The third engine option may be the smallest in terms of outright displacement, not to mention down on cylinders compared to the existing V8 and W12, but the gas-electric pairing doesn't let that hold it back.
Together, the 2.9-liter twin-turbo V6 and e-motor bring 536 horsepower and 553 lb-ft of torque. That's ever so slightly down from the V8 — which packs 542 hp and 568 lb-ft — but not by much, and of course, you get the e-motor's 295 lb-ft of torque as soon as you hit the accelerator.
An 18.9 kWh lithium-ion battery gives the Flying Spur Hybrid its other party trick: all-electric driving, albeit only for around 21 miles according to the EPA. You can switch into EV mode specifically, the Bentley wafting in near-silence until its electrons are depleted, or turn to hybrid mode and allow the car to manage its own blend of gas and electricity. In particular, that smooths out the shifts from the 8-speed DCT gearbox, the e-motor subtly contributing more power during each gear change.
Better prepared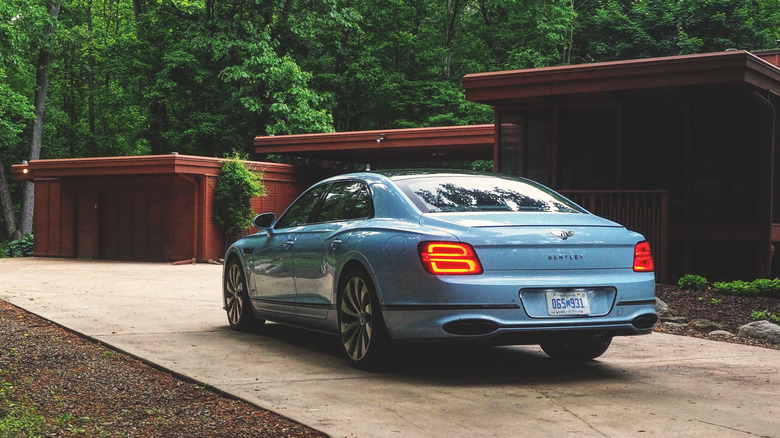 Chris Davies/SlashGear
Much like a professional chauffeur, the Flying Spur Hybrid makes most sense if it knows your exact intentions for the drive. Tell the Bentley navigation system where you want to go and, not only will you get turn-by-turn directions, but the hybrid drivetrain will automatically calculate the best moments to use each of the power sources it has available.
It works unexpectedly well, targeting an arrival with a fully depleted battery yet without leaving you lacking on electric power along the way. On the flip side, if you don't program the route, there's a good chance you'll quickly slurp through the battery's resources. At that point you're down to the V6's power alone, effectively: 406 lb-ft and 410 hp.
They're hardly lackluster numbers, but then again the Flying Spur Hybrid is hardly a small vehicle. At just north of 5,500 pounds it's actually the heaviest of the three engine options; it's much easier to ignore that with gas and electric working in tandem, than when you're driving just on the V6.
Smaller batteries are quicker to charge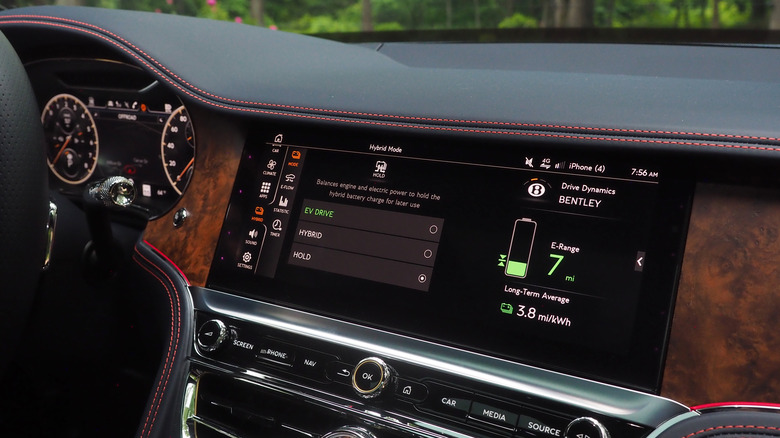 Chris Davies/SlashGear
Avoiding that pretty much requires plugging in. There's regenerative braking, the Flying Spur using energy generated while slowing before the vast iron brakes kick in for more aggressive deceleration, but no explicit "Charge" mode to use the gas engine as a mobile generator.
I can understand Bentley's argument there, that it's an inefficient way to recharge, but from a performance standpoint, we've seen how well Porsche and others can wield it when necessary. I'd rather Bentley have left the decision up to drivers.
Instead, you can plug the Flying Spur Hybrid in. It'll handle up to 7.2 kW Level 2 chargers, though not DC fast charging, and thanks to the relatively small battery — in comparison to fully electric cars — a full charge requires around 2.5 hours.
Bentley's greenest model prefers the quiet life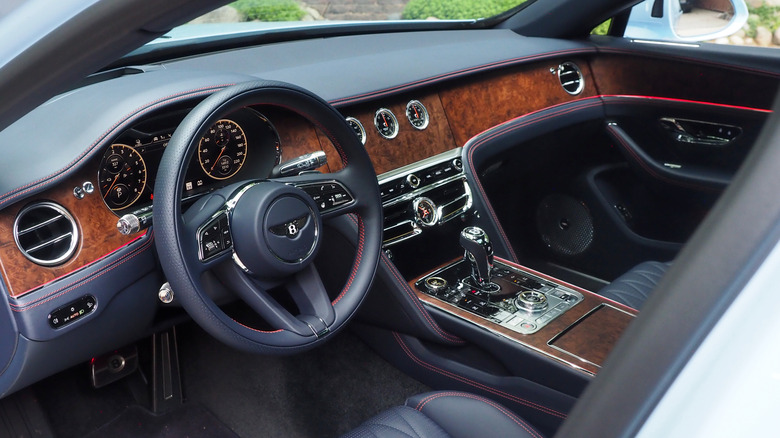 Chris Davies/SlashGear
Part of the Flying Spur's lingering charm has been its duality. Superlative grand tourer one moment, and bellowing sports sedan the next. On that spectrum, the PHEV version errs more toward the former category, and not just because of its lower power numbers.
The weight is part of it, naturally, but so are the absence of the Bentley Dynamic Ride and all-wheel steer options. The former uses an electric anti-roll bar to avoid cornering lean, while the latter helps trim the effective length of the wheelbase and improve turns and high-speed maneuver stability. You still get three-chamber air springs and continuous damping control, and the option of Comfort, Sport, or balance-of-both Bentley drive modes, but the hybrid just doesn't have the same sense of Earth-moving urgency as its V8 and W12 siblings.
Then again, neither does it have their thirst. The average Bentley owner may not be found weeping at the pump, but the Flying Spur Hybrid's green credentials get a bolstering all the same. Figure on 46 MPGe in PHEV mode, according to the EPA, or 19 mpg combined. The V8 manages 17 mpg combined, and the twelve-cylinder a mere 15 mpg on the same cycle.
Subtle, as subtle goes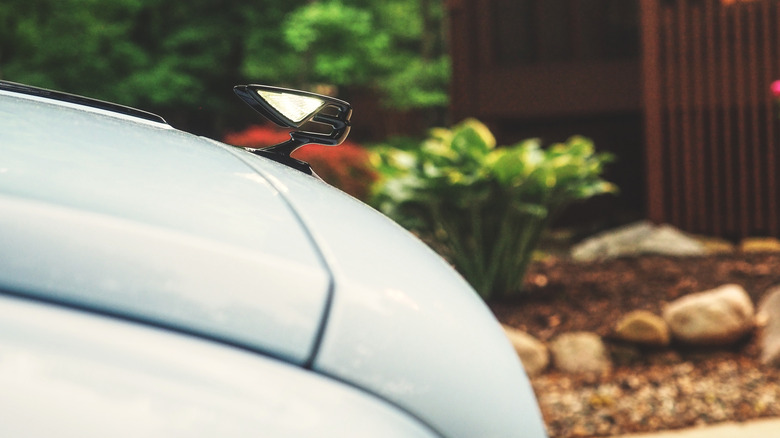 Chris Davies/SlashGear
Those you sail past will only have a couple of hints that you're in Crewe's more frugal model. Subtle "Hybrid" badges sit behind the front wheels, but otherwise, this is basically the same stately sedan as we've seen — and appreciated — before. Imperious grille, 22-inch wheel options, subtly muscular haunches, and an array of paint and trim finishes all but unmatched in the industry.
Bentley has a healthy set of choices in its standard and extended paint ranges, along with everything from chromed bling to sinister blacked-out trim. The pop-out Flying B with its glowing crystal insert is always a crowd-pleaser, and if you're feeling particularly lavish the fine folk in the Mulliner division will happily whip up a custom color or other bespoke modifications.
A benchmark interior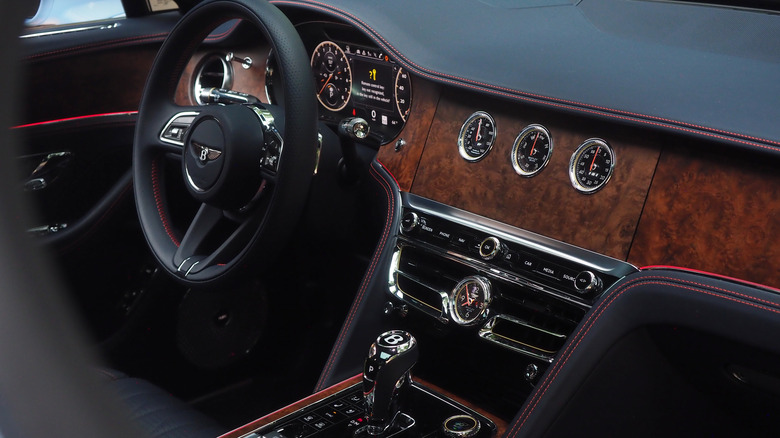 Chris Davies/SlashGear
The same applies to the interior, where Bentley's blend of technology with hand-finished detailing sits at the top of the tree for cabin refinement. It's not just the fact that there's leather, wood, and metal everywhere, but the quality of those materials, and the way in which they've been worked. Bookended veneers perfectly matched to be mirror-image symmetrical; open-pore wood pulled from the automaker's vast, climate-controlled store of rare timber.
It's the leather which always sets me cooing and stroking whatever surfaces are in reach, though. Did Bentley really need to invent a whole new method to emboss crisp cascades of 3D diamonds into its hides, or indeed ways to embroider fiendishly detailed patterns across the swathes of supple seating? No, not really, but it did that anyway and lord, the Flying Spur's cabin is elevated as a result of it.
Again, the Mulliner team will happily modify and massage as your tastes – and budget — see fit, while woven through it all is technology like a rotating 12.3-inch central touchscreen, optional 2,200 watt Naim audio system, night vision, and a head-up display. Pretty much all I can complain about is the borrowed Audi switchgear on the steering wheel, which I can only assume Bentley left there as a pointed reminder to stay humble even as you're living the good life.
Tough decisions for that one-car dream garage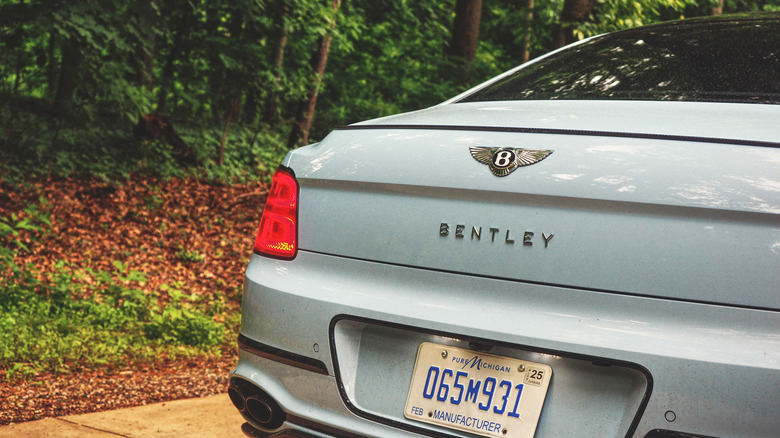 Chris Davies/SlashGear
And make no mistake, this is the good life. A sense of occasion from behind the wheel; a sense of true luxury for those riding in the rear, as they adjust the salubrity of their settings from a pop-out touchscreen remote. Some cars just make you happy with their very existence, even if you have to pay upwards of $240,500 (plus destination) for the privilege.
Still, perhaps I'm a traitor to the green cause, but were I in the market for a brand new Flying Spur today, I think I'd pick the V8 over this hybrid version. That's not to say the PHEV is disappointing, and I suspect its lengthy overall range and abundant comfort will make it a hit with those happy to look elsewhere for more sporting pleasures. Indeed, it's an incredibly promising tease of the transformation Bentley has planned.
Bentley Flying Spur Hybrid Verdict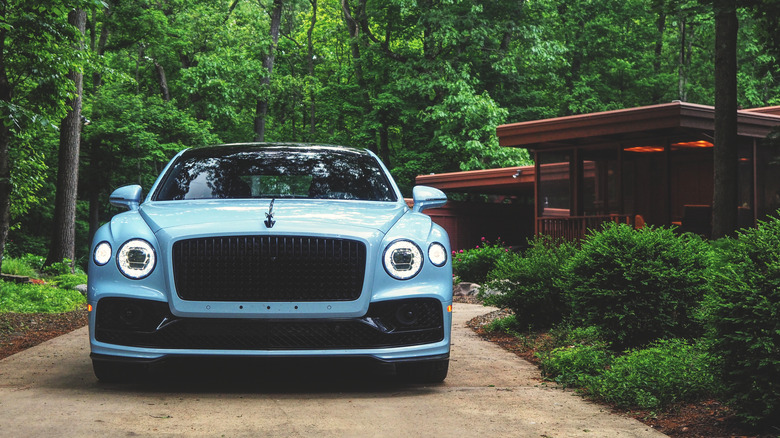 Chris Davies/SlashGear
Problem is, right now it's just that: a preview of why electrification will mean such a big deal in the super-luxe segment. Nobody, after living with instant torque and the privileged hush of EV motors, could deny that they have an obvious place at the heart of high-end vehicles like the Flying Spur. For now, though, the V6 can't quite deliver the same syrupy treat as the V8 or W12 engines do.
When internal combustion is ousted completely, though, and the Flying Spur goes all-electric, it'll be game over for gasoline. What makes Bentley — indeed, any luxury automaker — relevant today is its eagerness to reach for the bleeding edge in the name of delivering the very finest experience, whether that's under the hood or embossed into the door panels. The Flying Spur Hybrid gives us a taste of that ambition, but it'll be a few years before the full electric meal arrives to truly satisfy our plutocratic appetites.