Whatever Happened To Nike's Self Lacing Shoes?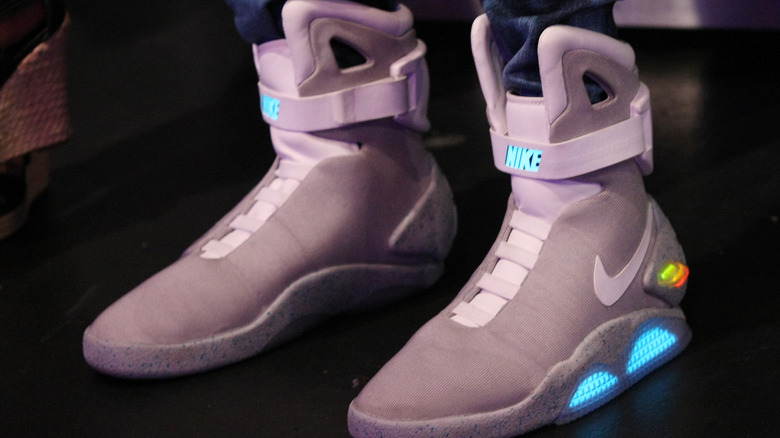 Bennett Raglin/bet/Getty Images
We may receive a commission on purchases made from links.
Now that everything from toasters to light bulbs can be wired to the internet, why not connect your shoes too? Nike has already done that when they released the Nike MAG, the first-ever self-lacing shoe in 2016. Before it was made into a real consumer-ready shoe, the Nike MAG was designed to be part of the futuristic world of the year 2015, as shown in the 1985 film "Back to the Future Part II." According to Complex, the MAG part of the name is an acronym that stands for "magnetic anti-gravity," referring to the original concept shoe's ability to walk up walls. 
Fast forward to the actual real-world year 2015, and Nike started releasing iterations of the shoe in collaboration with the Michael J. Fox Foundation. First in a series of auctions, then in a limited release of an edition of 89 in the year 2016. Soon afterward the shoe manufacturer followed up with the Hyper Adapt 1.0, which commanded a $720 price tag. Despite the high price, the shoe was a hit among sneaker fans. 
Nike continued to make sneakers with their self-lacing technology or EARL (Electro Adaptive Reactive Lacing) for several years after the initial hype of the MAG. The last HyperAdapt brand sneaker to hit store shelves was the Huarache Edge Hyper, released by Nike in 2018. In the past few years, Nike has released the Nike Adapt BB in 2019, and their most recent version, the Nike Adapt BB 2.0 in 2020, and they're now working with a new iteration of self-lacing tech called FitAdapt.
How do they work?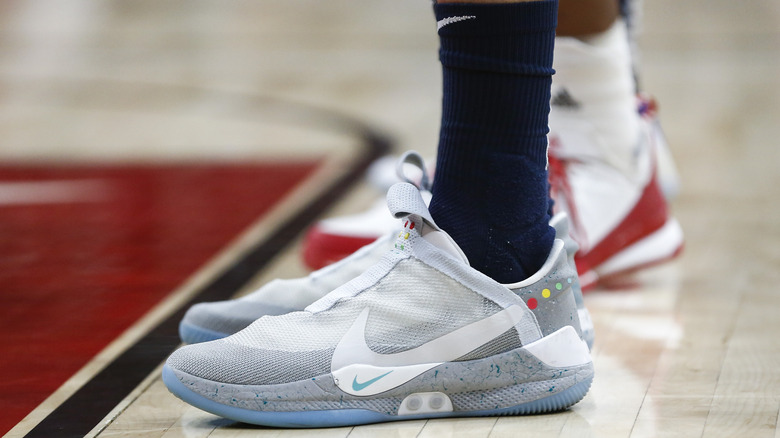 Silas Walker/Getty Images
Nike created these shoes with athletes — mainly basketball players — in mind. According to the shoe manufacturer, the self-lacing shoe is ideal for sports because it accommodates potential increases in foot size which can occur while you play (via Nike). A lack of excess movement in a sneaker — also known as lockdown — is an issue that many basketball players deal with. Shoes that tighten themselves are a way to eliminate this altogether, so players can focus on their game.
These Bluetooth-enabled shoes come with an accompanying app that lets you tighten or loosen them to your liking. You can also adjust them with your voice via Siri or Google Voice. Users can also customize the side lights to different colors. Charging is important for these models to work. According to Nike batteries should last between 14 to 20 days after a full charge. Additionally, every pair comes with a charging mat that you can place your shoes on while they charge.
While this shoe may be a technological wonder, there is a hitch that may make you think twice before getting one. It does not work without the internet. This was seen during the Adapt BB's release. It was widely reported that users were experiencing connectivity issues which caused the pricey shoe not to work and made them completely unwearable (via Washington Post).
Do NBA players wear this shoe?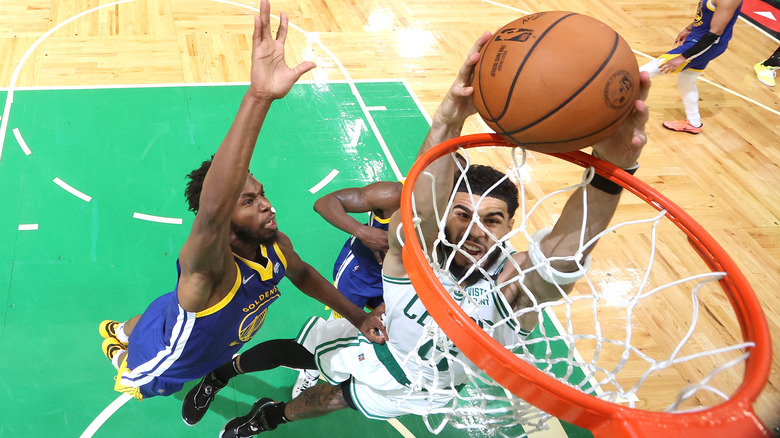 Pool/Getty Images
The NBA has special rules concerning their players wearing this shoe. Like all other footwear, these shoes have to be pre-approved before they could be worn in the game. There are also special rules in place for players that choose to wear them. Shoe lights are not allowed to be lit up during the game. Also, they cannot adjust their shoe using a smartphone while on the court or on the sidelines. All changes must be made in the locker room. However, if they need to loosen or tighten them, they can manually press the buttons on the shoe until they fit properly (via House of Heat).
Jayson Tatum, a forward for the Boston Celtics was the first NBA player to wear a self-lacing shoe during a game. He wore the Adapt BB in 2019 during a home game in Boston against the Toronto Raptors (via NBC Sports). In an interview with ESPN, Tatum said "Hearing about this shoe with all this technology and no laces, I didn't know what it was going to look like. It really surprised me. It looked a lot better than I thought it would, and it felt great—that was most important."
While Nike's webpage presentation of Nike Adapt technology remains available for your perusal today (as of the tail end of June 2022), Nike hasn't sold new self-lacing shoes of any sort since 2020. You can still purchase the shoes on the secondary market, but Nike has not revealed publicly if or when they'll continue to release new sneakers with the tech in the future.