Galaxy XCover6 Pro Is A Rugged Phone That Doesn't Look Terrible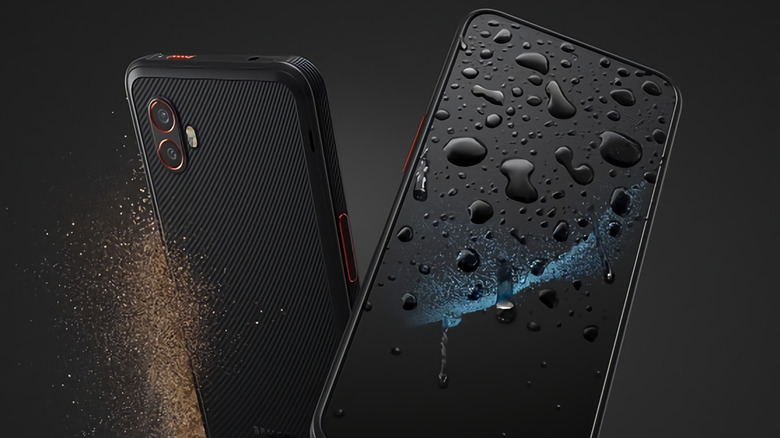 Samsung
We may receive a commission on purchases made from links.
Most rugged phones are built like tanks and honestly look like one. These devices are mostly intended for use in industrial and high-risk settings, so it seems that they were designed under the assumption that looks don't matter in those scenarios. That may be due, in part, to the popular belief that phones with premium looks are fragile, which isn't the case anymore. It seems the industry is finally shedding those old misconceptions and has started to make extra-durable phones look less like a throwback to the '90s. Samsung's latest rugged phone is no beauty, but the Galaxy XCover6 Pro is at least something you won't be ashamed of, and it has one special feature to boot (via Samsung).
Rugged phones need to survive a fall and a tumble, and while there are plenty of cases that provide that protection, these unique handsets come with a thick skin right out of the box. That means they tend to be bulky, rough, and probably unwieldy. With today's technologies and advancements in manufacturing, they don't really have to be, and some rugged phones have started looking more normal while remaining true to their nature.
The new Galaxy XCover6 Pro, for example, still has a somewhat thick exterior and wide bezels around the display, but it's not as egregious as other phones in this niche market. The ribbed texture of its back not only provides a better grip but looks visually interesting and attractive. And unlike other rugged phones, this model isn't just about durability, as it has other features that may even appeal to regular consumers.
The phone makes up for modest specs with ample durability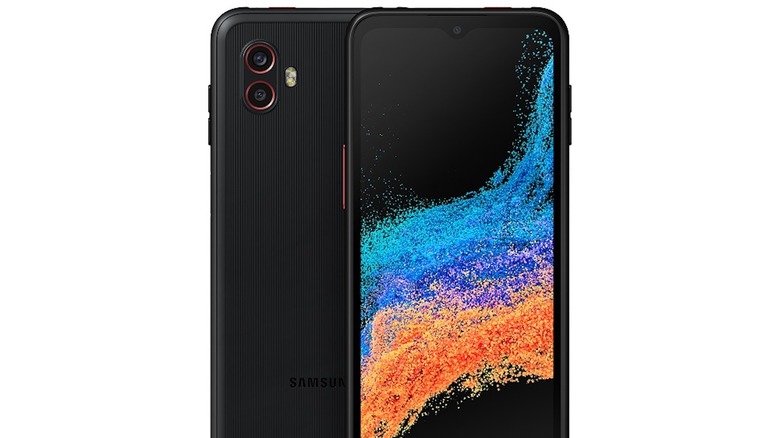 Samsung
The Galaxy XCover6 Pro has a 3,950 mAh battery that's actually removable and replaceable — Samsung notes that if the battery dies, the user can quickly swap out the dead battery with a charged one and get back to using their phone. This is a very rare feature among smartphones these days, and it helps prolong the device's use even after the original battery loses its ability to hold a charge. Along with the use of recycled plastics, the handset has a MIL-STD 810H and IP68 rating, plus it sports Gorilla Glass Victus+ and the touchscreen can be used in wet environments.
Inside, the phone is clearly no high-end flagship, but it could give Samsung's own mid-range phones a run for their money. A Snapdragon 778G runs the show, which means it's 5G-compatible, paired with 6GB of RAM and 128GB of expandable memory. One big step up for phones in this category is the 50MP main camera on the back, joined by an 8MP ultra-wide shooter. The front-facing camera has a 13MP sensor hiding inside an old-school V-shaped notch. The 6.6-inch FHD+ screen misses out on OLED technology, though, which could have probably helped prolong the battery life, too.
Samsung plans to first launch the Galaxy XCover6 Pro in Asia, Europe, and the Middle East starting in July. Other markets will also get the phone, but the company didn't specify which ones and when the availability will expand to them. As well, the company hasn't revealed the rugged phone's price yet. According to SamMobile, rumor has it the phone will cost around the equivalent of $625 USD.