Chrome OS Gets New Updates To Bridge The Apple Ecosystem Gulf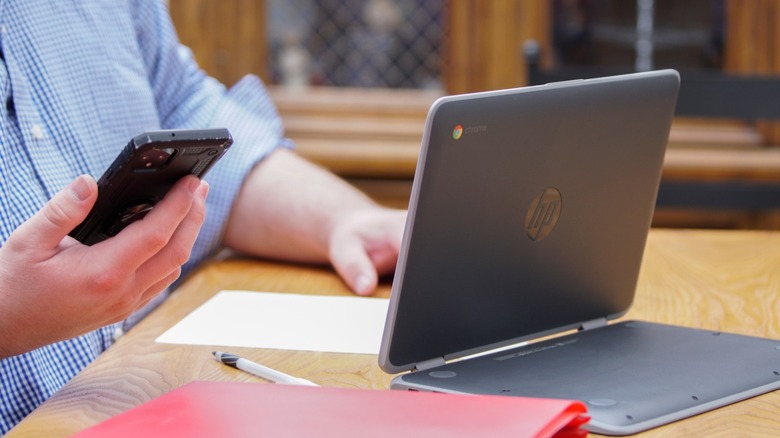 CC Photo Labs/Shutterstock
Google is bringing some new features to Chrome OS that are going to improve the collaboration experience between Android phones and Chromebooks, bridging the gap of advantages offered by Apple's ecosystem. The list of upgrades starts with an upgraded Phone Hub, which now lets users access the photos captured with their phone, thanks to a new "recent photos" carousel. The best part of this upgrade is that these photos will be accessible even when users are offline. Courtesy of the new Phone Hub, users no longer have to go through the process of rummaging through the Photos dashboard or emailing pictures one by one. 
Next on the list of services that'll get upgrades is Nearby Share, the peer-to-peer file-sharing system that allows users to quickly share data between phones and Chrome OS devices. Nearby Share will now let users securely share a Wi-Fi network without having to go through password-sharing hassles. Apple has been offering a similar facility for a while, and it's great to see a similar system arriving in Google's ecosystem too.
In order to use it, just follow this path on your Android phone: Settings, Network & Internet, Internet, then tap on your connected Wi-Fi network. On the Network details page, tap on the Share button with a QR code icon and select the Nearby button that appears at the bottom of the screen on the Share Wi-Fi page. You'll see a prompt on your Chrome OS device. Accept the request and the network credentials will be securely shared with your Chromebook.
Chrome browser gets some love
Fast Pair is coming to Chromebooks later this year, saving users the ordeal of finicky Bluetooth pairing. Just turn on Bluetooth on a Chrome OS device, and it will automatically show a notification if there's a device nearby. All you need to do is click or tap the notification to initiate the pairing process. With Fast Pair, pairing details are saved to your Google account, promising instant pairing with Bluetooth devices across phones and Chromebooks with the same Google account signed in.
Chrome browser on iOS is also getting a slew of upgrades. The new Enhanced Safe Browsing feature in the Chrome app for iPhone and iPad will warn users when they're visiting a suspicious webpage and will also alert them if the credentials they are entering have been compromised elsewhere. The goal is to protect users from phishing and malware attacks. The autofill password feature, which has so far remained exclusive to Android and Chrome's web client, is now available on the mobile app for iOS, too.
A new Recent Tabs feature that lets users resume their browsing experience is also arriving on iOS, and will soon be making its way to Android, as well. Thanks to on-device machine learning chops, Google's updated language identification model will now translate webpages in Chrome much faster than ever before. Search queries will now also show relevant quick actions such as clearing browsing history, opening an incognito tab, and setting Chrome as a default browser, saving users a visit to the Settings section.