Twitter Is Trying To Downplay Admitting It Settled A Huge Privacy Case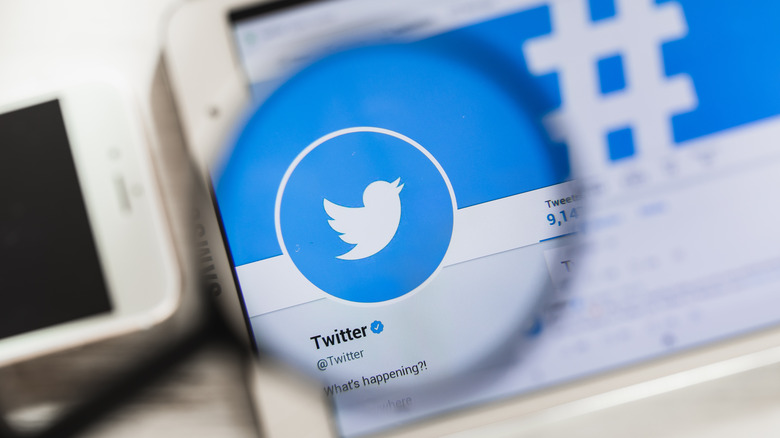 Mr. Tempter/Shutterstock
In May 2022, the U.S. FTC (Federal Trade Commission) fined Twitter $150 million for misusing data collected from its users for targeting them with advertisements. In addition to this monetary fine, Twitter's settlement with the FTC included a clause that mandated the company would need to issue a public apology to its users, informing them about these developments — essentially admitting its guilt.
On Wednesday, June 22, 2022, Twitter finally issued that apology in the form of a separate section on the company's dedicated Help portal. It is unclear how many regular Twitter users have had the chance to read this public apology or were even aware of these developments.
For some users, a link to this apology came in the form of a notification that was pinned to the top of their timelines. In case someone missed seeing this notification or dismissed it the first time, there seems to be no easy way to easily recover it. Additionally, if one does manage to get through the Twitter help section and read the apology, the wording of the message tries to downplay the fact that the company violated the trust of its users.
Why did the FTC fine Twitter?
DCStockPhotography/Shutterstock
In the original FTC order, the commission notes that Twitter had access to the email addresses and telephone numbers of millions of users. A lot of this data was collected under the pretext of improving user security and enabling Twitter's two-factor authentication feature. In violation of the agreement it had with users, Twitter instead shared this data with advertisers who in turn used it to serve targeted ads. The FTC alleges that Twitter continued this practice for approximately six years.
Twitter's official apology effectively confirms the FTC's findings. The company explicitly states that they used user-provided phone numbers and email addresses for advertising — a practice that ended on September 19, 2019. The apology also confirms that the social media giant entered into a settlement with the FTC on June 6, 2022, to resolve the issue. In addition, Twitter also attempts to reassure existing users that they are no longer using user-submitted phone numbers and email addresses for advertising. Towards the end of the note, the note suggests that the people who run Twitter are "very sorry this happened." They have also provided a link to a Data Privacy Inquiry Form where users can contact Twitter's Data Protection department if they wish to seek further clarification.