Why Mazda Was Forced To Discontinue The RX-8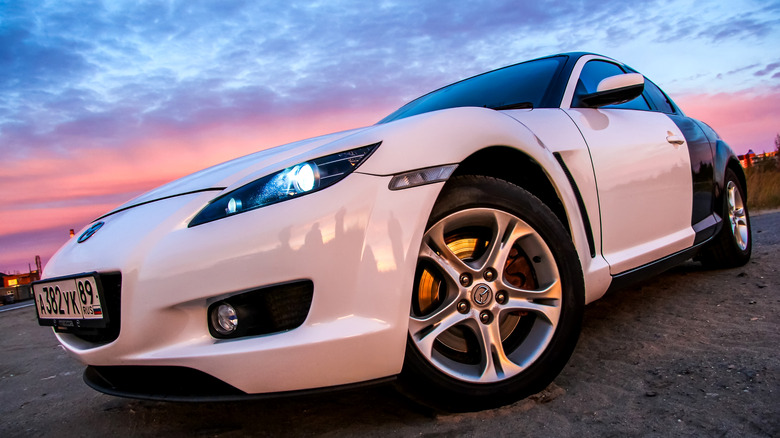 Art Konovalov/Shutterstock
Mazda discontinuing its model RX-8 marked the end of its prolific sports-car lineup, which produced cultural icons like the fan-favorite RX-7. With the RX-7's success spanning three generations, its successor was met with high expectations. Since the RX-8 went on sale in 2003, it had a taste of success — selling in high numbers its first year off production and winning the coveted 'RJC Car of the Year' award in Japan, making Mazda its winner two years in a row.
However, in 2011, Mazda put the brakes on the car's production due to poor sales figures (via CNET). One of the biggest contributors to this was the RX-8's failure to comply with Europe's tightening emission standards at the time, forcing Mazda to remove it from the region's local markets altogether. So, how did a multi-award-winning vehicle fail to surpass its predecessor, abruptly ending the iconic lineup after just one generation?
The RX-8 engine was flawed by design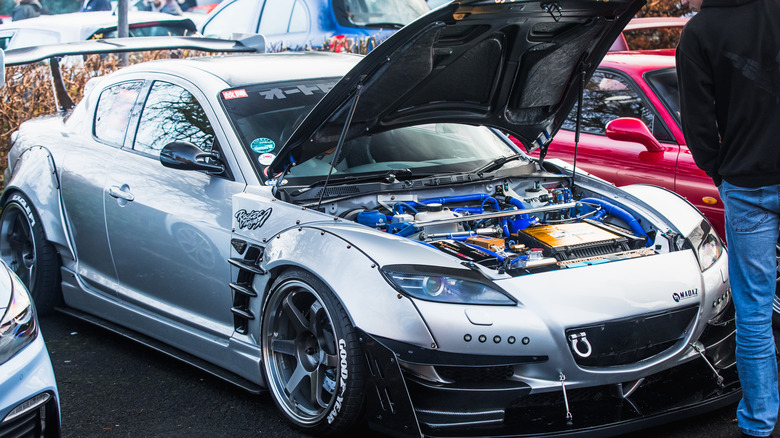 Joshua Sanderson Media/Shutterstock
While Mazda continued to produce the last batch, a limited-production racing variant called the RX-8 Spirit R, it decided to end its base lineup by June of 2012, according to the automaker. This not only marked the end of this renowned sports range, but also the production of Mazda's rotary Wankel engines. The rotary engine was notorious for a number of reasons. Despite promising great performance for its compact size, the engine led to a slew of problems, including wasteful fuel consumption and concerning emissions (via Hemmings).
They also weren't known for their longevity, and consistent performance was difficult to maintain long-term. A YouTube video that provided an in-depth look into Mazda's Wankel engine explained the underwhelming RX-8 weight-to-performance ratio in comparison with competing models that had piston engines. Given how unorthodox the RX-8 engine performed, it not only wasted more fuel and caused bad emissions, its fuel economy was rated poorly considering the vehicle's lighter weight and ample horsepower. That said, it shouldn't be a surprise that a majority of the Mazda fleets now utilize piston engines.
Is this the end of Mazda's famous rotary engines?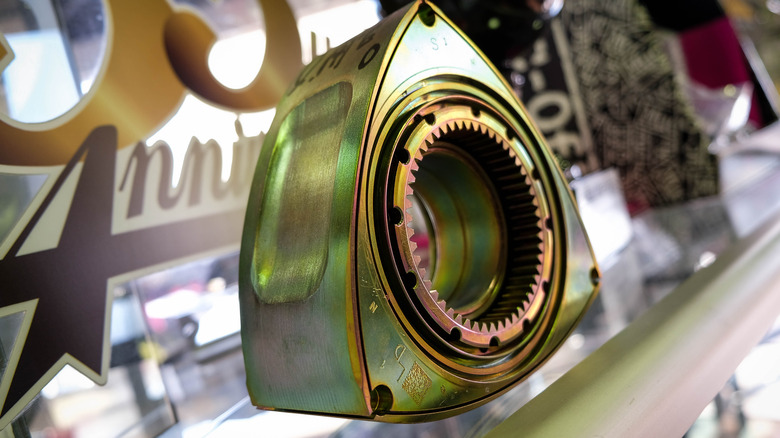 WildSnap/Shutterstock
The RX-8 might not have a successor, but that doesn't mean this is the end of Mazda's rotary engine sports car lineup. In 2015, the Japanese automaker unveiled its RX-Vision concept car aimed at improving the overall quality of its established RX range. Its next-generation SKYACTIV-R rotary engine is said to address the infamous fuel economy, performance, emissions and reliability issues that plagued its older models (via Mazda). It might be a mere concept for now, but by taking design cues from both the RX-7 and RX-8, the RX-Vision seems to be continuing the legacy its predecessors left behind.
Mazda's not giving up on the RX-8 engine either, with the company revealing that its 13B rotary engine continued production in 2021 for use as spare parts. Aside from powering its sports lineup, the company used rotary engines as range extenders for its modern MX-30 hybrid cross-overs, so they're still far from being rendered obsolete (via Motor1). For a company whose legacy was built on defying norms with its unconventional rotary engines, it's difficult to give up on something instrumental to its "zoom-zoom" identity. It's no wonder Mazda hopes to keep them spinning.