TCL Stylus 5G — A Stylus-Centric Phone At A Bargain Price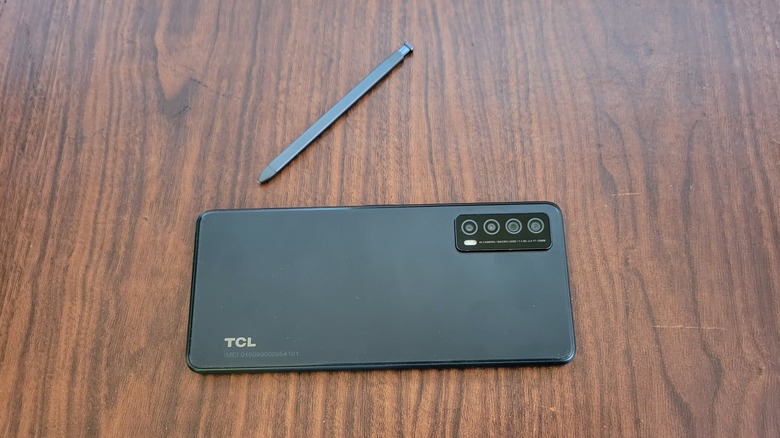 Stylus-based smartphones have been a constant for decades, but until recently there had been a lack of options at the lower end of the market. If you want a device with a big display and a stylus, the Samsung Galaxy S22 Ultra is probably the best option — and has a price tag to match. If you don't have $1,200 dollars or more to spare, TCL has just released the STYLUS 5G, which is around a sixth of the price of Samsung's flagship and places a huge emphasis on the fact it has a stylus, too.
Priced at $189.99, the TCL STYLUS 5G boasts a 6.81" FHD+ display with a resolution of 1080p, five cameras, a MediaTek™ Dimensity 700 5G Chipset, Octa-core processor, and 4GB of RAM. The phone ships with Android 12 installed, and the promise of at least one OS update and two years of security support. In terms of styling, the phone has a large display, is just 0.35" thick, and features subtle texturing around the outside of the plastic case. You can get a TCL STYLUS 5G in any color you want, as long as it's "Lunar Black."
How does it function as a basic phone?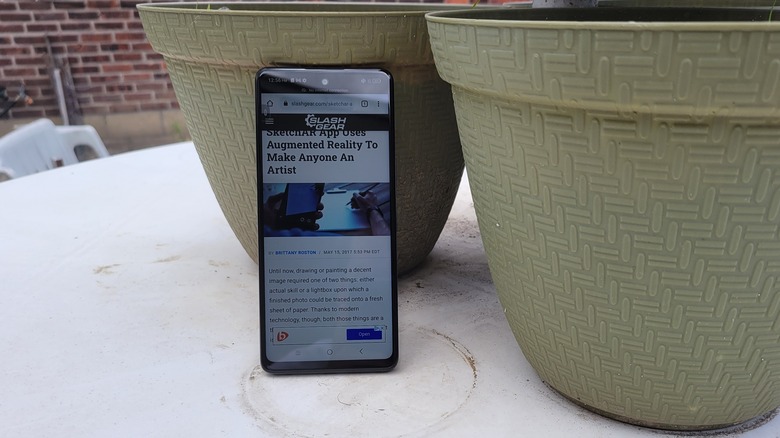 Dave McQuilling/SlashGear
You rarely get really bad smartphones anymore. Even a decade ago, opting for a lower-end phone would usually leave you grappling with an unresponsive touch screen, struggling to get a signal, and when you could make a call you would end up questioning the audio quality.
A week with the TCL STYLUS 5G has not changed my mind, it functions perfectly well as a phone. I managed to get a 5G signal everywhere my Samsung Galaxy S21 gets a 5G signal. Everyone who tried to call me got through, the audio quality was fine, I could send and receive messages as well as anyone using an Android can, and the 13-megapixel front camera was adequate for video calls. If you're not bothering with the stylus and just want to use your fingers, you'll find the touch screen responsive and pleasant to use. The screen itself, while only FHD, is clear and visible across a number of lighting conditions, while also being quite smudge-resistant. NXT Vision is a piece of software that automatically adjusts the color, contrast, and sharpness of pictures, videos, and games — adding a bit of extra visual quality to the phone's display.
The 4,000 mAh battery is enough to get you through a day of average use. The battery's on-paper capacity isn't everything, how much power the phone needs is a major factor. In terms of practical battery life, it's on par with most other phones on the market including a few of the high-end ones. The storage can also be upgraded to a staggering 2 TB via a micro SD card.
The biometrics are hit and miss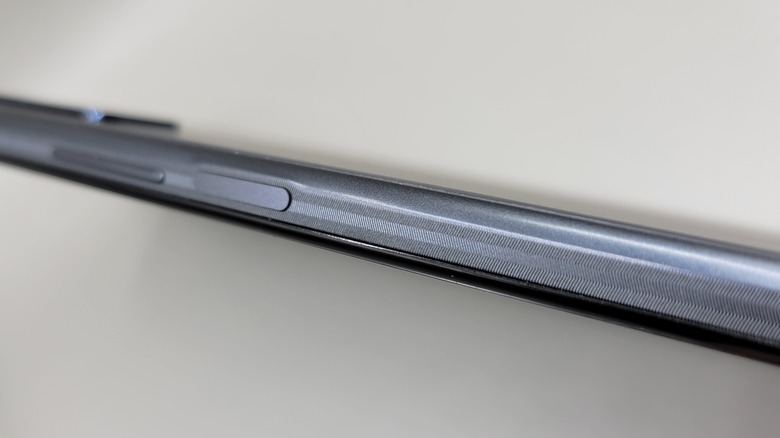 Dave McQuilling/SlashGear
TCL has included a couple of biometric security options on the STYLUS 5G — a fingerprint scanner and face unlock. Face unlock is quick to set up, taking just a few seconds. It then instantly unlocks your phone whenever the front camera spots your face. This works well across a number of lighting conditions and is your best option if you want a quick way of unlocking the STYLUS 5G.
There is a fingerprint scanner, but its placement isn't great, TCL has decided to put it on the power button, which causes a few problems. Firstly, a centrally placed fingerprint scanner is something you can easily access with fingers on either hand. With TCL's placement, I can only really use my right thumb to comfortably unlock the phone. It's also a very small scanning area. Other phones in a similar price bracket, like the Oneplus Nord N20, managed to include an under-screen fingerprint scanner, so I feel there's no excuse for not at least having one on the back.
The stylus itself is functional, but nothing special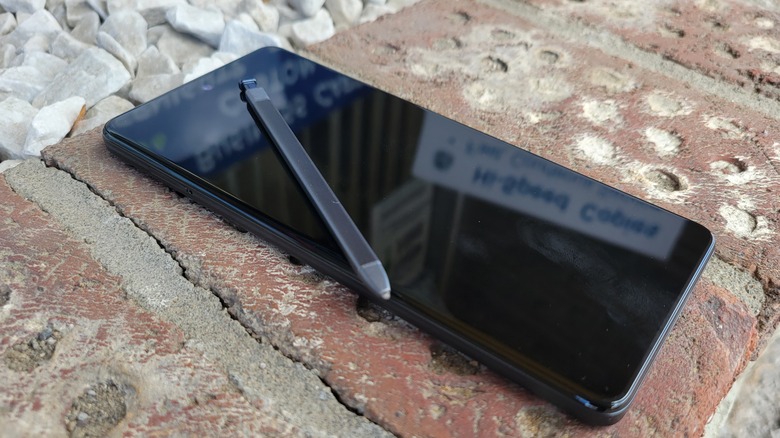 Dave McQuilling/SlashGear
A magnet keeps the stylus in place inside the phone, and it can be easily extracted by simply pushing on it to release a tab and then pulling it free. The stylus itself is very light and thin, which means it isn't the most comfortable thing to grip. However, the dimensions are similar to other phone and tablet styluses, so it isn't something I can really criticize TCL for. I'd imagine ergonomics have to be sacrificed so the stylus will fit back inside the phone when not being used. The sides of the stylus are smooth aside from one small textured part at the top which matches the sides of the phone and aids with extraction.
The nip of the stylus is small and metallic, which should lend itself to delicate, precise, tasks like writing and drawing. The screen and stylus work together well, with the only real issues occurring when a user draws too close to the edge or is attempting those very precise tasks. The stylus doesn't seem to work on other devices. I tried using it on both a Nord 20 and a Galaxy S 21, but neither phone responded to it. Obviously, you shouldn't expect high-end features like pressure sensitivity, this is just a basic stylus.
Some useful apps come pre-loaded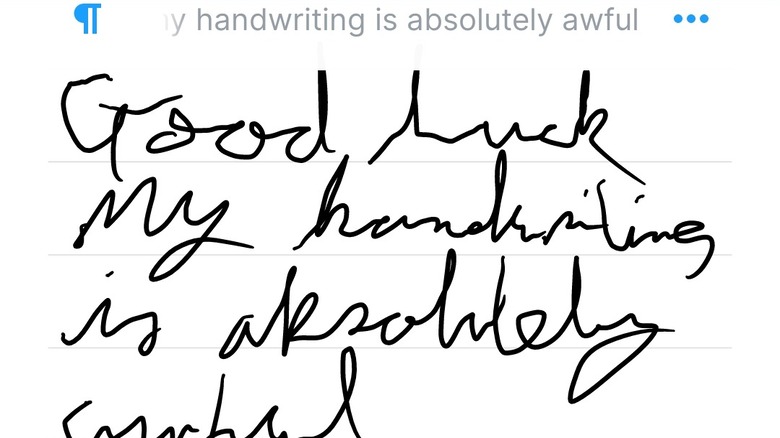 Nebo
The phone is obviously centered around its stylus, and TCL has tried to make the most of that by bundling some optimized, stylus-friendly apps in with the device. You can also access the stylus-based apps from a tab visible on the left side of the screen, which is handy if you find yourself jotting down notes regularly. The tab itself only appears when the stylus is out, and if you pull the stylus out while the phone is unlocked, the list of stylus-friendly apps will automatically come up. If your screen is off, drawing the stylus will launch a basic notepad app. The basic notepad is okay but fills up quickly as stylus handwriting tends to be larger than paper and pen-based handwriting. If, like me, your cursive looks awful, you'll also have to decipher it yourself afterward — the lock screen notepad doesn't have a transcription feature.
Of all the stylus apps, Nebo for TCL is probably the most useful and in my opinion, the most functional. Nebo takes your handwritten notes and turns them into printed text, and it performs that task incredibly well. It somehow made sense of my frankly horrific handwriting, so it will probably work for you too. Another app deserving a mention is e-signature, which allows you to store your actual signature on your phone and then apply it to electronic documents. As someone who has to digitally sign things fairly frequently, I can honestly say this is a great time-saving measure and it's nice to have something that actually looks like my John Hancock on a form for once. A magnifying app, which doubles the size of objects on screen, is also a great accessibility feature. 
And some are less useful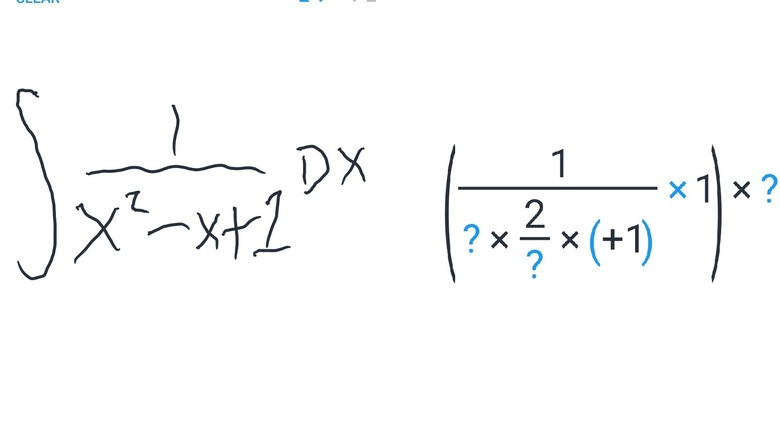 MyScript Calculator 2
One of the apps I was genuinely excited about was TCL's version of MyScript Calculator 2. The idea is, that you can sketch out a math problem and your phone will just solve it for you. This made me think I could finally make it look like I know how to do calculus and impress all of my mathematician friends. Unfortunately, unless you're sketching out fairly basic problems, you're out of luck. There may be a way to get things like algebra working with MyScript Calculator 2, but as with algebra itself, I couldn't figure it out. It seems pointless to have an app for this if all you need to do is 2 + 2, calculators are fine for that. Actually drawing out a complex problem and having it solved instantly, on the other hand, would be both cool and useful.
A "GIF Maker" is included too but seems to be incredibly limited. You can essentially write or draw on an image from your gallery or a blank page. The GIF maker then saves your scribbles as a gif. Which seems a bit pointless.
A third-party app showed the phone's limitations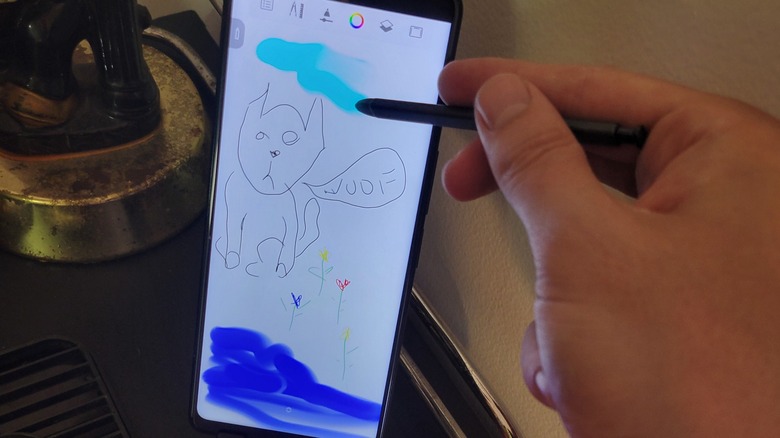 Dave McQuilling/SlashGear
One of the phone's main features is the ability to take a screenshot and draw over it. This is helpful when you're trying to highlight parts of a text or emphasize part of an image. You can of course do this on most other phones, but the precision of a stylus makes the whole thing smoother. It's also something TCL could have taken a lot further.
Although you can scribble on your screenshots, I felt TCL missed a trick by not including a dedicated drawing app. If you have what is basically a pen, it's natural to want to sketch with it. So I downloaded Sketchbook, which is one of the highest-rated drawing apps on the Google Play Store. Unfortunately, I found it to be utterly unusable at times on the TCL STYLUS 5G. Although the phone's 2.2 GHz octa-core processor and 4GB of RAM should give it more than enough power to handle most apps, it really didn't play well with Sketchbook for some reason. Lag was the major issue, which makes me think it's the STYLUS 5G's hardware that is the problem. The app works fine on a Samsung Galaxy, and can be usable at times on the STYLUS 5G, but the phone certainly struggles with it. 
If you're an artist, you may be disappointed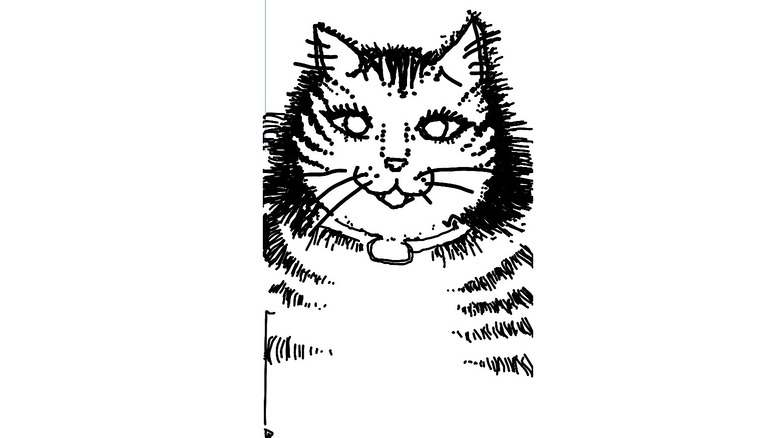 Robyn Barber
Other drawing apps, namely PaperDraw and SketchPad, worked far better — though SketchPad still showed up some hints of lag. Both apps highlighted another of the STYLUS 5G's issues. The stylus itself sometimes doesn't register when you're attempting fine tasks. If you're drawing a small circle, something an eighth of an inch in diameter, you'll end up with a series of dots half of the time. I'm no artist, so I couldn't really gauge how useful the stylus would be to someone who draws a lot. Luckily, my wife does draw a lot and managed to knock up a half-decent sketch of a cat when I handed her the device. 
Her verdict was that it's not terrible but not particularly great either. The drawing app that comes with the phone is very limited, and there is a noticeable decline in screen sensitivity when you approach the edge, especially while shading. Mistakes were also difficult to rectify. My wife also noted the lag in the more advanced drawing apps you can download and said Sketchbook in particular was totally unusable on this device. When asked if she would buy one, even if it was just so she had something to draw on when she was bored, the answer was no.
The camera struggles in low light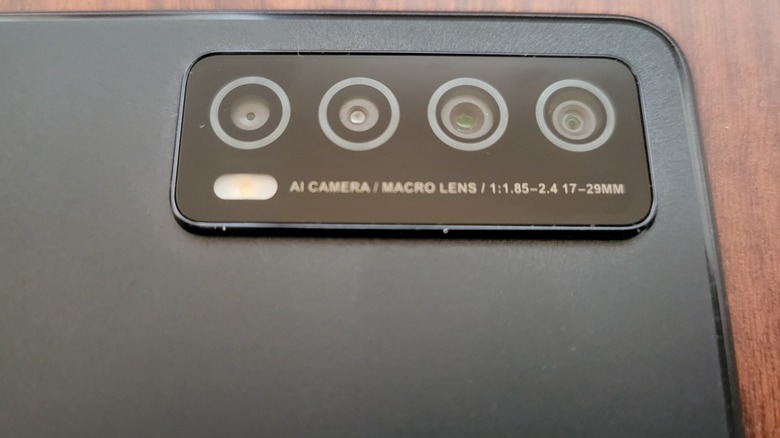 Dave McQuilling/SlashGear
When choosing a new phone, the quality of its cameras can be a deciding factor. People probably take more images than ever before, and people want those images to be sharp. Your Instagram is meant to look aspirational, not like a gallery of pixel art. Under ideal conditions and good lighting, the STYLUS 5G does a very good job. Images are sharp and the multiple lenses are well suited to their particular tasks. The macro lens will get you all of the detail you could want up close, while the wide-angle lens makes capturing large scenes a breeze. There's also a 50-megapixel main camera, which allows for detailed shots at close to medium range.
The real test comes when the sun goes down. At first glance, the STYLUS 5G appears to do a great job with low-light photos. At first glance, the STYLUS 5G will make it look like you snapped a picture in the middle of the day. However, zoom in even slightly and you'll see how much the camera fails to pick up anything beyond the basic details of an image. The picture above is a good example, it was taken at around four am but looks like it was snapped in a shady area on a sunny afternoon. Zoom in slightly and you'll see how little detail the leaves and trees have. If you need fine details in difficult conditions, you'll have to buy something a lot more expensive. Otherwise, I can confidently say the STYLUS 5G's camera will be able to handle everything you throw at it.
So, is the TCL STYLUS 5G worth it?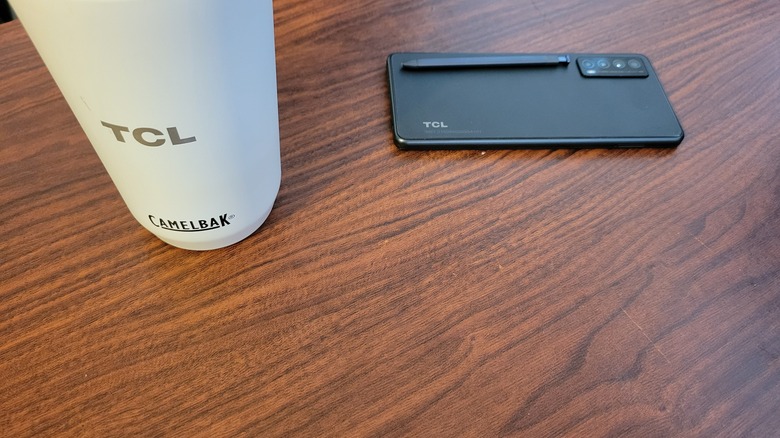 For a phone at the lower end of the market, the STYLUS 5G does a pretty good job. The title suggested this phone was going to emphasize its stylus and it does do that every step of the way. It is integrated very well and makes tasks like note-taking an absolute breeze. The software deserves as much praise as the hardware, having a notepad available the second you pull the stylus out is a solution to a problem I never knew I had.
The promise of an update at some point might also see a few issues ironed out and some features improved. The lock screen notes feature would be far better if it auto-transcribed like the notes in the Nebo for TCL app does. Equally, if a noted down date or time is automatically linked with your calendar app, that would be a major improvement.
As with all phones, you need to ask yourself what you'll be using it for and go from there. If you want an exceptional camera in all conditions, you're really going to struggle at this price point and the STYLUS 5G isn't the exception. Equally, if you want a stylus-based phone because you're an artist who likes to sketch on the go, you'll really need to look for something better. Conversely, the accessibility side of things may be a game-changer. If you're older, your eyes aren't what they were, and you miss writing with a pen this may be the perfect phone for you.