15 Best Data Recovery Products And Services
Anton Marchenkov/Shutterstock
With the advancement of digital technology, today data has become the most important asset for the entire world. Be it a big company, an entire government or a household worker, data plays one of the most crucial roles in day-to-day lives. While the value of data is increasing day by day, so is the risk of losing it. Loss of data could be due to reasons as simple as human error, while others include software and hardware malfunctions or even an evil intent. Whatever the reason is, fortunately, today's technology is capable enough to retrieve almost every kind of data to a remarkable extent. 
There are multiple ways through which lost data can be retrieved. While repairing hardware components remains one of the ways, the most famous method to do so is by using advanced data recovery software. Today, there are thousands of software products and services that can safely do the job with almost 100% accuracy. It does not matter what kind of data you are trying to retrieve or more importantly, what kind of system you are working on. There is a solution for everthing, although the search for the right product can be tricky sometimes. To ease out the process, down below is a list that compiles the 15 best data recovering solutions that will help you to get back your important data.
DiskGenius
DiskGenius is a comprehensive solution for recovering lost data and managing partitions designed for business and personal computer users. You can use it to fix a wide variety of annoying disk issues, and you can test it out without spending any money before purchasing one of the two paid versions. Since problems with partitions and data loss frequently occur together, the developers of DiskGenius decided to create an all-in-one solution for data recovery and partition management. With this solution, you will be able to recover lost data caused by deletion, formatting, RAW drive, partition loss, operating system crash, and many other data loss situations.
Even while the user interface of DiskGenius isn't something to write home about, the actual data recovery process is straightforward and can be broken down into just three steps. First, a partition or drive is chosen, then a search for lost data is performed, and, finally, a preview of all of the listed files is performed, after which the deleted items are selected for recovery. The ability to recover data directly from VMware, Virtual Box, or Microsoft Virtual PC images is one of the many additional features included with the purchase of DiskGenius. Other products that are several times more expensive do not include these features. There is also a hex editor, which makes it easier to perform analysis on raw disk data; nevertheless, it is highly unlikely that typical users will ever use this function.
EaseUS Data Recovery Wizard
EaseUS is not exaggerating the 'Wizard' part of this software's name; it is, in fact, a wizard in being proficient at everything. EaseUS Data Recovery Wizard is simple, guiding you through the recovery procedure step by step. EaseUS Data Recovery Wizard Pro can recover nearly everything, from accidentally-deleted partitions to virus-damaged files, if it is launched promptly enough after a disaster has occurred.
The complete package is still one of the most cost-effective options for recovering crashed RAID configurations; other programs conceal similar features in their premium versions. While there are probably more advanced and cheaper recovery packages available, this is the one we would keep on hand for less-than-special situations. There are various payment options, ranging from monthly to annual, and a Lifetime upgrades license. However, if you apply the code AFF-TECH-RAD at checkout, you will receive a 25 percent discount on any of these rates. The upgrade to a premium license is a bit pricey, but the many features you receive for that investment make it a fantastic bargain. Add the app's excellent performance, EaseUS's prompt customer service, and a sleek user interface, and you have a winner.
Stellar Data Recovery
Stellar Data Recovery is a data recovery software for Windows and Mac that is of a professional grade. It can deal with completely crashed and unbootable systems, which are situations that many other applications of its kind would consider to be beyond repair. This data recovery software, which was formerly known as Stellar Phoenix Data Recovery, is compatible with hard drives that are formatted with NTFS, exFAT, and FAT (FAT16/FAT32), as well as SSDs, USB flash drives, storage devices (including SD cards, MicroSD cards, CF cards, and so on), and other usually employed storage devices.
You can purchase either the Professional version, which costs $79.99 for one year or $99 for a lifetime license, or the Premium version, which costs $99.99 for one year or $149 for a lifetime license. Both of these versions are designed for use in professional settings. Since it does not feature any capability for recovering videos or photos, the earlier edition is available at a significantly lower price. The two versions are indistinguishable and similarly simple to operate, except for certain recovery features. It is possible to display recovered files in a tree view, which helps find a particular folder or categorize recovered files according to the type of data they contain.
R-Studio
This extensive data recovery software solution features a wide array of options and powerful features. R-Studio is designed largely for experts who are already familiar with the ins and outs of data recovery, in contrast to most data recovery tools now available on the market, which are aimed at regular home users. It offers support for all of the file systems and partition layout methods typically utilized, and it can even handle damaged or deleted partitions.
R-Studio enables users to initiate numerous data recovery jobs simultaneously in independent tabs, as opposed to walking them through the recovery process step by step. The recovered files can be arranged in various ways, including by their file extensions, the times at which they were created, modified, and accessed, and other parameters. You can examine a preview of many of the supported file types or inspect files using the built-in hex editor, which allows you to evaluate the files' integrity and conduct partial recovery.
When purchasing R-Studio, check that you are getting the appropriate version. Data can only be recovered from the FAT, exFAT, and Ext2/3/4 file systems using the R-Studio version that costs the least money ($49.99). The version that costs $79.99 is required if you want to recover data from NTFS, ReFS, HFS+, APFS, HFS, and UFS file systems.
Ontrack EasyRecovery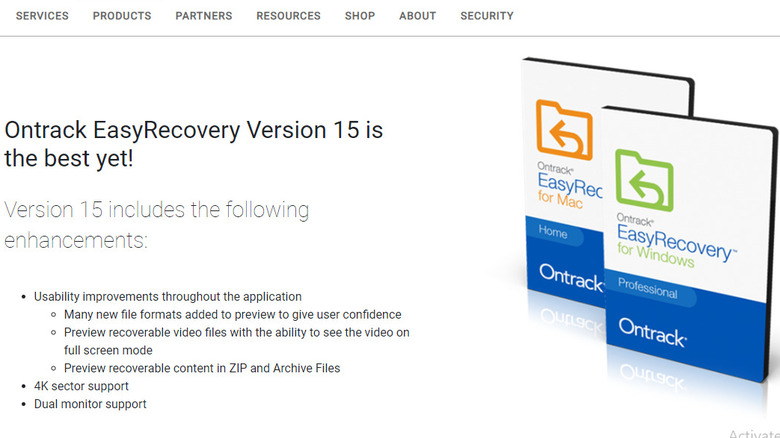 Ontrack EasyRecovery
Ontrack EasyRecovery comes in various configurations, each of which is designed to assist in the comprehensive recovery of lost data in a broad range of contexts where such data may have been lost. Since the free version only lets you restore up to one gigabyte of data, it is not likely to be of much use to most people other than as a testing tool. Files and folders that have been deleted inadvertently can be recovered using the Home edition of the software, which can also recover files and folders that have been erased due to a virus.
The Professional edition gives you the ability to create disk images and recover data from CDs and DVDs. On the other hand, the Premium edition can clone hard drives and solid-state drives (SSDs), but it can also repair photos and videos that have become corrupted. The Technician and Toolkit versions are considerably more capable, allowing for lost or formatted RAID volumes. Still, they also come with commercial licensing for usage in a business setting and are compatible with Windows, Mac, and Linux computers. Prices go up proportionally depending on the necessary data recovery level. Although some of the more complex tiers are not inexpensive, we can state from experience that the investment may be well worth it to recover all of the data successfully.
TestDisk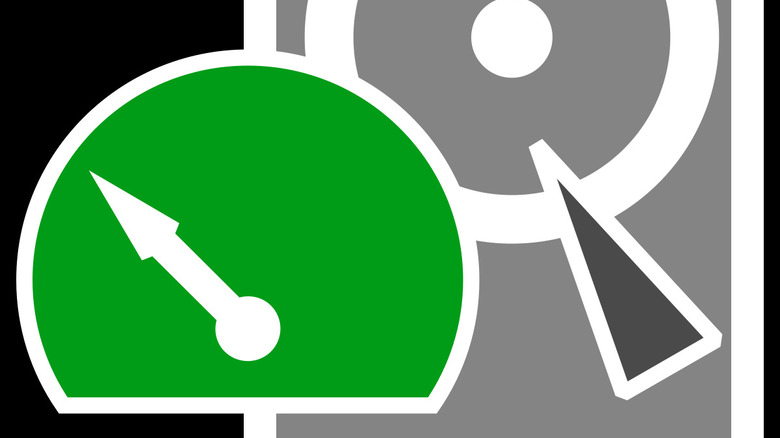 TestDisk
TestDisk is a great tool for recovering lost partitions and making non-booting drives bootable again, but its text-only user interface makes it difficult for many people to use. TestDisk is not the best tool for recovering a lost file if you've mistakenly deleted it and need it back. In this free, open-source data recovery solution, you won't find any individual files but entire file systems and partitions. Repairing partition tables and boot sectors are just one of the numerous functions it is capable of.
 TestDisk can undelete files from FAT, exFAT, and NTFS file systems accurately; the problem is that this feature is hidden away in an advanced menu that most users never access. Furthermore, because you can't see files before recovery, recovering individual files using TestDisk is a pain. Even though it lacks an intuitive graphical user interface, TestDisk is still one of the best data recovery software options for Windows, Mac, Linux, and many additional operating systems. The list of pros of this software includes support for a diverse collection of different types of storage devices and powerful preview software.
Disk Drill
Disk Drill is widely regarded as one of the most compelling pieces of data recovery software for both Windows and Mac computers. This is because it can effortlessly recover lost or deleted data from any internal and external storage devices, irrespective of the file system used by those devices. Disk Drill, which the data recovery specialists developed at CleverFiles, is the ideal choice for professional users and casual home users since it offers an excellently polished experience and results that are the best in its class in terms of data recovery. By utilizing its scanning algorithms, the most recent version of the software can retrieve data in over 400 different file types from various storage devices (via Handy Recovery).
The data recovery procedure with Disk Drill is easy to understand and does not require any prior experience or training. You can preview a file before recovering it immediately within Disk Drill, and you can filter the scan results to look for a particular file. The free edition of Disk Drill can recover up to 500 MB of data, and it offers greater data safety with its Recovery Vault and Drive backup features. Users who would like to enjoy unlimited data recovery can subscribe to Disk Drill PRO for just $89.00 and activate it on up to 3 PCs each time they use it. You can restore your data with complete confidence even on subsequent versions of Windows and macOS if you purchase the lifetime upgrades for only $29.
Wondershare Recoverit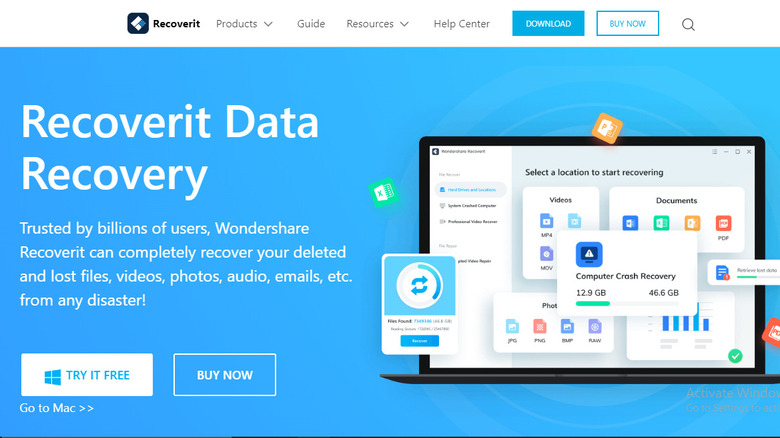 Wondershare
Wondershare is one of our most recommended data recovery programs available for the price, and it is compatible with a wide variety of storage devices without causing any problems. These devices include camcorders, hard drives, memory sticks, and USB flash drives. The developer of this data recovery program has been in business for a considerable amount of time. It has been able to win the confidence of millions of individual customers and a great number of commercial enterprises throughout that time. Its flagship data recovery solution is called Recoverit. It supports over a thousand different file types and all of the most popular file systems, such as NTFS, FAT, HFS+, and APFS.
You will be able to retrieve all of our lost files with the help of Recoverit in just three straightforward steps, making it one of the most user-friendly pieces of software that Wondershare has ever produced. During the very final stage of the process, you have the opportunity to examine recovered files in advance of reclaiming them with a single click. The only issue is that the free edition of Wondershare Recoverit can only recover up to 100 megabytes worth of lost data at a time. Perks of this software include enhanced functionalities designed specifically for data recovery professionals and a disk-cleaning feature. 
CrashPlan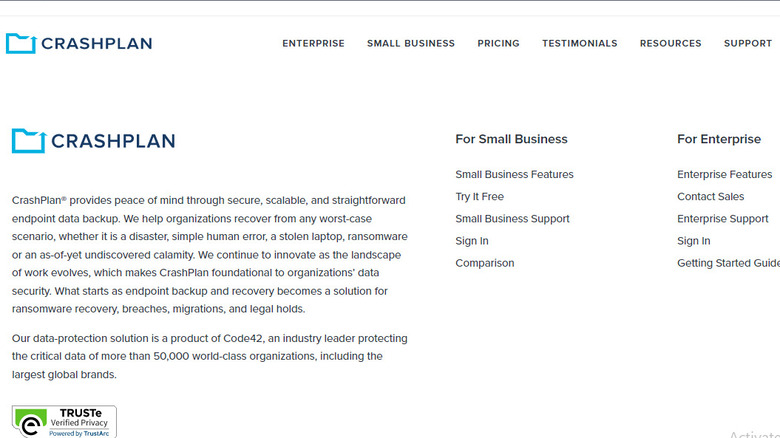 CrashPlan
CrashPlan was once the darling of free backup solutions for home users; however, the company has now moved its focus to the commercial arena and now offers a product called CrashPlan for Small Businesses. It is not quite the same as the conventional file recovery applications that we have discussed in this article because it is, first and foremost, a backup service; nonetheless, it is so comprehensive that it almost counts. Crashplan, as you may have noticed, saves everything. It works quietly in the background to create complete and comprehensive backups of your entire system, beginning with the most recent data and working its way backward. After that, it sorts everything into separate virtual buckets, allowing you to retrieve the files that are most important to you quickly.
Crashplan also keeps files you've removed from your computer, a critically important feature. You can disable this feature, but we wouldn't recommend it. Because your backups are fully encrypted, even files that have been deleted will be protected from prying eyes. Besides, you never know when you might need to retrieve a file that has been deleted for a long time (perhaps because a virus-infected it). Along with really competitive pricing, CrashPlan combines data recovery with data backup as well, making it more convenient for the users. 
Data Rescue 6
Data Rescue 6 is all about simplicity, but due to its high price, it is unaffordable for most home users, who are paradoxically the group that would appreciate its clear and uncluttered user interface the most. Data Rescue 6 is a data recovery software application that can be somewhat confusing because its user interface is spotless and simple (the main screen features just three large buttons with colorful icons and detailed descriptions), which suggests that its target audience is regular home users; however, its price tag and website tell a completely different story.
The annual fee for a single license is $399.00, and it allows a single user to install the software on an infinite number of systems. Compared to the prices that most other data recovery software apps on the market ask for a lifetime license, this one costs more than twice as much. Suppose you have the financial means to purchase Data Rescue 6. In that case, you can look forward to faster scan and recovery speeds, enhanced RAID recovery, and additional disk tools that allow for byte-to-byte disk copies and secure file deletion. If you do not have the financial means to purchase Data Rescue 6, you will not receive these benefits.
PhotoRec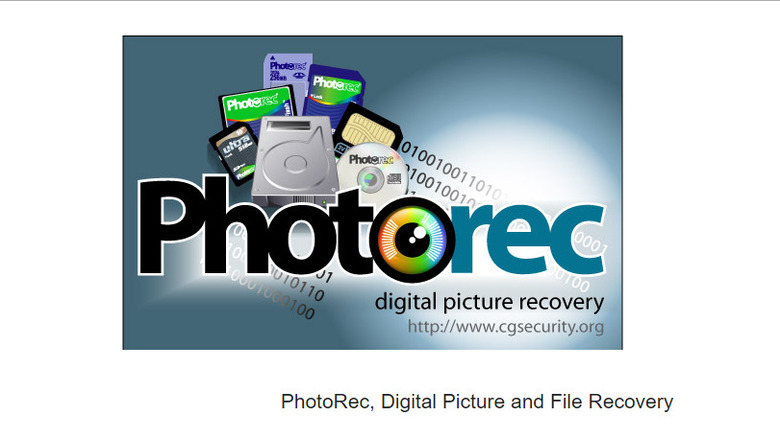 PhotoRec
PhotoRec is equipped with robust file recovery capabilities and offers compatibility for various operating systems. As long as you can figure out how to use it, PhotoRec will be able to recover your photos from any hard disk or digital camera. If you were to judge PhotoRec solely by its name, you might assume that it is only capable of recovering picture file formats; however, this is not the case at all. This open-source data recovery program can recover more than 480 file extensions, or over 300 file families, from various storage media, including hard drives, memory cards, CD-ROMs, USB flash drives, and more.
Although PhotoRec is known for turning away inexperienced users due to its text-only user interface, we discovered that the data recovery process was straightforward to understand on our end. Newbies may indeed use even more handholding, but the official documentation is designed to help people in that very situation.
In terms of its performance, PhotoRec can compete with a wide variety of data recovery software products that cost money. It employs a method of data recovery that is non-destructive, which prohibits it from writing to the storage device that the user is recovering from. In some circumstances, PhotoRec can effectively recover even files that have been shattered and strewn about in various locations.
Recuva
Recuva is a small freeware program you can use to recover pictures, music, documents, videos, or other files on your hard drive, memory cards, floppy disks, iPod or MP3 player, or USB sticks. Recuva is inexpensive has a straightforward user interface, and is simple to operate; nevertheless, it was only able to recover two-thirds of the deleted files from my test drive, and in an emergency, such a level of performance may not be adequate. Recuva does not handle a wide variety of file types is the primary reason for its inferior performance compared to the top three programs discussed in this article.
If all you want to do is recover files saved in a format that Recuva can read, then the unimpressive support for other file formats might not be an issue for you. In either scenario, the tool's usability is what will be most important to you. This tool has a rather good level of usability thanks to its uncluttered interface design and its built-in preview screen.
Despite this, it is abundantly evident that the user interface of Recuva was designed during the time of Windows XP (Recuva was released during the transition period from Windows XP to Windows Vista). The most recent significant upgrade to Rucuva (version 1.53) was made available in 2016, and the software has only received a few minor enhancements since then. The good news is that it continues to function normally on all of the most recent versions of Windows.
Minitool Power Data Recovery
Minitool Power Data Recovery is a well-known freeware data recovery application that should meet the demands of most Mac users who have recently lost or deleted an essential file and wish to restore it themselves. The Mac version of Minitool Power Data Recovery is not inferior to the Windows version, even though the Windows version has a substantially larger user base than the Mac version does. The fact that it is only possible to retrieve 1 megabyte (MB) of data without cost is why it does not have a greater level of popularity.
If you can see past the evident attempt to entice Mac users to spend money on a license, Minitool Power Data Recovery has a lot going for it and should be your choice if you are looking for a data recovery tool. It is possible, for instance, to recover data that has been irretrievably lost from all conventional storage devices, including optical disks. Users of any version of Minitool Power Data Recovery have access to the same cutting-edge data recovery algorithms, making it possible to retrieve data from even damaged hard drives and removable storage devices.
Minitool Power Data Recovery underwent a significant upgrade to its user interface not too long ago. As a result, it is now simpler to use than it ever was before. You can find certain files just by entering their names thanks to the redesigned user interface, making it possible to set search filters with only a few simple clicks.
iBoysoft Data Recovery
iBoysoft Data Recovery is data recovery software that is free to use and compatible with all modern versions of macOS in addition to older versions of Mac OS X. It can restore lost data from encrypted APFS storage and supports the recovery of over 1000 different file types. This application solves a wide variety of potential causes of data loss, including inadvertent formatting of SD cards and the loss of data from trash cans that have been emptied.
Users of iBoysoft Data Recovery have access to a straightforward recovery process that only requires three clicks, which makes it extremely easy to retrieve deleted data. It is possible for everyone who has a Mac to utilize the tool, which contains a significant amount of data recovery functionality. This is a good solution for individuals with little or no data recovery experience who simply require the recovery of a small amount of data. After putting the free program through its paces, switching to a commercial service grants you infinite data recovery options.
There was some uncertainty whether which product, M3 or iBoysoft, was a clone of the other. This problem has been solved due to iBoysoft's purchase of M3, which is also the name that will be given to this software solution from this point forward.
Cisdem DataRecovery
Thanks to this multifunctional recovery program, you can recover virtually any lost, corrupted, or formatted file on your Macintosh computer or on any peripheral device. The data recovery process consists of three steps: selecting a data loss scenario, scanning for recoverable files and previewing them, and finally restoring the data. Cisdem DataRecovery for Mac is an excellent illustration of a data recovery software application that is successful even though it does not attempt to perform an excessive number of tasks. The developers of this software decided not to spread themselves too thin but rather to make it their top goal to design an intuitive and user-friendly answer to the problem of data loss for Mac users who are not proficient in technical matters.
Once you have Cisdem DataRecovery for Mac up and running, you will instantly be prompted to select the type of data loss problem that you are attempting to remedy. Basic Data Recovery, Trash Recovery, Formatted Data Recovery, External Drive Recovery, and Advanced-Data Recovery are the alternatives that can be chosen from among those offered. The remaining phases reflect the data recovery option that was picked, which makes the process quite easy to understand. The photo, audio, video, document, and archive file formats that are most frequently used are supported by the Cisdem DataRecovery for Mac software, which boasts support for more than 200 unique types of files. There is support for all major storage devices, and the same can be said for file systems.